Declutter 365: A Year Of 15 Minute Decluttering Missions
Take the year long Declutter 365 Challenge, and each day 15 minutes of work will transform your home. I guarantee very quickly you'll begin to see results, even if some days it didn't feel like you made much of a dent.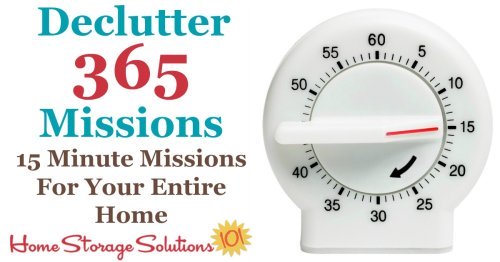 What Is Declutter 365?
The idea behind Declutter 365 is simple, yet powerful.
It is to make decluttering a habit by doing some declutter task every single day, so you can reap the rewards without feeling like the process of decluttering is taking over your life.
Each day I provide a 15 minute mission for you to accomplish. This keeps you from spinning your wheels, wondering what to do. It's simple. Just do the mission for the day, and then done. Whew!
I've already developed a year long plan for you, and thought it through. I've hit the major areas in every room in the house, thought of all the hidden and obvious clutter problem areas many of us face, and give you access to this plan so you can begin immediately!
Just think about it. If you actually decluttered every day, for the whole year, for fifteen minutes a day, you'd be able to declutter for over 90 hours! Imagine how much impact you could make in that amount of time!
You can grab your copy of the year-long calendar here. All you've got to do is turn to today's date, and do the mission. Then, rinse and repeat tomorrow. Easy peasy!

But I Need Someone To Remind Me, Because I'll Forget!
I hear you! It is easy to start out with good intentions, but easy to forget to check a printed calendar daily.
First, I recommend that you post a copy of the calendar up on your refrigerator or bathroom mirror, or wherever, to remind yourself to do the daily mission.
But if it was that easy everyone would do it.
So here's the things I do to try to help remind you:
1. Sign Up To Get Weekly Reminders Through Email Of That Week's Daily Missions Plus That Week's Organized Home Challenge
Everyone who subscribes to my free newsletter joins the 52 Week Organized Home Challenge, and these Declutter 365 missions.
As the names suggest, these two programs, combined, are a system to get your whole house decluttered and then organized, slowly, over the course of the year, without it feeling overwhelming.
These two systems, the Organized Home Challenges, and Declutter 365 missions, are highly intertwined and complement one another. When you do one it makes sense to do the other, and that's how they are designed.
How this works in real life is that, for example, when we're decluttering in the kitchen, with the Declutter 365 missions, the weekly challenge will also be organizing the kitchen.
As part of the 52 Week Organized Home Challenge you get weekly emails from me, right into your inbox, reminding you of the next week's challenge so you don't forget. (I've got over 150,000 subscribers to these emails so far!)
In those emails I also remind you what that week's daily missions are.
Fill out the form below to join the 52 Week Organized Home Challenge so you get weekly reminders of what we're organizing and decluttering each week and day. When you sign up now you'll get this year's calendar.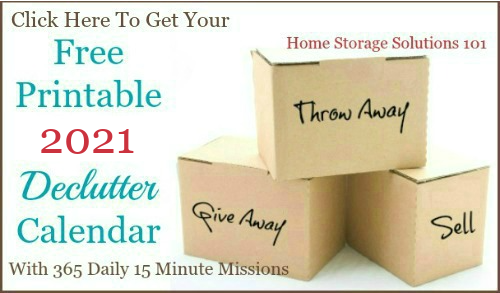 2. Join The Declutter 365 Premium Group For Daily Mission Reminders Plus Weekly Group Coaching Session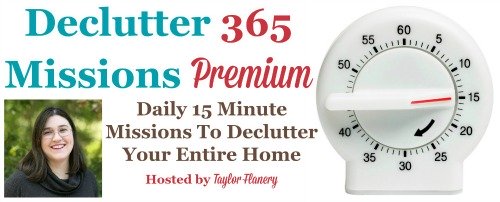 Although you can follow along with just the emails from me, plus the calendar, many people begged for more daily interaction and guidance during the missions.
You asked and so I delivered. I've created a closed Facebook group called Declutter 365 Premium which follows along with the Declutter 365 mission schedule I've created and posts each mission, daily, to help remind you of the challenges and missions, and keep you on track. In this group I also provide weekly live video sessions to discuss the week's missions, and have a question and answer session.
You can find out more about how to join this group here.

3. I'm Slowly Creating 365 Declutter Mission Pages Here On The Site For You To Reference
Finally, I get that some of you may want to declutter or organize at your own pace, or in your own order that best suits your needs.
That's why, slowly but surely, I'm taking all of the 365 missions I've created and making them into articles on the site.
These articles provide you with lots of resources and inspiration. They contain some or all of the following, depending on the mission discussed:
More in depth information and strategies for how to declutter that particular type of item, or within that room.
Discussion of ideas of what you can do with those items you're decluttering, such as good places to donate, sell, and/or recycle those particular things. Many find this helpful because knowing what to do when getting rid of an item makes the process of decluttering easier.
Inspirational pictures from other readers who've taken on that mission to show their success, to fire you up, or pictures showing what they're tackling so you don't feel alone.
I've linked below to the articles that have already been written, and there are plans for even more, obviously.
So check back often as I add more and more of the missions, and start the count down to 365 declutter missions with me!
Bathroom Missions
Bedroom Missions
Make sure to also check out the kids missions, below, for more kid related bedroom missions.
Cars & Vehicles Missions
Cleaning Supplies & Scheduling Missions
Closet & Clothes Missions
Make sure to also check out the kids missions, below, for more kid related clothes and closet missions. You can see a full round up of missions to declutter your excess wardrobe in this article.
Crafts & Hobbies
Digital Information
Dining Room Missions
Entryway & Mudroom {Entrances & Exits To Home}
Finances & Bills
Food Storage Areas
General & Whole Home
Holiday Missions
Home Inventory
Home Office
Kids Missions
Kitchen Missions
Laundry Room Or Area Missions
Linen Closet
Living Room & Family Room
Media Missions {Books, Music, Movies, Photos, Etc.}
Outdoor & Yard Missions
Paper & Files Missions
Purses & Bags
Sentimental Items
Storage Spaces
Time Management Missions
Routines & Tasks To Get Clutter Out Of Your Home