How To Declutter Luggage, Suitcases & Bags

Today's mission is to declutter luggage, suitcases and bags, such as duffels, backpacks, and garment bags from your home.
As always, you're not expected to get rid of items that you still need and use, but this is your day to evaluate all of the bags and suitcases you own, and make sure you're only keeping what is necessary.
Some of the questions you can ask yourself include:
1) Do I have enough or too much for everyone in the family to travel at once for a normal vacation or trip length?
2) Are there items that are broken, such as zippers that don't work or wheels that wobble horribly?
3) Is there luggage you actually hate using for whatever reason?
4) How often do I go on trips or travel and use these suitcases and bags?
5) How much room do I have to store everything when it's not in use?
Then, when you think through the answers to these questions, you'll have a better idea of how much to get rid of.
This is simultaneously a great opportunity to think about whether you actually need more luggage, such as a specific type of piece, like a large suitcases with rollers, or a small carry on, or something like that.
Do yourself a favor and make sure you're ready when you go on your next trip, having all the pieces you do need, but nothing extra that will get in your way.
Below you can see some photos from other readers who've done this challenge, showing ideas for what to do with the bags and suitcases you do declutter, as well as tips for storing the items you decide to keep.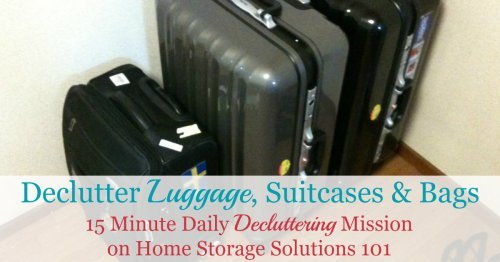 Top photo courtesy of kalleboo, Flickr Creative Commons
Join in and write your own page! It's easy to do. How? Simply click here to return to get rid of clutter.
Ideas For What To Do With Decluttered Suitcases & Bags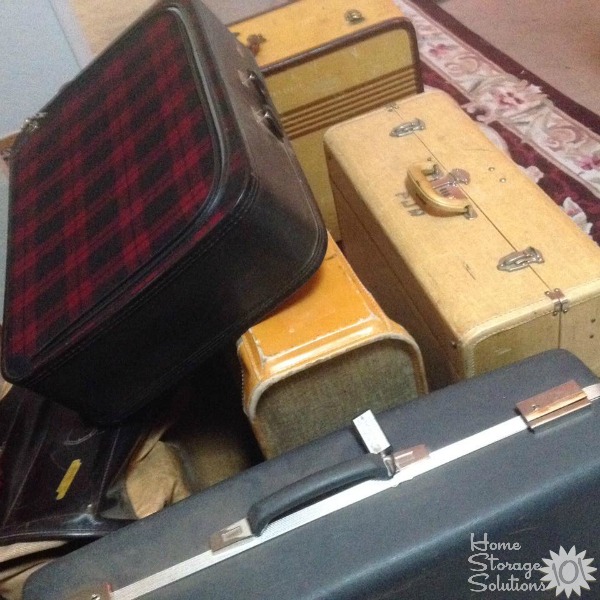 Once you've decided to get rid of some of your suitcases and luggage, you've got to determine what to do with them.
If the items are in very good condition, and especially if there is a full set, you may want to consider selling them.
However, donation is also a great idea, because these items are very helpful to those in need. For example, you can donate luggage, duffel bags, backpacks and bags to a local foster care agency or family service organization. Then, they will be used for foster kids or for those who are domestic violence victims.
Another idea for donation, especially if you've got vintage suitcases, is to donate them to a theater company. That's exactly what a reader, Emily, did. She sent in the photo above, and said, "a couple of weeks ago we donated these historic pieces to the props department of a local theater rather than keeping them in our basement storage as extra efficient dust collectors."
You can also repurpose old luggage for another purpose in your home. For example, rarely used luggage can hold your emergency supplies for your family, in case of disaster. You can
read more about what to put into a 72 hour kit here on the site
.
I'd love to hear even more ideas in the comments below with what you've done with some of the bags you decided to get rid of.
Join in and write your own page! It's easy to do. How? Simply click here to return to get rid of clutter.
How To Store The Luggage You Do Keep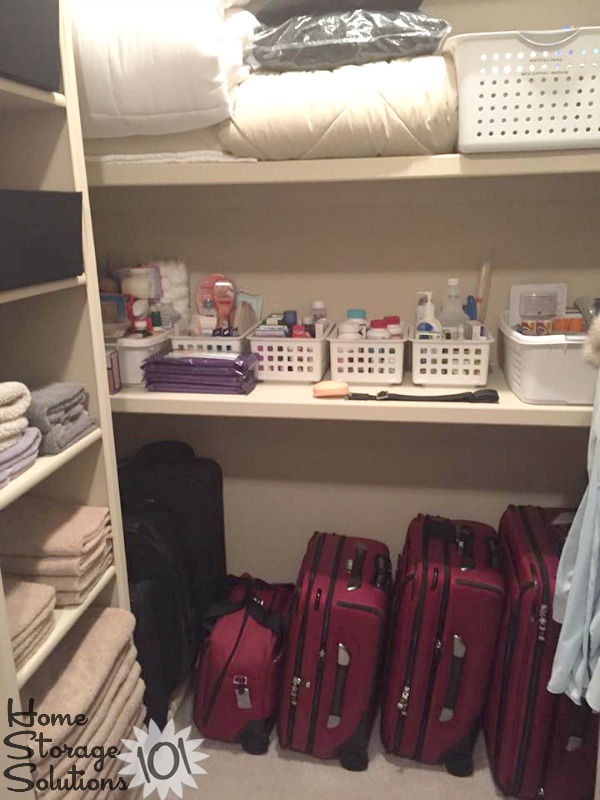 Finally, while you may declutter some suitcases and bags as part of this mission, you aren't expected to get rid of it all.
Luggage is the type of item that you don't use all the time, but just on occasion, so when not in use you've got to store it somewhere.
The more often you use your luggage the more convenient a place you need to store it. On the other hand, if you only need those bags once a year, or infrequently, don't give it a prime storage location, because you'd be wasting the space where something else you use more often could be held.
If possible, it's good to nest your luggage inside the other pieces, so overall it takes up less room.
Common places to store your luggage include:


In a hall closet;


In a guest room;


In your clothes closet, either on the floor or on a shelf


While some people store their luggage in their
garage
I do not recommend it if you've got pests that often get in there.
A reader, Beth, sent in the photo above, showing where she stores her luggage, which is in her extra closet, which serves as both a
linen closet
and
storage area
.
While you can use luggage to store other items in your home, like
seasonal clothes
or linens, I actually don't recommend that either, unless that is the only place you can fit them. If you can store those types of items elsewhere it will be so much easier when you do have to travel not to have to empty your suitcases, and leave out a mess of stuff while you're away, that you'll also have to put back up when you return.
I'd love to hear in the comments where else you store luggage in your home, if I've missed a spot.
Are You Ready To Declutter Your Home?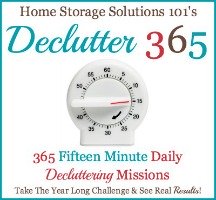 I hope seeing these pictures has inspired you to declutter your luggage, suitcases and traveling bags.
When you begin to declutter the feeling you get is contagious, so if you're loving the results you're getting I would encourage you to keep going.
I've got a whole series of
15 minute decluttering missions
(eventually 365 of them!) that you can do.
Just pick and choose the ones you want to do, that will make a big impact in your home. But if you want someone else to tell you the order you can also grab the
15 minute daily decluttering mission calendars
and follow along as we all get our homes clutter free together!
Related Pages You May Enjoy
Getting Clutter Free 15 Minutes At A Time Hall Of Fame
15 Steps To Get Your Home Ready When Preparing For A Trip
Go From How To Declutter Luggage, Suitcases & Bags To Home Page