Comprehensive Printable Decluttering Checklist For Your Entire Home
33 Checklists Included Within Printable Pack
To compliment the Declutter 365 plan I've created this fully comprehensive printable decluttering checklist for every area and type of item within your home. When you purchase these digital, printable lists you get access to 33 different checklists.

What This Checklists Pack Contains:
The following printable checklists are included within this pack. Each checklist can be printed and marked off, with a pen, as you complete each task, or can be viewed digitally as a PDF, and each task marked as complete with a simple click of the mouse.
You get the following checklists:
Get Ready To Start (1 page) - Lists the steps necessary to start the decluttering process in your home
Generic Room (1 page) - Use this decluttering process in whatever room or area of your home it is needed
Daily Tidy Up Routine (1 page)
Kitchen (2 pages)
Pantry & Food (1 page)
Dining Room (1 page)
Laundry & Laundry Room (1 page)
Cleaning (1 page)
Paper & Filing (2 pages)
Bills & Financial (1 page)
Digital (2 pages) - Digital clutter is still clutter, even though it is not physical
Home Office & Technology (1 page)
Linen Closet (1 page)
Bathroom (1 page)
Clothes & Closet (2 pages)
Shoes & Accessories (1 page)
Bedroom (1 page)
Kids (6 pages) - Includes groupings for each area or type of item, where there may be kids' stuff, so there is overlap with other checklists that address the same types of items or areas
Common areas (1 page) - Common areas include shared areas, within the home, that are used by everyone in the household, that are otherwise not listed within these checklists, most notably the living or family room
Hobby & Craft Room (1 page)
Sentimental Items (1 page)
Outdoor & Yard (1 page)
Vehicle (1 page)
Miscellaneous (2 pages)
Storage areas (2 pages)
Holidays (1 page)
How To Get Rid Of Clutter - Checklist Of Options (1 page)
Spring (1 page)
Summer (1 page)
Fall (1 page)
Winter (1 page)
Master Decluttering Checklist (20 pages) - combines all the checklists together for a fully comprehensive list of each area, room and type of item
Your Additional Decluttering Checklist (1 page) - Blank, fillable form PDF where you can add any personalized items to your list
Added together, that is 63 pages of checklists!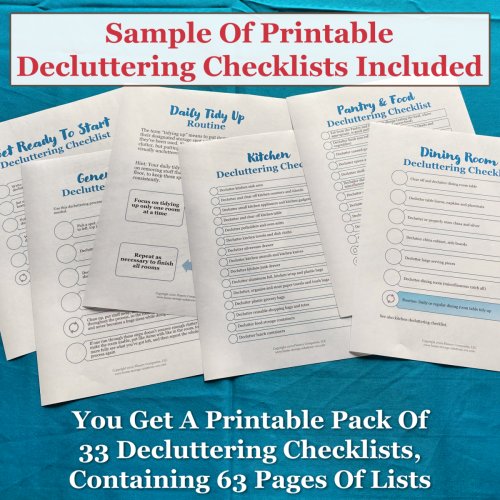 Check Off Tasks As Completed Directly On The Form Digitally
These checklists are PDFs, so they're designed to be printed, either in color, or to also look good in gray scale if you choose to not use your color ink. When you do that you can place them on a clipboard and then mark items off the list with a pen, in the traditional way.
In addition to actually printing these checklists out, I've also designed these checklists so that they're fillable digitally. That means when you have the electronic version of the PDF open on your computer or other device, and click the circle or square checkbox for the individual task on the checklist, a check mark will appear on that task to indicate your completion of that task. (See the example below in the image.)

Each Checklist Contains Suggested Repeatable Tasks & Routines To Adopt
Further, these checklists are designed to help you succeed in both decluttering your home, and to practice the skills necessary to maintain your decluttered space from then on, in your home.
After all, once you clear out the clutter you don't want it to come back again (something I call "clutter creep").
On the checklists you'll see some repeating symbols on some of these checklists. This symbol recognizes the fact that you most likely will need to repeat this task, several times, 15 minutes at a time, to be able to complete it fully.
In addition, a few of the tasks on the checklists are shaded in, and labeled as routines or regular tidy ups. That's because adopting these particular routines in that room are essential to decluttering the space, and then maintaining that clutter free state from now on. You can see examples of both the repeating symbol and the shaded in routine tasks to adopt below.

Get All 33 Checklists For One Low Price As A Pack
I've been helping people declutter their homes using the Declutter 365 program for over a decade now, and hundreds of thousands of people participate in the public Declutter 365 group.
That means I've had years and lots of coaching of people in diverse situations that all have allowed me to develop and refine these checklists to be the most complete, and comprehensive plan for decluttering your home that you can find.
You can get your printable pack of these 33 different checklists, containing 63 pages worth of lists, for just $40.