Tips For Storing Silver With Minimal Tarnishing
Here are tips to make sure you're storing silver properly, so that it has little chance of damage and minimal tarnishing between uses.

This is basically the second part of last week's challenge, dealing with storage for china, crystal and glassware. That's because chances are if you've got silver you've got fine china, and vice versa.
Just like with the china I want us to all enjoy our silver possessions we own. That means you shouldn't tuck these things away out of easy reach. On the other hand, it is unrealistic to think we'll use our fine silver items every single day so here are the rules for storage so when you get your silver items out they won't be damaged or too blackened from tarnish.
Step 1: Know The Enemy: Silver Sulfide
When someone says they've got silver sulfide on their silverware or other silver items it's just a fancy way to say "tarnish."
Tarnish is the black film that develops on your silver over time and makes it yucky looking instead of shiny and beautiful.
You can't wash tarnish off with soap and water, since it is actually caused by a chemical reaction between the silver and sulfur, or sulfur containing substances such as air, water, wool, felt and rubber, for instance.
The only way to remove tarnish is by polishing it off. (If you're looking for a good silver polish check out these silver polish reviews, or share your own. You can also see instructions for how to polish silver here.)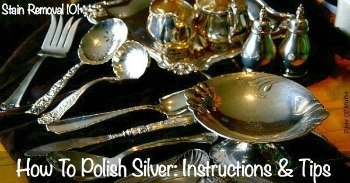 However, you don't actually want to polish silver very often for several reasons, including that it's no fun to do, and because whenever you polish silver it takes a little of the silver off so you only want to do it when necessary, at maximum 1-2 per year.
Step 2: Learn The Special Rules For Storing Silver
There are ways for storing silver that help prevent excessive tarnishing, and also keep the silver from getting damaged. Make sure your silver items are all stored properly so that when you want to get them out they're just in need of a quick polish, at most, instead of major repairs. Here are some things to keep in mind:
Silver Is Soft So It Scratches Easily
Pure silver is an element, and it is a soft metal. To make it harder even sterling silver, which is 92.5% pure silver, has another harder metal combined with it (typically copper) to make it harder.
Since silver can easily get scratched or dented you have to handle it with care. That includes storing it so that items don't bang into one another while they're in storage.
Keep Your Silver In An Area Without High Humidity And Out Of High Heat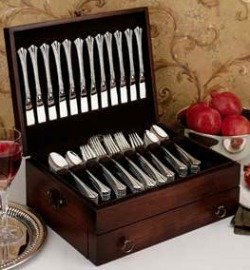 Store silverware in a flatware chest
[Click here to purchase on Amazon]
Did you know that humid air and heat both hasten tarnishing? Therefore, make sure you're storing silver in an area of your home which does not suffer from heat fluctations, and also is not too humid.
A good storage place would be in a drawer in a hutch or china cabinet, as opposed to a wet basement or hot attic. Not only is your china cabinet not too humid or hot, but it makes it convenient to access your silver (and china) when you want to use them for special occasions.
Store Silver In Flannel Treated Bags And Cloth To Help Retard Tarnishing
You should place your silver in flannel bags or in chests lined with treated flannel cloths. Such flannel has been treated with silver nitrate or other chemicals which help retard tarnishing.
Several different types of these storage containers are available. For silverware you can choose either a bag with lots of little slots to place the silver (so it doesn't clatter against each other and scratch) or a chest. Make sure to choose something that will fit inside your china cabinet or other area where you'll store it, and hold all the place settings of silverware that you need to store.
Tarnish preventative bags are treated to
keep silver beautiful between uses
[Click here to purchase on Amazon]
There are also various sized bags available for storing larger silver items, like trays, bowls, etc. that you may use. Take an inventory of your silver items and use the appropriate sized bags for what you own.
Storing silver in these treated flannel bags or cloth will not prevent you from having to polish your silver ever again, but it will lessen the need for polishing because less tarnish will develop.
Helpful hint: It is perfectly fine to store tarnished silver without polishing it first. I would suggest that if you have tarnished silver and then you get these bags or chest, just store them tarnished, for now.
Just plan to take time to polish them up before you use them again (at most about a year from now), and then replace them back polished next time. That saves you from polishing, storing and then having to potentially touch up your polishing again before use the next time.
If you don't want to use these flannel anti-tarnish bags for storing silver you can also store your silver wrapped up in archival quality tissue paper, in an acid-free box.
You want to make sure you don't get acidic paper (and don't use newspaper) because the acids or ink can damage, pit and corrode your silver.
Avoid Storing Silver In These Common (But Bad) Ways To Keep It From Being Damaged Or Tarnished
You should avoid storing your silver wrapped in newspaper for the reasons stated above, the ink is acidic and can harm your silver.
In addition, although air and humidity cause tarnish it is not a good idea to store your silver in plastic bags. The reason is that the bags can trap moisture within them which actually can accelerate tarnishing, and also cause pitting.
Finally, don't use rubber bands to hold together your silverware, since the rubber contains sulfur which causes excessive tarnishing and other damage to the surface of the silver.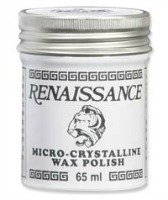 [Click here to purchase
Renaissance wax polish]
Don't Wax Silver Unless It's For Open Display Non-Food Use
I suggest that you keep your silver stored in your flannel bags and chests when not in use to inhibit tarnishing. I don't suggest using wax for storing silver items because then you have to remove wax before you can use it for eating which is a pain, and therefore impractical.
The only items I would suggest waxing (with a micro-crystalline wax such as Rennaissance Wax (referral link), see picture to the right) would be those non-food silver items you wish to display in your home. In that case once an item is polished, and all tarnished removed, waxing can prevent air and water from reacting with it and tarnishing it again as quickly. Of course, this wax can cause your silver to look more dull, so you may just want to polish your display items periodically instead.
Step 3: Make Time To Use Your Silver Items Regularly
I want you to be able to enjoy your silver items periodically, such as using them on special occassions along with your fine china and crystal, because there is no point in owning these nice items unless we actually use them from time to time.
If you find you're never actually using your silver, consider decluttering it. Here are tips for decluttering china and silver.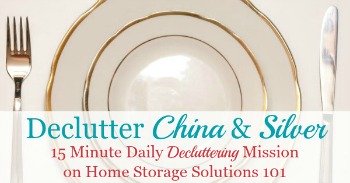 Another reason though to use them often is because regular use is the best way to prevent tarnish from forming.
Make sure you that you wash all items soon after use, since salt and acidic foods can cause damage and pitting, and dry them thoroughly before replacing them back in their storage containers.
Finally, be conscious to rotate items through use so all pieces get the benefit of this regular use.
Want To Organize More?
Are you ready to organize more? If so, make sure to take the Organize Dining Room Challenge here on the site!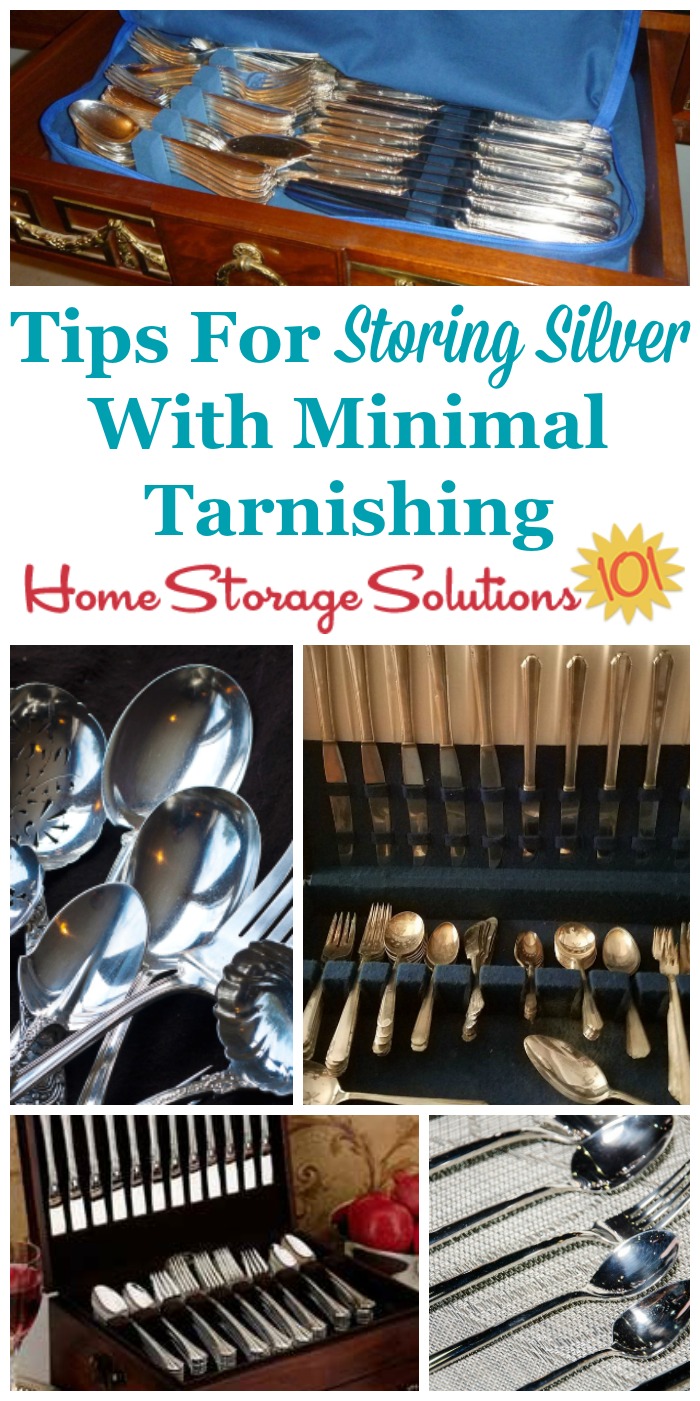 Top photo courtesy of Amazon.com
Some links on this page are affiliate links, meaning that if you purchase a product through them I receive a small commission which helps me provide this information to you for free, plus support my family. My integrity and your satisfaction are very important to me so I only recommend products I would purchase myself, and that I believe would benefit you. To learn more please see my disclosure statement.