How To Declutter China & Silver
Today's mission is to declutter china and silver from your home that you no longer use nor want.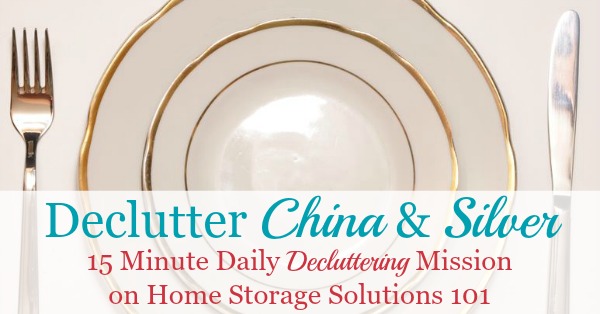 The mission actually encompasses a bit more than just fine china and silver, but also includes items like crystal and nice glassware you have, and that is designed to be used on very special occasions.
That is in contrast to the dishes and cups you and your family use on a more regular occassion. You may recall that an earlier mission this year focused on decluttering dishes and cups and glasses of that variety.
This mission is designed to be done while working thorugh the Organize Dining Room Challenge on the site, which is part of the 52 Week Organized Home Challenge.
The reason is that many people do keep fine china and their good silver in their dining room (at least if they have one), so I thought it made logical sense to put it here while focusing on this room. However, you can do this mission whenever you want to that makes sense for your home.
You Don't Have To Declutter Anything You Don't Want To
Sometimes, when people hear that this is the mission for the day, they get concerned that I'm advocating that they must get rid of these types of items from their home, so let me start with the assurance to put your mind at ease.
Remember, only you and members of your household ultimately get a say in what you keep and what you get rid of in your home, so you don't have to get rid of anything you ultimately decide you wish to keep.
That being said, there are some people that have a lot of this type of item, but never use it, and it's taking up extremely valuable real estate in their home, so it is at least worthwhile to consider more carefully if they should keep it, or perhaps if it's time to get rid of it.
Make Sure The Excuses In Your Head Aren't Dictating Your Choices
While you're ultimately in charge of what you keep versus get rid of, I have found that many of us tell ourselves stories, or make up excuses in our heads, about why we must keep something.
Today I'm going to list some of these common stories and excuses, and I want you to examine for yourself whether the excuse or story is true for you, really, or if it's really not, so you can decide for yourself what you want to do, and also potentially get rid of some mental clutter from the excuses at the same time.
Excuse: It's Too Expensive To Get Rid Of
Fine china and silver is expensive, and that can make it harder to get rid of. You say to yourself, "I spent too much money on this to get rid of it, because then the money would be wasted."
The reality is that the money you spent on these items is gone, whether you keep them or get rid of them. Keeping them doesn't return any money to your bank account.
If you really need money, and they are worth something (and honestly, sometimes this stuff isn't worth as much as we paid for it years ago, or at least not as much as we assume) and you're not using them, then take the time to sell them, and recoup some of the money. That's the only way you'll actually find value in some of these items.
Excuse: It's An Heirloom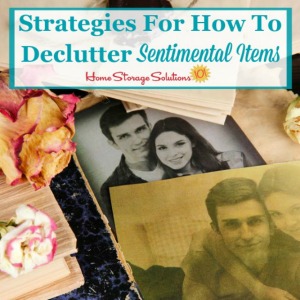 Some of your silver and china may have been inherited from family members who have passed away, and that can make these items have a lot of special memories and sentimentality.
However, we cannot hold onto everything from loved ones who have passed because it will overtake our homes and lives.
Just because something is an heirloom doesn't mean you have to keep it. It's just one factor to consider, along with practical concerns about whether you can use it, how much space you have to store it, your ability to take care of it, and whether the item holds special meaning for you personally, or not.
If you're struggling to get rid of items that are sentimental, check out this article with tips for getting rid of sentimental clutter here.
Excuse: It Was A Gift
If you received some or all of your silver and china as a gift, such as for a wedding present, or otherwise, it may feel like a betrayal to get rid of it.
However, those people who gave you the gift did so with the hope that this item would make you happy. You need to also value yourself enough to know whether these items do make you happy, or if instead the overwhlem of clutter in your home is making you unhappy. Rememver, the gift giver wants you to be happy.
It is important to value the friendships and family ties which are represented by the gifts, but remember that the objects themselves are not the same thing as the friendships and family themselves.
In addition, it's also important to value yourself and your own feelings. You ultimately need to decide what is best for you, in your own home, since you, and not the gift-giver, have the responsibility to care for your home and these gifted objects. Therefore, if the gift makes you feel tired, resentful, or put upon, listen to those feelings and seriously consider getting rid of those gifts. After all, you wouldn't want someone else to feel that way because of a gift you gave them, so why would you allow yourself to feel that way?
Excuse: Adults Are "Supposed To" Have Nice Things
Finally, you might have gotten the impression, along the way, that fully functioning adults are "supposed to" have fine china and silver, throw fancy dinner parties, and enjoy living some type of sophisticated life.
Sometimes we get that idea from movies or other entertainment, or maybe we got the idea from family and friends.
If you personally enjoy having fancy dinner parties and serving people food on fine china, then do it! We only live once.
However, if you find yourself forcing yourself into a role you don't enjoy, just because you're "supposed to," definitely re-think this. There is no requirement you have to have fine china and silver to be a competent functioning adult, or that you have to fit into a particular mold.
You do you, and don't worry about what you think you're supposed to do so much.
If You Do Keep Your Silver & China Then Make Sure You're Using It!
Often times fancy stuff, like china, silver and crystal, are saved for special occasions. That's perfectly fine to do. It can be lots of fun to save things for special occasions, to make those things feel special (duh!)
However, don't fall into the trap of saving things for these occasions, and then never using them during those times.
If you've decided to keep some of these items, despite not having used them within the last year or two, make a commitment to yourself that you'll find an occasion to use them within the next year, and then do it.
If yet another year passes without their use then it's time to re-evaluate once again whether these items should stay or go from your home.
If You Don't Declutter It All Make Sure What You Keep Is Properly Stored
It's very likely that you won't declutter all of your china, silver or crystal when doing this mission. That's completely OK!
If you have chosen that you'll keep these items, then you've made the decision that you'll take proper care of them, and store them safely and securely so they'll be less likely to get damaged, and continue to look beautiful long into the future.
Therefore, check out these articles on the site which give tips for storing both china and silver properly.
First, here are tips for storing china, glassware and crystal properly.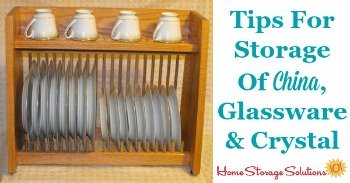 In addition, here are tips for storing silver with minimal tarnishing.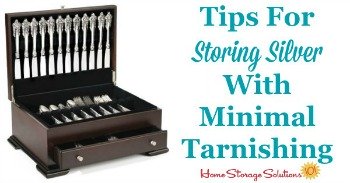 Want To Do More Decluttering Missions? Get Started With Declutter 365 Today!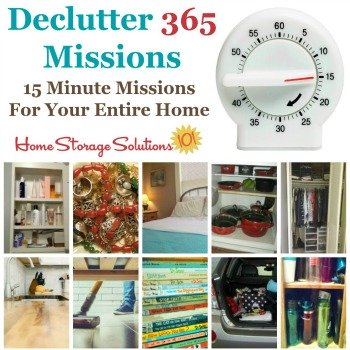 Once you declutter one type of item in your home I bet you'll want to declutter some more. After all, decluttering gives you a great reward for even a small investment of time and energy.
The Declutter 365 system is designed to help you declutter, over the course of a year, your entire house, with just 15 minutes of decluttering each day!
Hundreds of thousands of people use this proven system to get rid of their clutter, and bring peace and calm back to their homes.
Declutter 365 works to guide you to clear the clutter without overwhelm, focusing on just one small area at a time, and without making a huge mess in the process, so you see consistent forward progress without all that "messy middle" that makes it even harder to function in your home than before you started.
In addition to building a daily decluttering habit, the Declutter 365 program, along with the accompanying 52 Week Organized Home Challenge, teaches you the skills, habits, routines, and mindsets necessary to maintain the clutter free and organized state of your home from now on, so it'll never be as messy and cluttered as it is right now, ever again.
If you haven't already, make sure to get your copy of this year's Declutter 365 annual calendar here (it's FREE!), find today's date, and do 15 minutes of decluttering on the day's mission. Then, repeat again tomorrow, and again and again. Over the course of the next year, if you do this 15 minutes per day, you'll declutter your whole house!

Once you've decluttered these items, make sure to do the next mission, to declutter your china cabinet or hutch so that anything else you store in there, that's clutter, is also removed!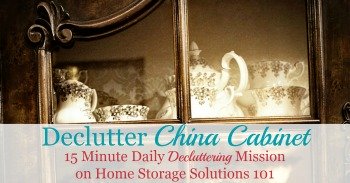 Further, a related mission is to declutter serving dishes, whether they're china, silver, or more regularly, everyday use types of items.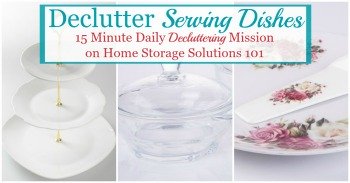 Photo of silver in collage courtesy of Hagerty Zippered Drawer Liner