Free Printable 2018 Declutter Calendar
15 Minute Daily Missions For Year
Here is the free 2018 declutter calendar, containing the Declutter 365 missions, which are 12 months worth of 15 minute daily missions that you can use to get rid of the clutter throughout your whole home over the course of this year!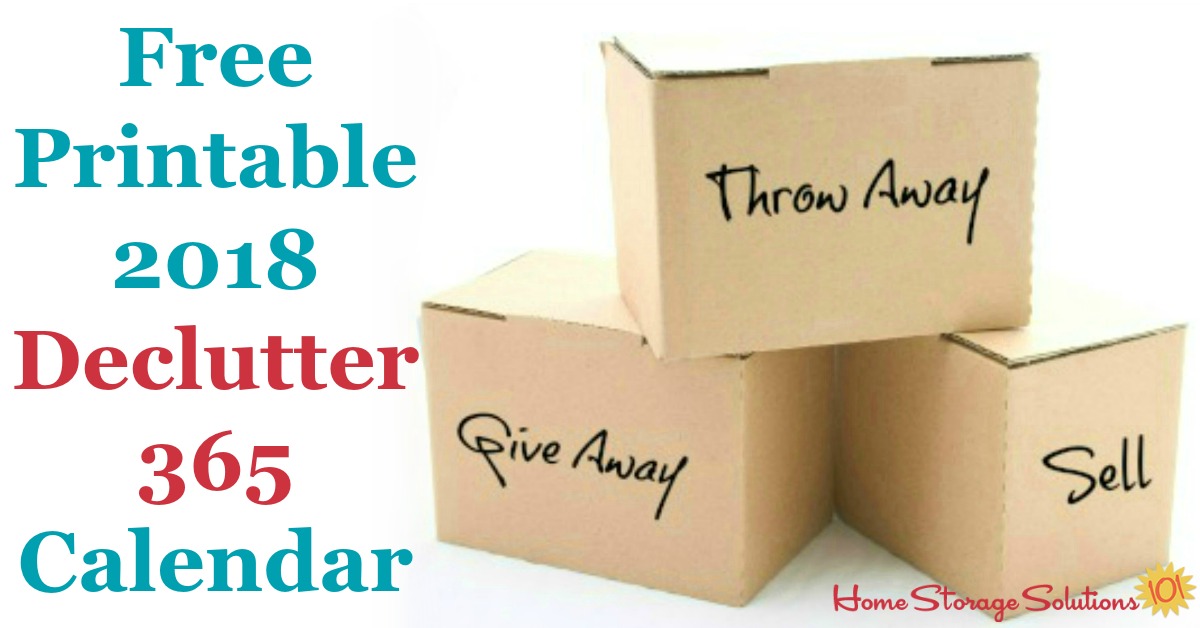 All you need to to grab this printable is sign up (for free) for the 52 Week Organized Home Challenges and newsletter to come directly into your email inbox. Once you're an email subscriber the 2018 calendar will be emailed to you.
These challenges correspond with the daily missions anyway, so they'll keep you on track with your decluttering!
Click here to sign up if you're already ready to join for free!
What's Included In The Printable Calendar?
The printable is 20 total pages, including an introduction, 12 calendar pages, plus a one page list of all 52 weekly challenges that we'll be doing during 2018 together.
Can You Get These Calendar Pages Without Subscribing?
Eventually you can get each of these pages separately here on the site, one month at a time. A few days before the new month I update the individual monthly calendar pages, and you can print out just that month's calendar. But if you want the entire year all in one place, and not have to wait, then you'll need to subscribe.
Here's the link to find the individual monthly calendar pages.
I sure hope you'll join me and the over 160,000 others who've already signed up to work on these challenges and get their whole house organized and decluttered in 2018!
Sign Up Here To Get Your Free Printable Calendar!
What If I'm Already Subscribed? How Do I Get The 2018 Calendar?
If you already subscribed, for example in 2017, 2016, 2015, or even earlier, no problem! You can get a copy of the 2018 calendar too. In fact, as a subscriber the latest calendar has already been sent to you! There is no need to resubscribe if you're already subscribed!
If you try to re-subscribe through the form on this page it will say you're already subscribed! Don't worry or get frustrated. Instead, just check your email inbox because I send the calendar to all current subscribers too!
You can find your copy of the calendar in a special email which is sent as soon as the calendar is published, and in addition as a PDF link at the bottom of most emails you receive from me through the entire end of December and through all of January (scroll down to the bottom of the emails! People often don't see it, and then send me an email looking for it, just to find out they could have scrolled down a bit more for their calendar!).
If after a search in your email inbox you still can't find it though, just reply to one of the emails you can find from me, and my assistant or I will be happy to make sure you get your copy! And if you can't find any emails from me you can send me an email through the site's contact form here to ask for more assistance.
Don't Forget To Also Join The Declutter 365 Premium Facebook Group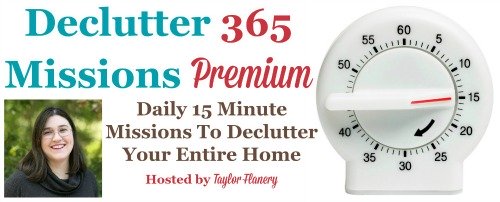 Although you can follow along with just the emails from me, plus the calendar, many people begged for more daily interaction and guidance during the missions.
You asked and so I delivered. I've created a closed Facebook group called Declutter 365 Premium which follows along with the free 2018 decluttering mission schedule I've created and posts each mission, daily, to help remind you of the challenges and missions, and keep you on track. In this group I also provide weekly live video sessions to discuss the week's missions, and have a question and answer session.
This premium Facebook group is only available as a bonus for my monthly Patreon patrons. You can find out more about how to become a monthly patron here.