Free Printable 2021 Declutter 365 Calendar
15 Minute Daily Missions For Year
Here is the free 2021 declutter calendar, containing the Declutter 365 missions, which are 12 months worth of 15 minute daily missions that you can use to get rid of the clutter throughout your whole home over the course of this year!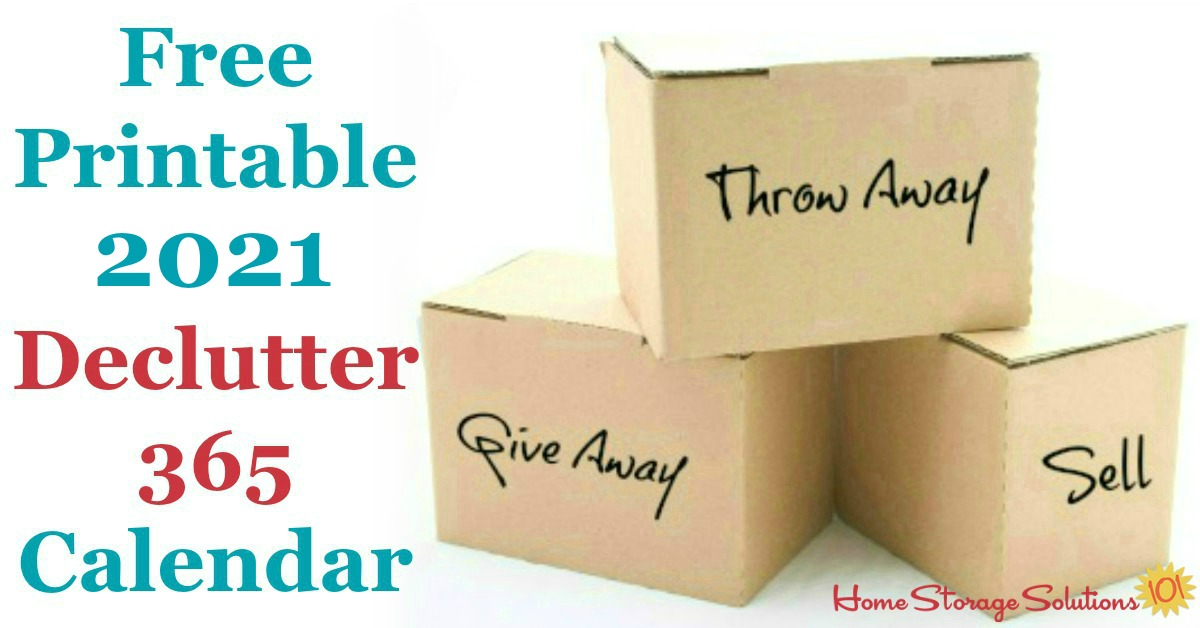 All you need to do to grab this printable is sign up (for free) for the Home Storage Solutions newsletter to come directly into your email inbox. This newsletter provides you with information about the 52 Week Organized Home Challenges, Declutter 365 missions, as well as additional decluttering and organizing tips and hints.
Once you're an email subscriber the 2021 calendar will be emailed to you.
The beauty of becoming a newsletter subscriber is that the information contained within these emails is all about exactly what's contained in the 2021 Declutter 365 calendar, meaning that the information helps keep you on track with your daily decluttering!
Click here to sign up if you're ready to join for free now!
What's Included In The Printable Calendar?
The printable is 30 total pages, including an introduction, 12 calendar pages, plus a one page list of all 52 weekly challenges that we'll be doing during 2021 together.
Can You Get These Calendar Pages Without Subscribing?
Eventually you can get each of these pages separately here on the site, one month at a time. A few days before the new month I update the individual monthly calendar pages, and you can print out just that month's calendar.
Here's the link to find the individual monthly calendar pages. Once on the page scroll down and find the current month, or the upcoming month you want to see, and get your copy.
In addition, you have the option to donate to website, and then get, as a thank you from me, the 2021 Declutter 365 calendar, without needing to subscribe to the newsletter. If you'd like to donate to get your calendar instead of subscribing you can find out how to do it here.
I sure hope you'll join me and the over 150,000 others who've already signed up to work on these challenges and get their whole house organized and decluttered in 2021!
Sign Up Here To Get Your Free Printable Calendar!
What If I'm Already Subscribed? How Do I Get The 2021 Calendar?
If you already subscribed, for example in 2020, 2019, 2018, 2017, 2016, 2015, or even earlier, no problem! You can get a copy of the 2021 calendar too. In fact, as a subscriber the latest calendar has already been sent to you! There is no need to resubscribe if you're already subscribed!
If you try to re-subscribe through the form on this page it will say you're already subscribed, and it won't let you do it! Don't worry or get frustrated. I just don't want you to get multiple duplicate emails from me! Instead, check your email inbox because I send the calendar to all current subscribers too, automatically, without them having to do anything extra!
You can find your copy of the calendar in a special email which is sent as soon as the calendar is published, and in addition as a PDF link at the bottom of most emails you receive from me through December and through all of January (scroll down to the bottom of the emails! People often don't see it, and then send me an email looking for it, just to find out they could have scrolled down a bit more for their calendar!).
If after a search in your email inbox you still can't find it though, I can help you. You can reply to one of the emails you can find from me, and my assistant or I will be happy to make sure you get your copy! And if you can't find any emails from me you can send me an email through the site's contact form here to ask for more assistance, and again, you'll get a copy.
Here's the 12 pages of the calendar you'll get for 2021.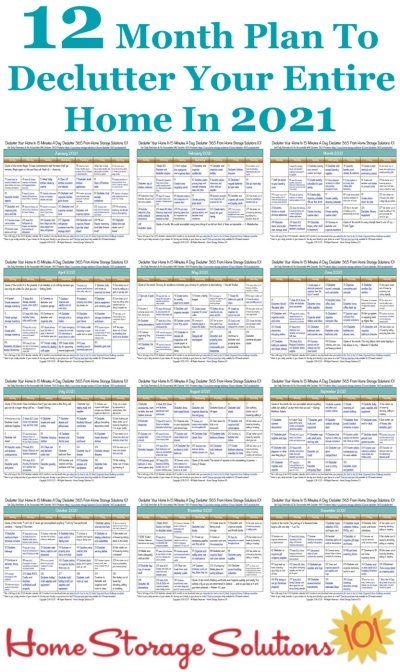 Get Even More Help & Support To Declutter Your Home In 2021 With These Declutter 365 Products
If you want to declutter your home this year, without overwhelm, and by doing just one small step at a time, the Declutter 365 missions will help you do it.
Many people have had success working through the missions on their own, with just the printable calendar and free newsletters as their guide.
The problem with working by yourself is that you can lose motivation, forget to do the missions each day before you're really in the habit, or get stuck with a problem and not know how to declutter something, or organize what you're keeping.
I want you to succeed, and so I've created additional resources for you to get all the help and support you need to have a clutter free and organized home.
Get Daily Declutter 365 Missions Sent To You Via Text Messages For 2021 So You'll Never Forget Another Mission
Once you've got the annual Declutter 365 calendar, the next step is to remember, every single day, what the day's decluttering mission is.
That's why I'm offering a simple way to get those daily reminders -- via text message.
Find out how to get the daily Declutter 365 missions sent directly to you, via text message, here. (Please note that these text messages are only available for U.S. based numbers.)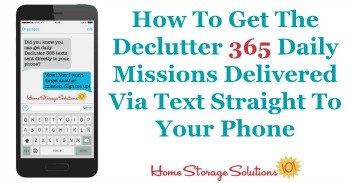 Get Encouragement, Motivation & Support As You Work Through The Declutter 365 Missions With A Membership To The Declutter 365 Premium Facebook Group
Decluttering your home is possible, but no one said it would always be easy.
Instead, working through the missions will take motivation and consistent effort on your part.
You can get support, encouragement, and help when you're feeling stuck with the decluttering process, in the Declutter 365 Premium Facebook Group, which is a private and exclusive group I've created to help you succeed and get your home clutter free. There's even a weekly group coaching session, from me, Taylor, to help you!
You can find out more about what you get when you join this private Facebook group, and how you can subscribe either for 2021 or monthly, here.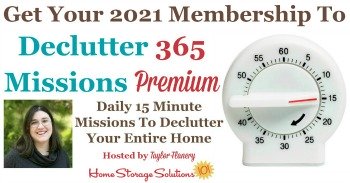 Support Declutter 365 With A Small Donation As A Thank You For This Free Calendar
Once you've gotten your 2021 Declutter 365 calendar, as my free gift to you, a small donation to support the site is appreciated if you find this calendar and plan helpful to you.
You can find out more about how to make a small donation to support Declutter 365 here.