52 Weeks To An Organized Home:
Join The Weekly Challenges
Do you want an organized home? Most people do, but they go about it in the wrong way expecting overnight success. Let's instead do it the right way, together, with the 52 Week Challenge.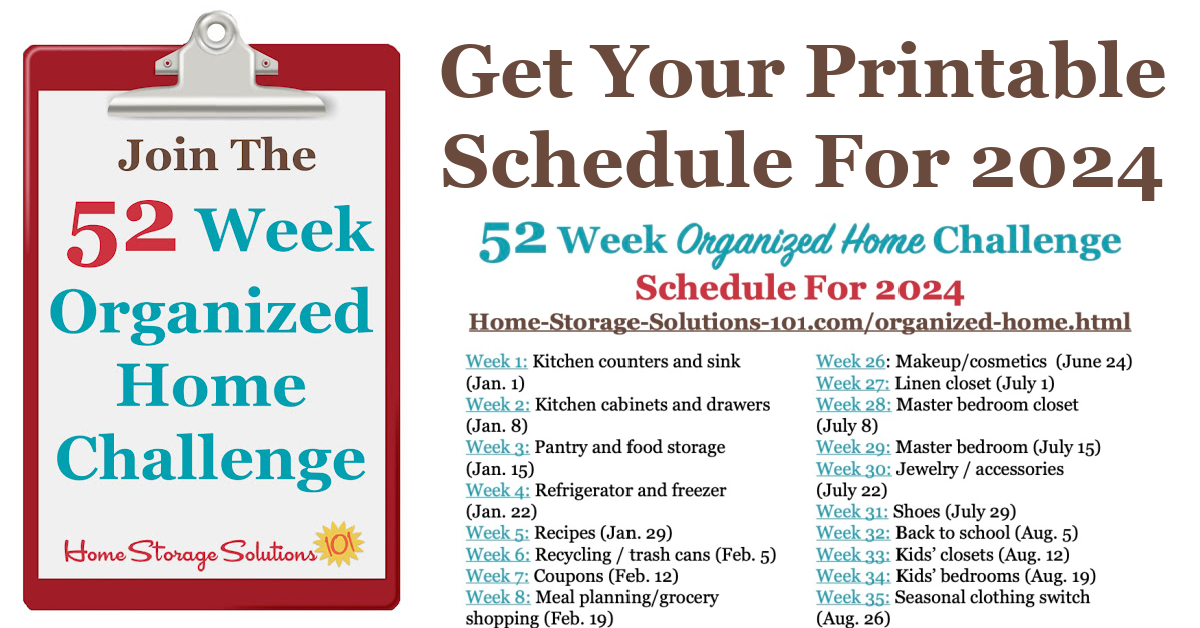 Click here to sign up if you're already ready to join for free!
Why Does It Take 52 Weeks? Why Can't I Get Organized Over Night?
You cannot expect to get your home completely organized over night, even though that would be wonderful. It won't realistically happen for most of us because we have too many areas in our homes that we need to address.
Plus, even if a whole crew came in and organized everything right now, like they do on some of those television shows, you most likely don't have the habits in place to maintain that organization yet.
However, you can get organized slowly, over time, and the habits you create as you go slowly will stick, and make sure you keep it that way from now on.
That is where The 52 Week Organized Home Challenge comes in. Each week we focus on a different challenge area in our homes and make steady forward progress.
The idea is that at the end of the 52 weeks you will have an organized home. Plus, your life and your home will run more smoothly, and you'll have gained the knowledge, skills, habits and routines necessary to actually keep your home and life more organized from now on!
Trust me, maintaining the organization you put in place can be just as much of a challenge as getting there in the first place, so those skills and discipline are very much needed!
When Does The Organized Home Challenge Start? Am I Too Late To Begin?
This challenge is ongoing. You don't have to wait until January 1st or any other arbitrary time to begin. Instead jump in wherever we are right now and take off from there.
How Do I Keep Up With The 52 Weeks To An Organized Home Challenges?
Each Monday we start that week's challenge, and we will all work on it during the week (including me -- I'm doing the challenge right along with you). I've also now created related daily Declutter 365 missions, which roughly correspond to the weekly challenges, to help you do the first part of every organization project - to declutter the space before you begin to organize it.
To remember what area of the home we're working on each week you can come back to this page to find that week's mission and dive right in.
However, I know that it can be hard to remember to check something on the web each week, so I also send out the challenge each week as part of the free newsletter for the site. If you want these reminder emails to come to you, along with additional organizational tips and hints, sign up below.
One Page Summary Of 2024's Challenge
(I know, 2023 isn't quite over yet. If you want to grab the 2023 schedule, as a printable, you can do so here, since we're still working on the 2023 version while it's 2023!)
I've run this challenge for several years. In fact, 2024 will be the 13th year. Every year I try to improve it, and 2024 is no different.
I've created this one page printable below to show you at a glance exactly what we'll be doing during the challenge each week for 2024, and when you open it as a PDF on your computer the links to each week are clickable, meaning you can read that week's challenge all from this document!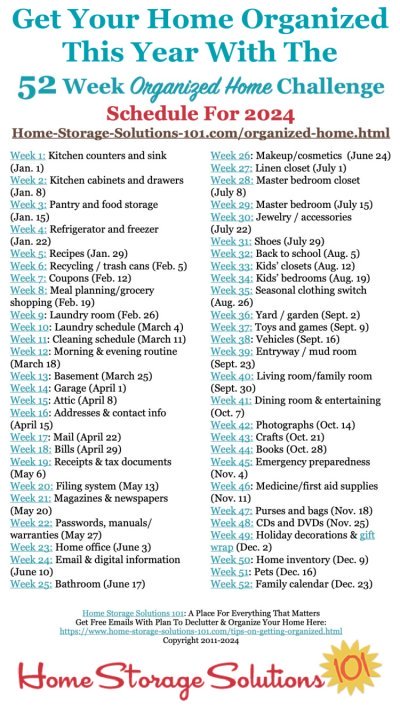 Click here for your free 2024 schedule
(opens as PDF in new window)
Here's A List Of The 52 Challenges In The Organized Home Series
Below is a list of the 52 challenges that are part of the Organized Home series, and the week we're going to work on them, together, for 2023.
(Since we are still in 2023, I have left the 2023 dates below. Once we start on the 2024 version of the calendar I'll update this page further with the 2024 dates. Until then, to know the 2024 dates we'll be doing these challenges see the 2024 printable of this schedule above.)
You Can Report Your Own Progress In The Hall Of Fame
I want people to participate in this challenge, and to be able to show off what they've accomplished since it feels so good when you get something positive done in your home!
If you do even one of the challenges, whether while it is running that week or anytime you get around to it, and want to show off your accomplishments I would be happy to publish your before and after pictures, or story about what you did here on the site. Just for this purpose I've created a "Creative Storage Solutions And Home Organization Hall Of Fame."