Week #49 Organized Home Challenge
Organize Wrapping Paper & Gift Bags
Your challenge this week is to organize wrapping paper, gift bags, tissue paper, ribbons and bows so you can access everything when you need it easily, and yet keep it out of the way the rest of year.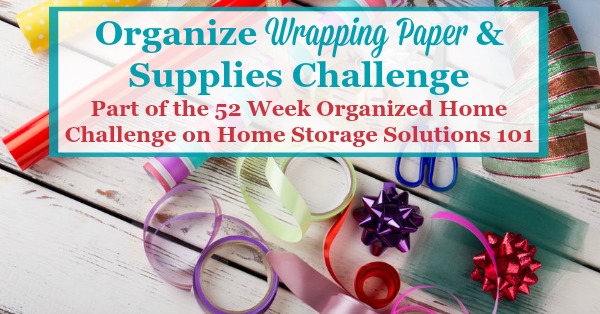 Everyone has to wrap presents now and then, throughout the year, but you are almost guaranteed to need to do this task during the holidays, which is why I chose this week to do this challenge.
While you're doing your last minute gift wrapping it is the perfect time to also organize all of your wrapping supplies and equipment into one area. When you're done you'll have everything ready for use, at your fingertips, when you need it, and can wrap presents with a minimum of effort.
Please note that as the 52 Week Organized Home Challenge has evolved over the years, this challenge is now combined with the Christmas decoration storage and organization challenge so don't miss that article to find out the rest of your tasks for the week!
Are you new here? This week's challenge, about how to organize wrapping paper and gift bags is part of the 52 Weeks To An Organized Home Challenge. (Click the link to learn how to join us for free for future and past challenges if you aren't already a regular reader).
Step 1: Gather All Your Wrapping Supplies Together
The first step is to gather all of your gift wrapping supplies together, into one area. The advantage of this is that when you need to wrap a gift you don't have to spend the first 15 minutes of the process walking around your home gathering all your equipment together.
Here are the things you need to gather together:
Wrappping paper (both rolls and folded flat sheets)
Gift bags
Boxes
Tissue paper
Tape
Scissors
Bows
Ribbons
Gift tags
If you don't have dedicated scissors and tape that are only used for wrapping gifts, I would highly recommend getting some. These items aren't expensive, and having them right with the rest of your stuff really makes the job of wrapping gifts easier.
Step 2: Declutter And Get Rid Of Excess Supplies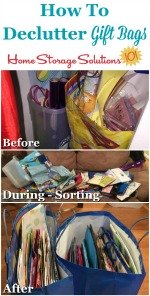 The next step in how to organize wrapping paper and gift bags is to pare down the amount of supplies you have, if you've got a mountain of it.
I'm a sucker for cute wrapping paper, especially of the holiday variety, and have tended to buy too much of it. So much, in fact, that for about 5 years now I haven't bought any Christmas wrapping paper at all, once I decided I should use everything I own before buying more.
If you also suffer from "too much gift wrap syndrome" seriously consider getting rid of some of it by decluttering. It will be next to impossible to find a place to store all of it in one area in your home if you've got a lot.
Here's my article on how to declutter gift bags with additional tips for at least that task.
At the least, stop buying more until you use what you've got and plan to put all the Christmas paper in storage with all the rest of your holiday decoration storage. You won't use holiday paper (and coordinating ribbons, bows, etc.) except during the holiday season anyway, so you can clear out room for the less-seasonal stuff that way.
Eventually, your goal may become to winnow your stash down to 1-2 varieties of wrapping paper and 1-2 colors of ribbons or bows that coordinate. These can become your signature colors that you become known for amongst your friends and family. (Easier said than done, but it is something to aspire too!)
You can check out my list of holiday and Christmas decluttering missions here for even more ideas.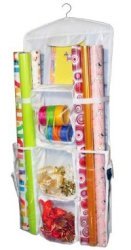 Consider a hanging gift
wrap organizer if you don't
have much space
Step 3: Choose A Spot For Your Gift Wrapping Center
The next step in how to organize wrapping paper and gift bags is to choose an area to store your supplies. The ideal area will have two characteristics: (1) a large flat surface nearby that you can wrap presents at; and (2) enough storage room to hold all your supplies.
This area doesn't have to be dedicated to gift wrapping 24/7 in your home. Since you only wrap presents every once in a while, this spot should definitely multi-task, and serve other functions most of the time.
Further, when considering what area to choose, think about how often you really need to wrap presents. If you do it only about twice a year, for instance, don't give the storage as prime of real estate as if you've got to wrap presents every single month.
Step 4: Choose The Right Gift Wrap Storage Solutions For You
There are all kinds of ways to store your wrapping supplies, with both homemade or commercial products you can use.
The most common storage solutions include those that:
Hang in the closet
Store under the bed; or
Hang over the door
You can read more about the pros and cons of each of these wrapping paper storage solutions here, including my recommendations about the best ones to purchase if you're looking for something new.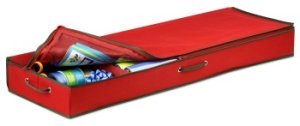 An under the bed organizer may work best if you
don't have lots of closet space to store supplies
Which type of storage solution you choose should depend on how many supplies you have, and where you want to create your wrapping center. The possibilities are really endless.
For example, a great way to organize wrapping paper and other supplies without buying a special organizer is to use a dresser, such as in a guest room. You can place your materials and supplies within the drawers and then use the dresser's flat surface to actually wrap the gifts.
Read more about my suggest wrapping paper storage solutions and ideas here: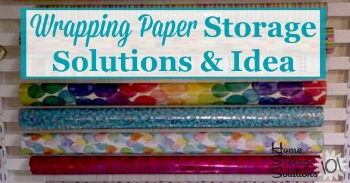 Step 5: Tips For Keeping Your Gift Wrapping Center Organized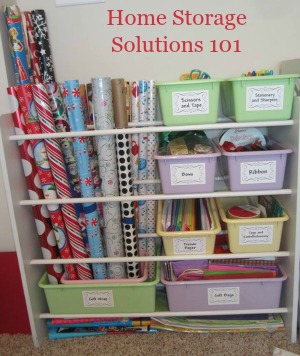 DIY Gift Wrap Station Repurposed From Old Toy
Organizer [Featured in Hall of Fame]
No matter how you choose to store and organize wrapping paper, a few actions will help keep that area organized from now on. Here are some tips to keep in mind:
Keep wrapping paper rolls from unwrapping between uses by using rubber bands around the top and bottom, or cut a slit lengthwise down an empty old roll of paper and wrap it around the newer roll.
Folded tissue paper or wrapping paper sheets need to stay flat, preferably laid between 2 pieces of cardboard or other stiff material to keep them from bending or crumpling while in storage.
Use a piece of tape to secure the loose end of each ribbon roll between uses, to keep them from unwinding while in storage and everything getting tangled together.
Use a gift bag to store other folded gift bags, bows, gift tags, and even your scissors and tape to keep everything together in a convenient area.
As you wrap a present and run out of a supply make sure to mark it down on your shopping list for the week, and get a replacement so the next time you use your wrapping center you have everything you need to get your present ready.
Listen To Taylor's Video Tips For This Week's Organized Home Challenge & Declutter 365 Missions
Do you want more in-depth tips and instructions for how to do this week's missions and challenge all about decluttering and organizing wrapping paper and gift bags? If so, I've got recorded video tips from me, Taylor, from the video archives in the Declutter 365 Premium group, all about this week's challenge and missions.
These video tips are available on demand in the archives, once you're a member of the group.
In Week #49's video I discussed the following topics, among others:
Tips for decluttering holiday and seasonal decorations
Tips for storing and organizing Christmas and other holiday and seasonal decorations
Organizing gift wrapping supplies and gift bags
Declutter 365 missions for the coming week

I suggest watching the video archive for the week, perhaps while you're doing some decluttering or cleaning around your home, before starting the week's missions and Challenge, and then you'll be able to breeze through this week's worth of decluttering missions, as well as organize what's necessary for the 52 Week Organized Home Challenge, based on the advice and instructions within those videos.
It really is like having me, Taylor, available, 24-7, as your decluttering and organizing coach, for every area of your home!
Plus, once you're a member of Declutter 365 Premium you get access to not only this video, but all the videos for the 52 weeks of the year, for 5 years (that's over 260 videos available in the archives!)

Tell Me How The Organize Wrapping Paper & Gift Bags Challenge Is Going For You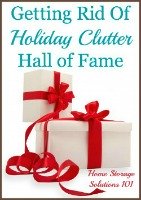 I would love to know how this week's challenge about how to organize wrapping paper and gift bags is going for you. You can tell me your progress or give me more ideas for how you've organized this area of your home below in the comments.
I also love before and after pictures, and would love to see some of yours. Submit your pictures (up to four per submission) and get featured in the Creative Storage Solutions Hall Of Fame. You've worked hard to get organized, so now here's your chance to show off!
Some readers have already shared their ideas as well, and you can check out these hall of fames for more inspiration:
Sneak Peek For Next Week's Challenge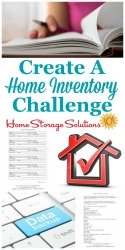 We're working on our homes slowly, one area at a time, so don't get too distracted from this week's challenge about how to organize wrapping paper and gift bags.
However, I know we all like to know and plan for what is coming up next, so I'll tell you, we're going to focus on creating a home inventory to help protect us, and our belongings, in case of disaster, fire or theft.
More Holiday Storage Articles
Make Sure You Make The Most Of These 52 Organizing Challenges
Get your copy of the printable one page 52 Week Organized Home Challenge schedule for the year here, so you can see all the challenges we're working on.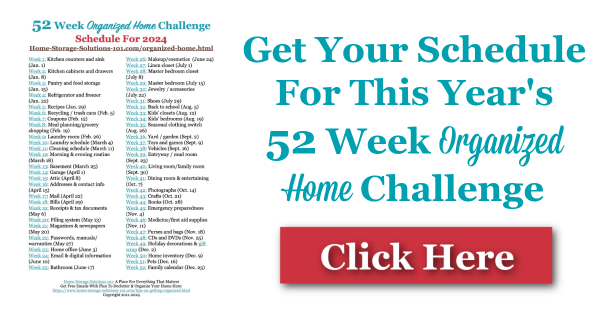 Further, if you'd like to join a community of others who are all commmitted to these organizing challenges and corresponding decluttering missions, and want more interaction with me, Taylor, video archives of Taylor providing more tips for each of these challenges and missions, as well as live monthly group coaching sessions focusing on the skills and habits necessary to maintain your home from now on, I'd urge you to join the private and exclusive Declutter 365 Premium Facebook group (you can learn more about it at the link).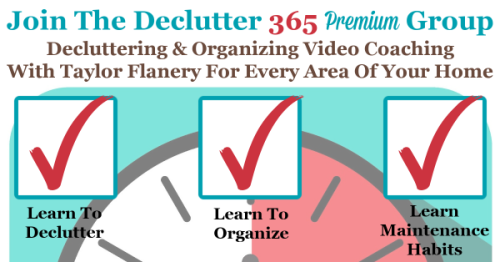 In addition, have you gotten your Declutter 365 Products yet, to make sure you can get even more assistance with decluttering and organizing your home this year? There are both free products (like the Declutter 365 calendar, a $20 value), as well as add-ons, such as daily text messages, planner stickers, and a Premium Facebook group, as well as a pack of printabe decluttering checklists.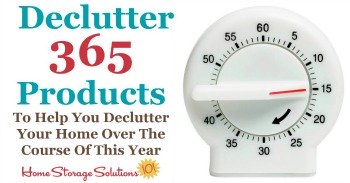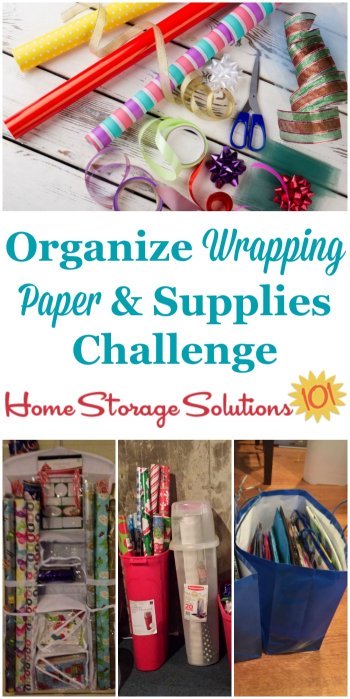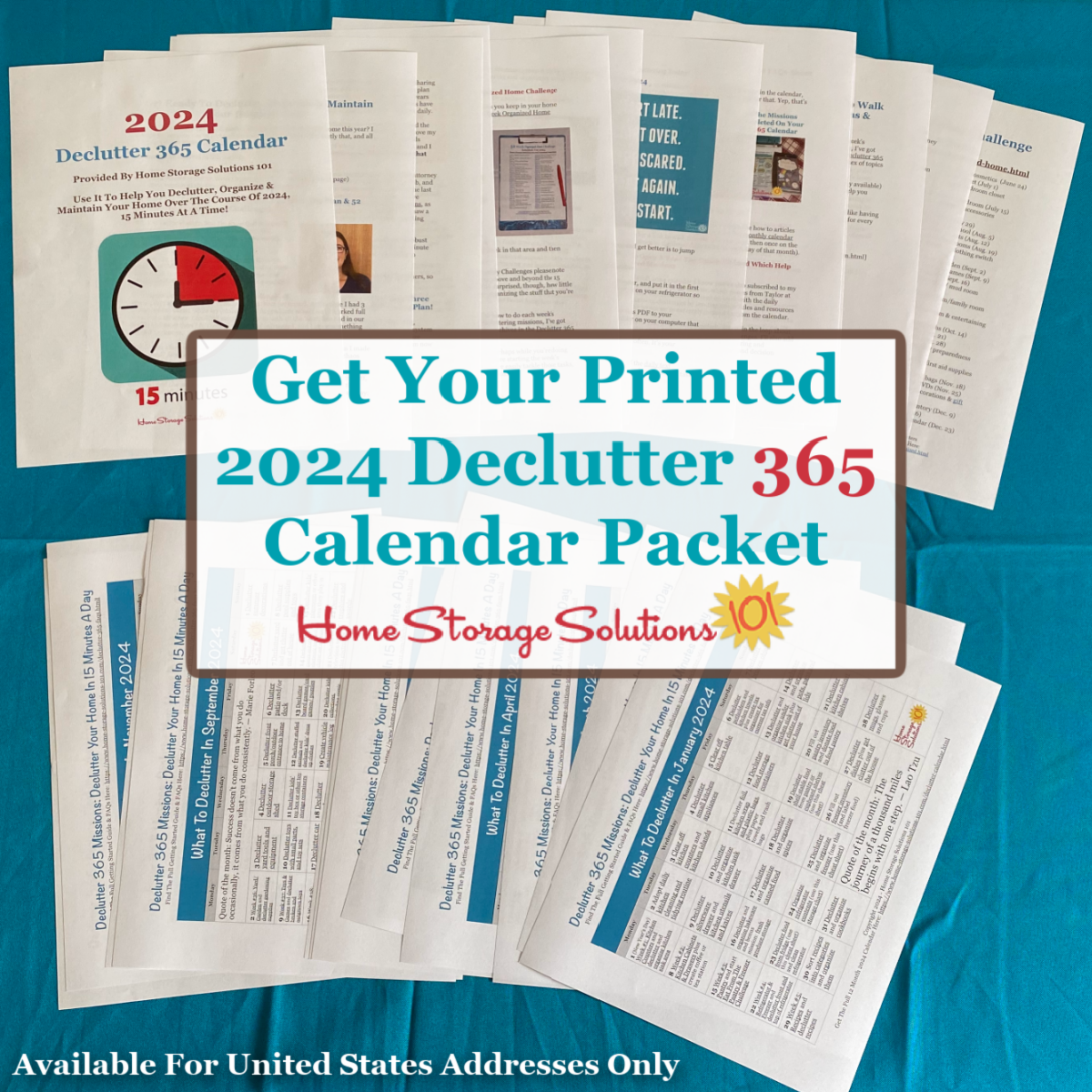 Related Pages You May Enjoy