Wreath Storage Solutions
For Christmas Or Any Time Of Year
If one of your seasonal decorations are wreaths then you need some wreath storage solutions to make sure they stay beautiful and keep their shape between uses.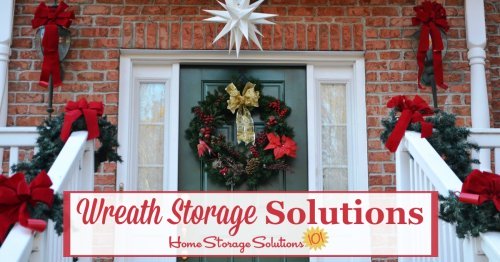 Christmas Wreath Storage And Other Seasonal Wreaths
Just like artificial Christmas trees, wreaths are quite large for storage between uses. However, they cannot be disassembled to take up less room, so we often struggle with how to actually store them.
Proper storage is important though, because you want them to keep their shape between uses, and also protect them from dust, bugs, rodents and other things which could ruin them.
Although I am focused, at least to a certain extent, on Christmas wreath storage in this article, since this is one of the most common types of decorations to store, the advice provided is equally applicable to any other type of wreath you may own, such as ones you may use for spring, or fall, for example.
Storage Containers And Boxes Made Specifically For Your Wreaths
One of the best ways to store these items in your home is to use a box or other container, such as a a bag, designed specifically for your wreath. You will need to make sure you purchase one that fits your wreath, including those that are oversized or double wreaths, for example.
These containers are a good idea because you can lay the wreath in there and not worry that it will get dusty, dirty or squashed when something else is stacked on to of it. In addition, it keeps it from twisting or moving which can make it not lie flat against the wall or door the next time you get it out.
Pay special attention the sizes available, and the size of your wreath, to make sure you don't buy something either too large or too small. Not only is the diameter of the wreath storage container important, but the depth can also be important to note. Depending on whether the wreath is decorated, and also how thick it is, you may be able to hold only one, or multiple wreaths in each container.
There are basically two types of wreath storage containers available -- bags and boxes. Boxes have the advantage of being stackable, while bags should be hung on the wall in a storage area, and not stacked. Below are some I recommend (including a garland storage bag):
DIY Storage Ideas For Your Wreaths
If you don't want to use a product designed specifically for this purpose you still need to take some DIY ("do it yourself") steps to keep your wreath nice between uses. Have you ever tried to dust one of these objects? It is very hard to do, so save yourself a lot of hassle and put your wreaths in individual black garbage bags between uses.
Then, hang the wreath up, inside the garbage bag, in your holiday storage area in your home. Why hang it up? Well, if you lay the wreaths in a garbage bag on top of other boxes or bins, they run the risk of getting squashed if something is placed on top of them. In addition, if the area is not perfectly flat it can warp the shape of the wreath over time, meaning it won't hang properly the next holiday season. That's why if you want to lay them flat you should get some hard stackable boxes to keep the wreaths in, to avoid this problem.

Top photo courtesy of a reader, Donna