Hanging Garland Storage Bag
Keep Garland Clean And Untangled
A garland storage bag, such as the one seen below, will keep your Christmas garland clean and untangled at the end of each holiday season until it is ready to get back out again the next year.

This particular bag is made by TreeKeeper, a leading manufacturer of Christmas storage products.
The product is called the "GarlandKeeper," and is designed to hang your Christmas garland on a steel hook to keep it from getting tangled, and then the bag covers the decorations to keep them from getting dusty while in storage.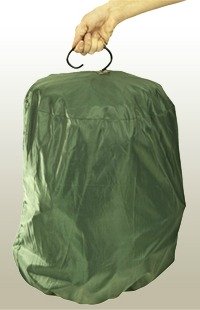 You can hang garland up to nine feet long on this hook.
You can then hang the entire bag from the hook in a storage area in your home and everything will stay nice, neat, and organized until you get it back out the next year.
You can click here to purchase this product.
Other products from this company that I've featured on this site include wreath storage container bags and an artificial Christmas tree storage bags.
Additional Wreath Storage Solutions
If you are in need of Christmas garland storage you most likely have some holiday wreaths to store too. You can see more wreath storage solutions here on the site.
In addition, here are more garland storage products you could use:
In addition, how do you store your garland and other Christmas decorations? I would love for you to share your ideas and thoughts in the comments below.

Some links on this page are affiliate links, meaning that if you purchase a product through them I receive a small commission which helps me provide this information to you for free, plus support my family. My integrity and your satisfaction are very important to me so I only recommend products I would purchase myself, and that I believe would benefit you. To learn more please see my disclosure statement.