Artificial Christmas Tree Storage Solutions For Your Home
Here are ideas and tips for artificial Christmas tree storage in your home, taking into account how large these trees are, and how hard they are to take down and put up each season.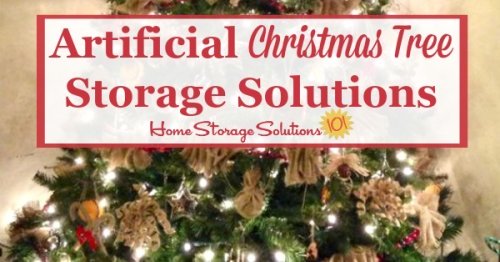 Artificial Trees Are Tough To Assemble Each Year
One of my fondest memories when I was a kid was assembling the Christmas tree each year with my Dad. We had an artificial tree back then, and in my family now we still have one. (Allergies prevent real trees in our family.)
Now that I'm an adult though putting up the tree is a lot less fun, and seems more like work. The tree, when assembled is pretty huge, and it takes a while to actually put it all together.
These Trees Take Up Lots Of Storage Room Fully Assembled Though
Because these trees take so much work to put together ideally you should store your tree fully assembled, and perhaps even partially decorated with lights. If you have room to do this it can make the process of putting up your tree SOOO much simpler.
One of the disadvantages to keeping your tree assembled and/or partially decorated is that it takes up quite a bit of room in the storage areas of your home. This may be more room than you can devote to a tree, which is the case in our family for example. However, if we ever get more space I will definitely be storing my tree assembled in the future!
However, if you keep your tree fully assembled all year round you've got to take action to protect it from dust, debris, insects, rodents, etc. in the area you store it in, if you want it to look good from year to year.
Christmas Tree Storage Bags Perfect For Keeping Assembled Trees Beautiful From Year To Year
If you can store your artificial tree fully assembled it will quickly begin to gather dust and debris if it is just left sitting out. Therefore, the solution is a Christmas tree storage bag.
An important tip to keep in mind when deciding which bag to purchase -- make sure it is sized to fit your Christmas tree. There are small, medium, large and even extra large bags available, so pay close attention to the size of tree it says it will accommodate.
Typically, the bags mainly say what height of tree they accommodate, but I've found that if you've got a "fat" tree, and not a really slim one, you will most likely need a larger size than what you think, even if the bag says it will accommodate the height of your tree.
Here are some of the upright storage bags I recommend. The two on the left are the more expensive versions from TreeKeeper, which are perferred, if you can afford one of them. In addition, the one on the right is the cheaper version, from Household Essentials, which is one of the best of the lower quality versions available on the market. Only the more expensive versions with the TreeKeeper are available in some of the really large sizes.
Further, if you want to keep decorations on your tree, instead of just keeping the tree itself assembled, you don't want a bag that compresses the tree. A bag that can be used with a fully decorated tree is located in the center below, from TreeKeeper. (Please note bags that don't compress the tree at all obviously take more room to store though, so this is a tradeoff.)
Christmas Tree Storage Hard And Soft Boxes Are Better Than Cardboard For Dissassembled Trees
If you have to disassemble your tree each year, like we do, you still need to store it somewhere while its not in use, and in that situation I suggest you get a storage bin or box which is large enough to hold the parts of your Christmas tree.
You can use the cardboard box that the tree parts came in, but cardboard can break, tear, buckle and can let in water if there is a leak. Either a plastic tub with a lid or a sturdy duffel or bag is better at protecting the tree from dust, bugs, rodents, and other things which can ruin your artificial tree.
Here is a product I recommend if you need to disassemble your tree, but still want a better artificial Christmas tree storage option than the cardboard box it originally came in.
How Can I Move This Huge Christmas Tree?
A final thing you need to consider when choosing an artificial Christmas tree storage option, whether you store your tree assembled or disassembled, is how you're going to transport it once you've got it into the bag or box. That is because these storage containers are huge, and can be unwieldy and heavy.

One of the reasons I really like TreeKeeper products is because they have rolling artificial Christmas tree stands which you can use with their products to make storage a breeze. Simply roll the tree out of storage and into place in your home.
Many of the other models shown above (but not all) also have wheels, at least as an option, to make transport easier. Make sure you take this into consideration when you choose an option. Trust me, your back will thank me later.

Top photo courtesy of a reader, Elizabeth