Christmas Storage Containers:
Festive Way To Hold Your Holiday Decorations
Christmas storage containers can be used to hold holiday decorations, lights, ornaments, garland, and all the other paraphanalia you get out around Christmas time to celebrate the season.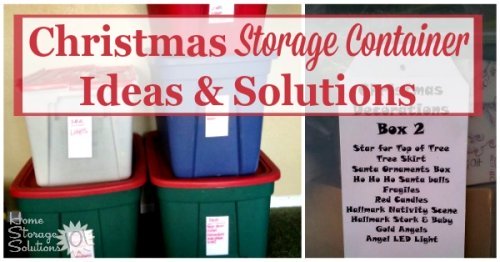 Christmas Decoration Storage: First Winnow It Down To What Matters
Just because you can buy enough storage bins and tubs to hold all your seasonal decorations doesn't mean you should. The first step in gaining control of all those decorations is to get rid of all the ones that you don't want anymore, never use, are broken, or are just plain tacky.
That's because it's easy to have a LOT of decorations, which all take up a lot of storage space when they're not in use for the majority of the year. Here's all the organized decorations from one reader, Myranda, as an example below. She explained that she organized the decorations as follows: "Organized by tree decor, house decor, lights, wrapping, and books/DVDs/holiday toys."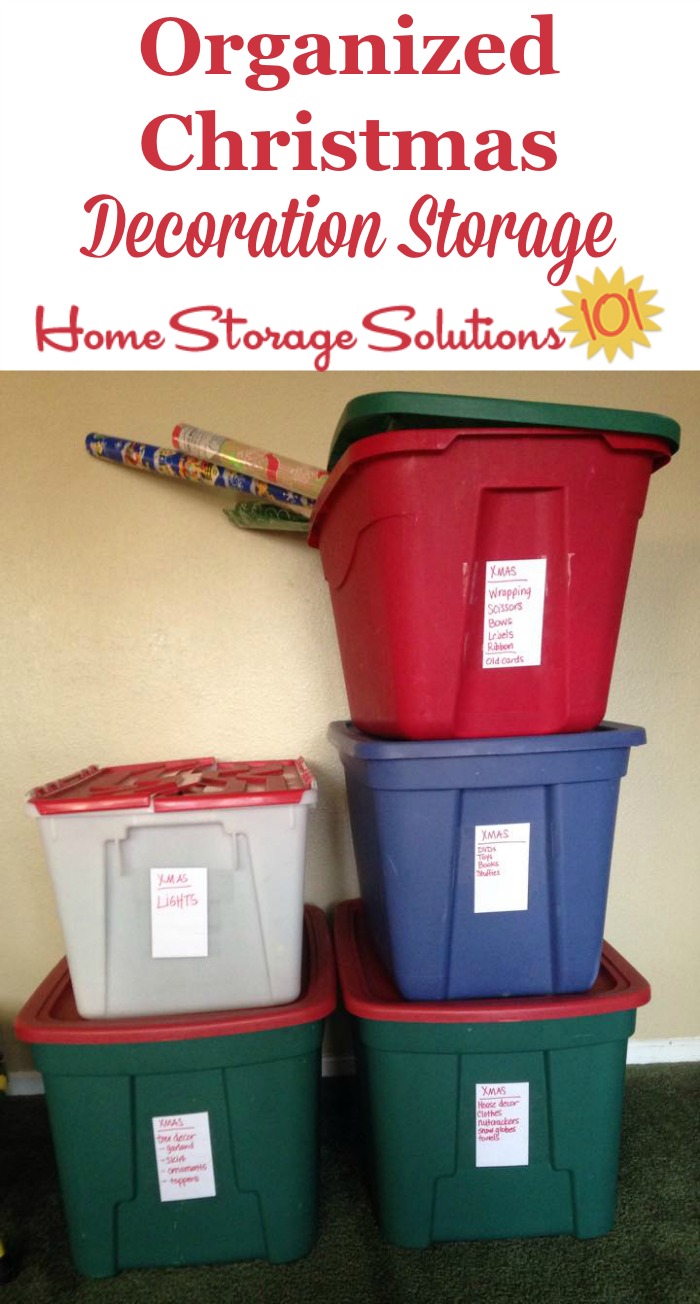 Once you've winnowed down your decorations to those that matter the most, next you've got to choose how to store all the items left.
What Criteria Should You Consider When Choosing Your Christmas Storage Containers?
Many people use cardboard boxes to store their decorations, and that will definitely work. However, I recommend using plastic, stackable containers with lids because this will help protect the contents inside from bugs, water, dust, etc. that can cause damage to the contents inside.
They have both clear and opaque plastic tubs available, and both have their advantages.
Obviously with clear containers you can see the contents inside which can help you identify the box you're looking for more quickly.
On the other hand you can't see through opaque plastic containers, but you also can't see the mess inside, and can make the stackable containers look neater and more orderly.
Here's a photo sent in by a reader, Jacqueline, who has both types of storage containers. She explained, "I bought colored storage bins a couple of years ago. I used my label maker to list the major contents (one box for Nativity scenes, one for lights, one for Advent calendars, etc.) and covered that with clear packing tape so they wouldn't peel from the heat of the garage."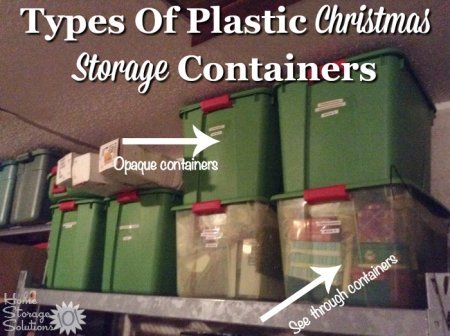 You should choose what works best for your needs and preferences.
Finally, I suggest choosing containers that have a festive holiday look so that you know, at a glance, that they contain the Christmas items within them and you don't have to peek in every box to find what you're looking for.
That's what a reader, Angie, did, for not only her Christmas decorations, but for all her seasonal decorations. She explained about the photo shown below that she sent in, "All my holiday bins. :) Christmas, Easter, 4th July, etc...and they are labeled."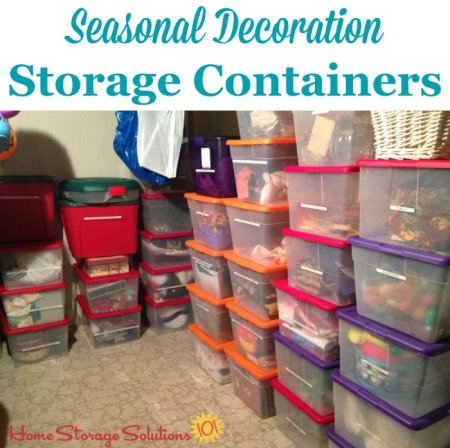 Available Christmas Storage Containers For Purchase
Here are some Christmas themed colored storage containers that you can purchase for use in your home:
Labeling Your Christmas Storage Containers
Generally, it is important to label all of your storage containers on the lid and all four sides so you can easily tell what is inside them without having to open each individual tub.
However, over time things may move between boxes, and new things get stored each year while other Christmas decorations get retired, gifted, or donated to others.
Because of this I also like the idea of using storage containers designed especially for Christmas so they are almost automatically "labeled" for you based on their appearance.
I suggest, after labeling your boxes to make a list of what is contained within them. You can use this printable Christmas storage inventory form to help you keep track.
Here's an example from a reader, Wendy, who labeled her holiday storage containers, and sent in these two photos below. She said, "I set up these boxes a few years ago but altered the labels this year as my 2 girls needed more space for their personal decorations given to them over the years. For now I have just written on old business cards for the labels but sometime I might tray making prettier ones."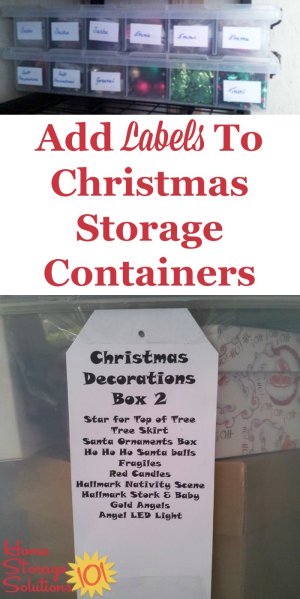 More Ideas From Readers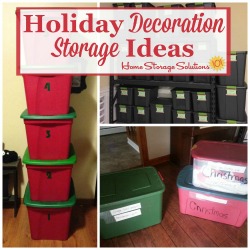 Further, several readers have provided their ideas for where and how to store holiday decorations here, so check them out for additional tips.