Printable Christmas Storage
Inventory Form
Here's a printable Christmas storage inventory form you can use to help you keep track of where you store your decorations, plus tips for how to use the form most effectively in your home.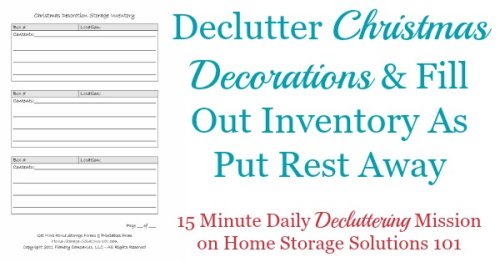 You can scroll down to get the printable form, but first, here's information on how to use it.
Your Christmas and other holiday decorations only come out of storage for a small portion of each year, so it's very easy to forget what you've got, and which box it's stored in.
One of the easiest ways to keep track of what's in your Christmas storage containers eleven months after you put the stuff in there, and your brain can't quite remember anymore, is to reference your inventory list.
Step 1: Label Your Christmas Storage Boxes
At the end of this Christmas season, as you pack away your decorations, including ornaments, lights, and everything else you use to make your home festive, label the containers you place everything into, with numbers or letters. I suggest labels such as "Christmas 1" and "Christmas 2" for example.
(You can scroll down to see some reader photos submitted, which illustrate how to label your boxes.)
Step 2: Write Down The Contents Of Each Box
Next, as you pack the decorations back in the box simply jot down the type of thing in each box. You can be as general or specific as you wish and need to make it easier for you, the next year, to put your fingers on the right things quickly and easily.
Step 3: Write Down Where You Stored The Box
Finally, as you place them back in their storage location note where you placed the box. This can be especially helpful if different boxes are located in different areas of the house, such as the attic, basement and garage.
In addition, if you are being especially ambitious, you can write down what area within the storage area you placed the boxes, such as on the basement wall close to the water heater. This is especially helpful if you've got lots of boxes in one area.
Here's The Free Printable Form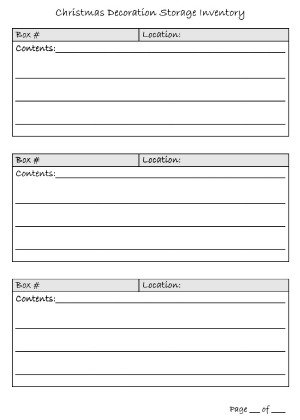 [Click here to get the form]
(opens in new window as PDF)
Reader Photos Of Printable Forms In Use
This free printable form has been very popular, and several readers have sent in photos of their organized Christmas decorations, using this form. You can see some of them below.
First, Theresa sent in the collage of photos below, stating, "Most organized these decorations have EVER been. And ironically I didn't buy any of those containers this year. And actually used one less than I normally do. AND DROPPED off a box of other decorations at Goodwill today."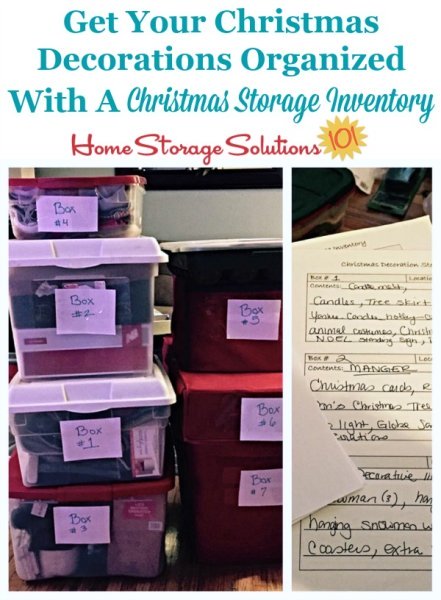 Second, Cathy sent in these photos of both her filled in inventory forms, and the Christmas storage boxes she organized for storage.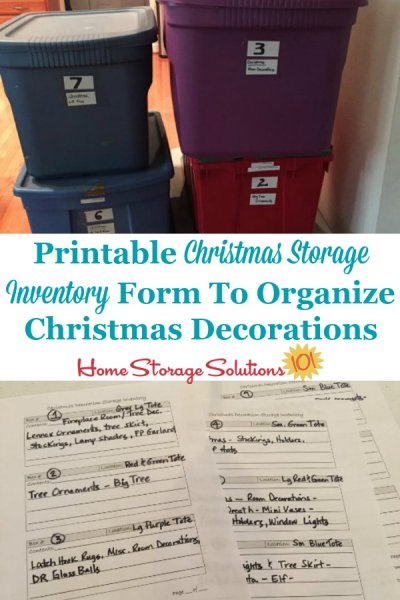 Want To Do More Decluttering Missions? Get Started With Declutter 365 Today!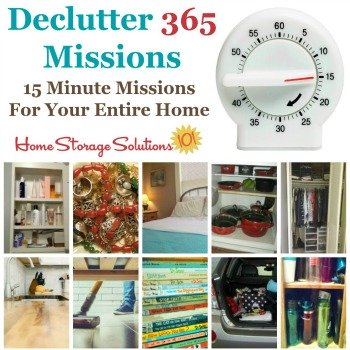 Once you declutter one type of item in your home I bet you'll want to declutter some more. After all, decluttering gives you a great reward for even a small investment of time and energy.
The Declutter 365 system is designed to help you declutter, over the course of a year, your entire house, with just 15 minutes of decluttering each day!
Hundreds of thousands of people use this proven system to get rid of their clutter, and bring peace and calm back to their homes.
Declutter 365 works to guide you to clear the clutter without overwhelm, focusing on just one small area at a time, and without making a huge mess in the process, so you see consistent forward progress without all that "messy middle" that makes it even harder to function in your home than before you started.
In addition to building a daily decluttering habit, the Declutter 365 program, along with the accompanying 52 Week Organized Home Challenge, teaches you the skills, habits, routines, and mindsets necessary to maintain the clutter free and organized state of your home from now on, so it'll never be as messy and cluttered as it is right now, ever again.
If you haven't already, make sure to get your copy of this year's Declutter 365 annual calendar here (it's FREE!), find today's date, and do 15 minutes of decluttering on the day's mission. Then, repeat again tomorrow, and again and again. Over the course of the next year, if you do this 15 minutes per day, you'll declutter your whole house!

More Holiday Storage Articles