Printable Christmas Storage
Inventory Form
Here's a printable Christmas storage inventory form you can use to help you keep track of where you store your decorations (plus below the printable are tips for how to use the form most effectively in your home).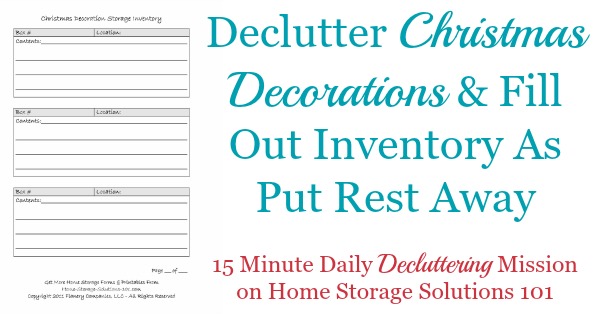 You can scroll down to get the printable form, but first, here's information on how to use it.
Your Christmas and other holiday decorations only come out of storage for a small portion of each year, so it's very easy to forget what you've got, and which box it's stored in.
One of the easiest ways to keep track of what's in your Christmas storage containers eleven months after you put the stuff in there, and your brain can't quite remember anymore, is to reference your inventory list.
Step 1: Label Your Christmas Storage Boxes
At the end of this Christmas season, as you pack away your decorations, including ornaments, lights, and everything else you use to make your home festive, label the containers you place everything into, with numbers or letters. I suggest labels such as "Christmas 1" and "Christmas 2" for example.
Step 2: Write Down The Contents Of Each Box
Next, as you pack the decorations back in the box simply jot down the type of thing in each box. You can be as general or specific as you wish and need to make it easier for you, the next year, to put your fingers on the right things quickly and easily.
Step 3: Write Down Where You Stored The Box
Finally, as you place them back in their storage location note where you placed the box. This can be especially helpful if different boxes are located in different areas of the house, such as the attic, basement and garage.
In addition, if you are being especially ambitious, you can write down what area within the storage area you placed the boxes, such as on the basement wall close to the water heater. This is especially helpful if you've got lots of boxes in one area.
Here's The Free Printable Form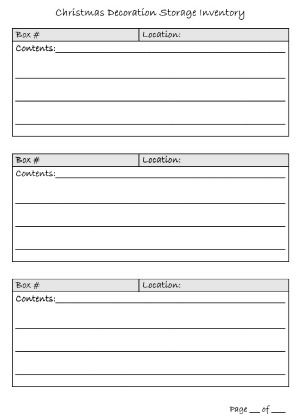 [Click here to get the form]
(opens in new window as PDF)
More Holiday Storage Articles