How To Declutter Your Home
In 15 Minutes A Day
Your Mission Today Is . . .
Get Your Monthly Calendars Below
Don't feel like you have time to get rid of your clutter? Well, declutter your home in fifteen minutes a day with these daily missions. You can start today, just grab your printable monthly calendar below.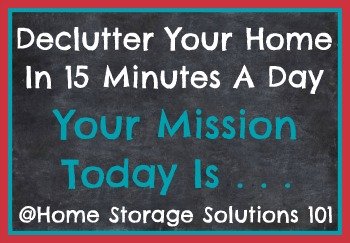 Click here to sign up to get your 12 month declutter calendar if you're already ready to join for free!
I understand the feeling of not having enough time to do everything you need to do in your home, including the process of decluttering.
You can look at the drawer, the room, or the whole house and feel like you'll need to work for days and days to get it cleared out, and you don't have that kind of free time in your schedule!
What if I told you you could spend a whole day a month on removing clutter and junk from your home without having to take a vacation day from work or slave all day in your home on your day off or during precious weekend family time?
Sound impossible. Welcome to the power of 15 minutes!
This challenge is possible because of a secret weapon any organized person knows about, and I'm going to share this simple, yet powerful secret with you right now.
15 Minutes: Your Secret Decluttering Weapon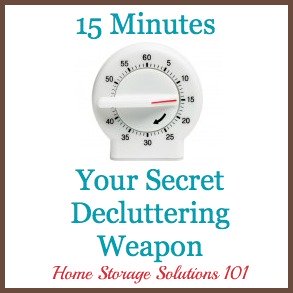 I've designed each of these Declutter Your Home Missions to take you 15 minutes or less each day.
That doesn't sound like a lot of time, and it's not. Everyone can find 15 minutes in your day for something really important to them.
But 15 minutes adds up when done consistently. In fact, if you add up 15 minutes each day for 30 days you get seven and a half hours! That's a whole day of decluttering each month without interfering in the rest of your life! Wow!
What If It Takes Me More Than 15 Minutes To Do The Mission?
When you hear this you may be thinking, that's great, but my house is a wreck so it will surely take me longer than 15 minutes each day to accomplish the mission. What about that?
My answer, don't sweat it. If you can devote more time, great, but if not do as much of the task as you can in fifteen minutes and be done for the day!
You'll still be making progress forward, so be proud of what you did get accomplished.
When Do These Declutter Your Home Daily Missions Start? Am I Too Late To Begin?
These missions are ongoing. You don't have to wait until January 1st or any other arbitrary time to begin. Instead jump in wherever we are right now and take off from there.
How Do I Get Each Month's Worth Of Missions?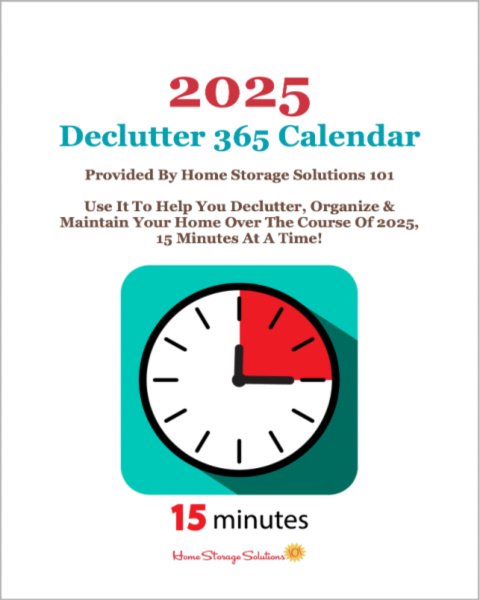 Below I've got each month of the declutter calendar listed, and you can print out each of the 12 months separately. Please note which months are still the previous year, and which are the current year, because I haven't switched them all out yet!
However, you can get the entire current year printable calendar in one file when you sign up for the site's newsletter here!
In addition, I'll share each day's mission through social media too, so you can keep up by joing the Declutter 365 Facebook group or follow along on Instagram (where the official hashtag is #Declutter365).

The advantage of this group is that you can get comraderie and support from others who are also taking the challenge, plus I have the opportunity to expound a bit more on what that day's challenge entails, instead of what little I can say in the small space on the calendar.
I know that it can be hard to remember to check something on the web each month for the latest printable declutter calendar, so I am also going to send the printable each month as part of the free email updates and newsletter for the site. If you want these free emails to come to your home, along with the weekly challenges and additional organizational tips and hints, sign up below.
Here's The Declutter Calendar For Each Month With The Daily Missions In The Declutter Your Home In 15 Minutes A Day Series
Please note that I haven't updated all the pages below yet, so some of these are still last year's calendar, but I will update them all to be the correct current year calendar a few days before the month actually occurs!
Remember again, if you want the entire current year calendar NOW you can get it for free here.
You Can Report Your Own Progress On The Hall Of Fame
I want people to participate in these missions, and to be able to show off what they've accomplished since it feels so good when you get something positive done in your home!
If you do even one of the missions, whether while it is running that day or anytime you get around to it, and want to show off your accomplishments I would be happy to publish your pictures, and story about what you did here on the site.
Just for this purpose I've created a "Getting Clutter Free In 15 Minutes A Day Hall Of Fame." I'll also be sharing my own daily decluttering progress with you in this section of the site, as I do the missions myself, so you can track my progress (or see my stumbling blocks) toward my own decluttered home.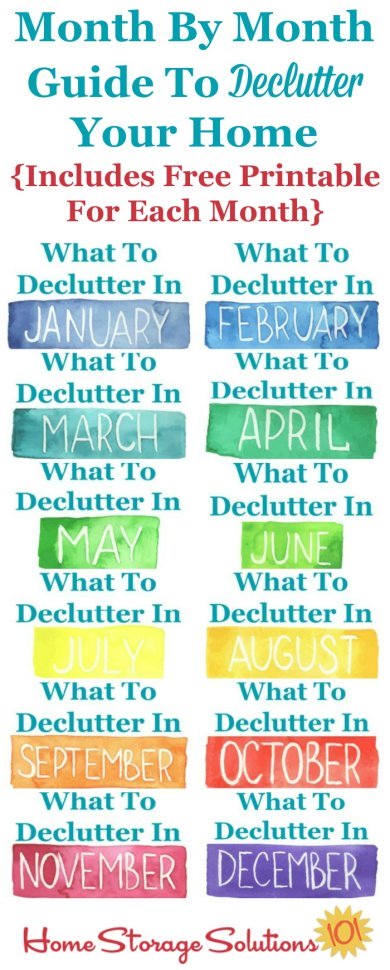 In addition, if you have your own blog and share your accomplishments there instead you can send me a link to your blog post and I will link to it from the "Hall Of Fame" if you allow me to use a picture and share a brief synopsis, plus add a link to the Declutter Your Home In 15 Minutes A Day Missions from your blog post.
Finally, I am proud of each of you that does a mission, and want to give you a digital award as a participant, so make sure you claim your free award badge below if you wish. You can Pin it on Pinterest, put it on your blog, share it on social media, or whatever you want to share your accomplishments with your friends and family.
Here's the code for the badge, or grab a copy for yourself. All I ask is that you link to the site and the missions, so if someone else wants to participate they can find it easily!