July Declutter Calendar
15 Minute Daily Missions For Month
Here's the July 2022 declutter calendar with a daily 15 minute decluttering and organizing mission for each day of the month.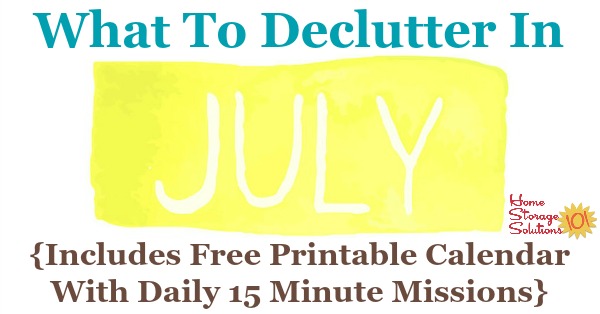 Below are the instructions for how to get your calendar, and to use it effectively:
1. The printable version of the calendar is available below, when you scroll down and click on the image of the calendar itself, or click the link directly underneath the image of the calendar which says, "click here to get your printable July calendar." There is nothing extra to download to get the calendar. Instead, what you get is a PDF which opens up into another window.
2. Along with the printable version of the calendar I've also listed the daily missions for this month in bullet point form below, including links to the daily mission articles that correspond with the task, so you can get an overview of what we're decluttering this month.
3. I suggest you print out the calendar and post it somewhere in your home that you can look at it daily, such as on your refrigerator, so each day you can use it to remind you of that day's mission.
4. Each day of this month look at the calendar and work on the listed mission for 15 minutes. If you want to work on it longer than 15 minutes, and you have time and energy, you can, but you'll still make progress if all you devote is 15 minutes per day to the listed task.
5. You can get answers to lots of your questions about how the Declutter 365 program works, including things like what to do if the mission takes you longer than 15 minutes, what to do if you miss a mission, and what to do if a mission doesn't apply to your circumstances in this Declutter 365 FAQs section of the site. If you're unfamiliar with Declutter 365 that FAQ section also acts as a quick start guide so make sure to consult it to make the most of these daily missions.
6. If you're loving this month's calendar (which you can get below without subscribing) you can get the entire 2022 calendar by signing up for the free newsletter for this site, from me, Taylor.
The entire 12 month 2022 calendar is only available to subscribers, although the July 2022 calendar is available for everyone.
Sign Up Here To Get Your Free 2022 Printable Declutter 365 Calendar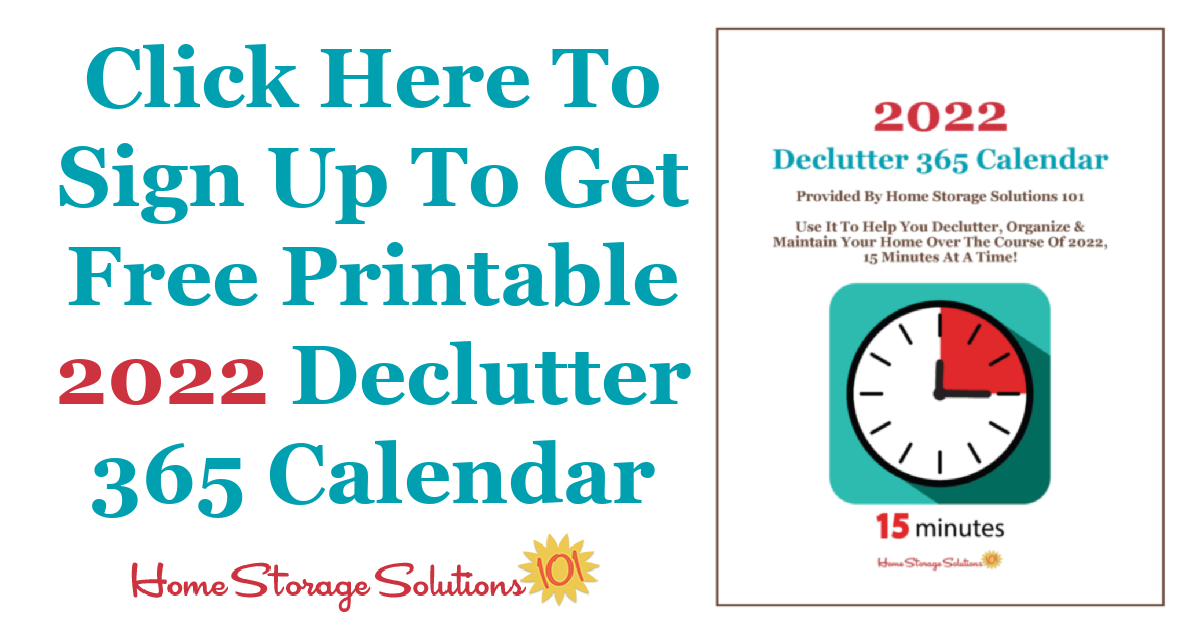 7. You've got to remember what each day's mission is, and do it, for your efforts with this program to be successful. Along with the calendar I've also created several additional add-on products that track with the 2022 Declutter 365 calendar to help you be successful. These include:
Now, here are the decluttering missions for the month:
July Decluttering Missions:
Day 1 - Declutter and organize toilet paper storage area, feminine hygiene products, etc.
Day 2 - Get rid of clutter by repurposing or reusing items, when appropriate
Day 3 - Declutter travel toiletries and supplies
Day 4 - Read Organized Home Challenge #27: Linen Closet and declutter rugs and floor mats
Day 5 - Declutter towels and wash cloths
Day 6 - Declutter sheets and pillowcases
Day 8 - Declutter pillows (including decorative ones)

Day 9 - Get clothing and fabric clutter out of house by recycling it, if no longer usable
Day 10 - Declutter hall closet
Day 11 - Read Organized Home Challenge #28: Primary Bedroom Closet and declutter clothes you don't like, fit into or are out of style (use these 9 questions to help you with all the clothing clutter related missions)
Day 12 - Declutter hanging clothes
Day 13 - Declutter dresses and formal wear
Day 14 - Declutter workwear
Day 15 - Declutter closet shelves and drawers
Day 16 - Clear the clutter from home by donating, selling or trashing, and clear and declutter closet floor
Day 17 - Declutter socks and undergarments
Day 18 - Read Organized Home Challenge #29: Primary Bedroom and declutter nightstand
Day 19 - Clean out and declutter under bed
Day 20 - Declutter bedroom floor
Day 21 - Declutter top of dresser
Day 22 - Declutter dresser drawers
Day 23 - Clear the clutter from home by donating, selling or trashing, and declutter shirts and tops
Day 24 - Declutter pants and jeans
Day 26 - Declutter jewelry box
Day 27 - Continue to declutter and organize earrings, necklaces and rings
Day 28 - Declutter glasses and sunglasses
Day 29 - Declutter hats and caps
Day 30 - Get clothing clutter out of house by donating it
Day 31 - Declutter accessories, such as belts, ties and fashion scarves
Get Daily Reminders Of The Missions Via Text Messages
It's important to remember, each day, what your daily 15 minute mission is, so I offer daily reminders of Declutter 365 missions via text messages. (You can click the link to read the article with more information about this product.)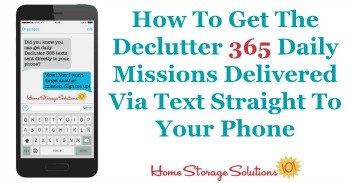 Please note that the texting service only will text to U.S. based phone numbers, so only get this if you've got a U.S. based number.
Get Planner Stickers To Remind You Of The Day's Mission Right Inside Your Planner
If you live your life using a planner, like I do, you'll love these Declutter 365 planner stickers.
This is a digital download formatted to allow you to print all 365 daily missions as daily to do stickers that you can stick right onto the pages of your planner. Then, each day you've got the daily task already listed in your planner, ready to incorporate into your daily to do list.
Both the 2022 dated version and an undated version of these planner stickers are available.
Click here to learn more about the Declutter 365 planner stickers.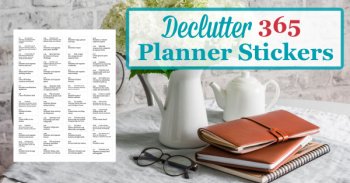 Stay Motivated & Encouraged, And Get Help When You Need It With The Declutter 365 Premium Facebook Group
Along with daily reminders, getting support through motivation, encouragement, and help when you need it can make the process of decluttering your home much easier, and give you the tools to succeed.
To help with all these tasks I've created a special, private and exclusive Facebook group that you can join where I can help you with group coaching through the missions and tasks, and you can also get help and support from like-minded Declutter 365 participants as well.
Both annual and monthly subscriptions to this private Facebook group are available. Find out how to join the Declutter 365 Premium Facebook group here.
Get The July Declutter Calendar Printable
Here's the printable version of the calendar for your personal use. To get it just click the image of the calendar itself, or the words below which say, "click here to get your July Printable Calendar" and a new window will open with the PDF. From this PDF you can print, or save the digital PDF onto your device to access the clickable links contained within the PDF.
Please note there are ads on this page. If you are asked to download something to get this calendar you've not clicked on the right thing. There is nothing to download to get this PDF!

Click Here To Get Your July Printable Calendar
(opens into a new window, as a PDF)
Don't Forget To Get Declutter 365 Products To Help You Get Your Home Decluttered This Year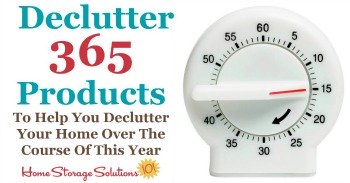 I've got more free products, as well as add-on Declutter 365 products, such as text messages, planner stickers, and a private and exclusive Facebook group that can help you get your home decluttered this year.
Make sure to check out all the Declutter 365 products available here.
Do You Want Next Month's Calendar Too?
You can also get the August decluttering missions here (including printable calendar).
If you want the August 2022 calendar along with the full 2022 Declutter 365 calendar, be sure to subscribe to my free newsletter, and you'll receive it via email. Sign up today, here, if you haven't already to get the full calendar!