Week #29 Organized Home Challenge
Bedroom Organization
This week's challenge is all about bedroom organization, and getting the room functioning as an inviting place to take refuge from the world.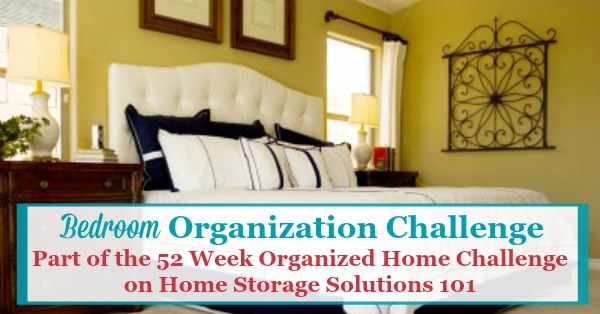 Specifically, this week we're focusing on your bedroom, since later in the challenge we'll work on organizing the kids' bedrooms.
Along with organizing the stuff in your bedroom we'll also continue organizing our clothing, since many people keep clothes not only in their closets but in their bedrooms as well, such as in dressers, shelves or drawers.
When you finish this week's tasks, if you've been following along you should feel like your clothing is now more organized and under control.
Are you new here? The Bedroom Organization Challenge is part of the 52 Weeks To An Organized Home Challenge. (Click the link to learn how to join us for free for future and past challenges if you aren't already a regular reader).
Step 1: Determine The Functions Of The Room
The first step in the Bedroom Organization Challenge is to decide on the functions of your bedroom.
This one may seem rather obvious, sleeping, of course. Well, that is definitely true, and you should make your bedroom a space to rest and relax as its primary function, because sleep is good! You need sleep to function properly.
However, many of us don't have space or inclination to only have our bedrooms be used as a place to sleep, but instead we do additional activities in the room, or use it for other functions as well.
Some of these may include, for example:
Storing additional clothes that you don't have in your closet, such as in a dresser or wardrobe
Relaxing, watching TV, reading, listening to music, etc.
Work area, such as use as a home office
Applying makeup and/or getting dressed
Only you can decide what the functions of this room will be for you, but make sure they don't conflict with the primary function of resting and sleeping.
For example, some of the other activities listed above could potentially cause a conflict with your ability to rest in the room, such as if you stay up too late watching TV in bed, or working on your laptop.
When you organize your bedroom try to make sure considerations of your health and physical pampering play a big role in how you get the room in shape.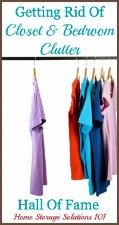 Step 2: Declutter Your Bedroom
The second step in the Bedroom Organization Challenge is to declutter the room of all things that don't belong in your house, in general, or in the room, in particular.
I have found that when you have a clear purpose in mind of how you want the room to function this task is easier, at least in determining what doesn't belong in the room itself.
Use these 9 questions to ask yourself when decluttering clothes to decide which clothing items you should get rid of, such as those stored in dresser drawers or a wardrobe.
In addition, you can check out my full list of bedroom and closet clutter to consider getting rid of here.
Step 3: Create Zones For Each Room Function
Once you've gotten rid of excess clutter in your bedroom, the next step in the Bedroom Organization Challenge is to create an activity zone for each of the room's functions.
This is where you'll really think through the equipment and supplies you need for each activity you do in this room, and get everything organized so it is all easily accessible, and in a convenient location.
Drawer dividers, such as these from Oxo help
keep items in your dresser drawers organized
[Click here to purchase on Amazon.com]
Here's an example of what I'm talking about, to give you an idea of the thought process for each zone you'll create for the functions you identified for your room.
If you get dressed in your bedroom each day, it can be helpful to have a hook where you can hang your pajamas and robe each morning, so they can be used again that evening That way they don't just get thrown on the floor or the bed each morning.
Further, you may want to think of a place to put a full length mirror where you can evaluate your chosen outfit, and make sure all is well with what you've put on before walking out the door.
Similarly, for your "sleeping" zone make sure you've got a cleared off bed, dark curtains at the windows to block out light, and anything else you need for a good nights sleep. (Please note I suggest at least considering putting your alarm clock away from your bed, so you can't hit snooze so easily. Learn more about why here, in this article about morning habits.)
Thinking through each step of your typical routine for each activity or zone will quickly help you identify what needs to be done to make the space function optimally for such activity.
Reminders Of Bedroom Zones You May Want To Create Or Tame
Along with creating zones for all your activities, here are some hotspot tasks that often need to be dealth with in this room:
Step 4: Consider These Bedroom Storage Solutions
If you store things under your bed use underbed
storage containers to keep things dust bunny free
[Click here to buy on Amazon]
As you work through the Bedroom Organization Challenge, keep these suggestions for storage solutions in mind, to see if any of them might work for you.
Bedroom furniture, such as dressers, bed side tables, etc., are actually great places to store items within this room
Under bed storage (such as shown to the right), for little used items, or seasonal clothing
Drawer dividers to keep items neat and tidy within these spaces
Bonus Mission: Declutter & Organize Your Guest Bedroom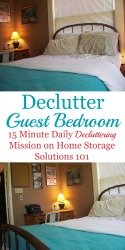 While this week we're focused on your own bedroom, and a later challenge is devoted to kids' bedrooms, a bonus mission you may need to do, in your own home, is to declutter and organize your guest bedroom, or spare room.
Naturally, since it's a whole room it will take some time to get it all organized, especially when often these types of rooms, if you're lucky enough to have one, also serve a dual function, such as also being a home office or craft room, for example.
If you've got a guest room in your home, make sure sometime soon to make time to get it decluttered and organized. You can get tips for how to declutter your guest room here.
Further, once you've got it decluttered make sure to check out these guest room ideas and essentials that will make this room cozy and comfortable for your overnight guests.
Here's A Cleaning Mission If You've Got Time
If you've got time this week after you've decluttered and organized your bedroom I suggest you also give this room a deep cleaning. Lots of dust is found in your bedroom, and you spend a LOT of time in there to sleep, if nothing else, so giving it a good cleaning will provide a lot of benefits for you.
Here's my article on the sister site Stain Removal 101, where I've listed the 10 things you don't want to forget when you deep clean your bedroom.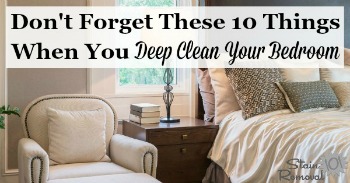 Tell Me How The Bedroom Organization Challenge Is Going For You
I would love to know how this week's Bedroom Organization Challenge is going. You can tell me your progress or give me more ideas for how you've organized this area of your home in the comments below.
I also would love to see before and after pictures of your bedroom once you've completed the challenge. Submit your pictures (up to four per submission) and blog posts and get featured in the Creative Storage Solutions Hall of Fame. You've worked hard to get organized, so now here's your chance to show off!
Sneak Peek For Next Week's Challenge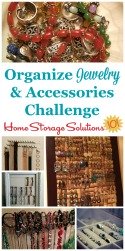 We're working on our homes slowly, one area at a time, so don't get too distracted from this week's Bedroom Organization Challenge. However, I know you like to know what is coming up, so I'll tell you.
We're going to continue working on our bedrooms and closets next week by focusing on organizing jewelry and accessories.
Make Sure You Make The Most Of These 52 Organizing Challenges
Get your copy of the printable one page 52 Week Organized Home Challenge schedule for the year here, so you can see all the challenges we're working on.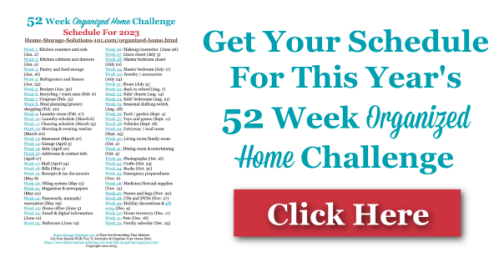 Further, if you'd like to join a community of others who are all commmitted to these organizing challenges and corresponding decluttering missions, and want more interaction with me, Taylor, video archives of Taylor providing more tips for each of these challenges and missions, as well as live monthly group coaching sessions focusing on the skills and habits necessary to maintain your home from now on, I'd urge you to join the private and exclusive Declutter 365 Premium Facebook group (you can learn more about it at the link).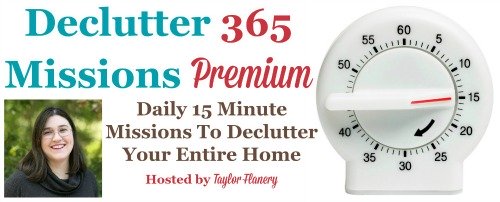 In addition, have you gotten your Declutter 365 Products yet, to make sure you can get even more assistance with decluttering and organizing your home this year? There are both free products (like the Declutter 365 calendar, a $20 value), as well as add-ons, such as daily text messages, planner stickers, and a Premium Facebook group, as well as a pack of printabe decluttering checklists.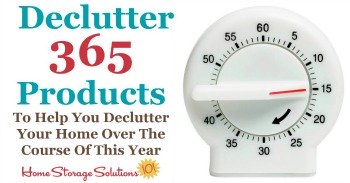 For instance, this is what we talked about in the group coaching session, in the Premium Group, for this week of the challenge. (A replay is available, and ready for you to watch immediately, once you become a member!)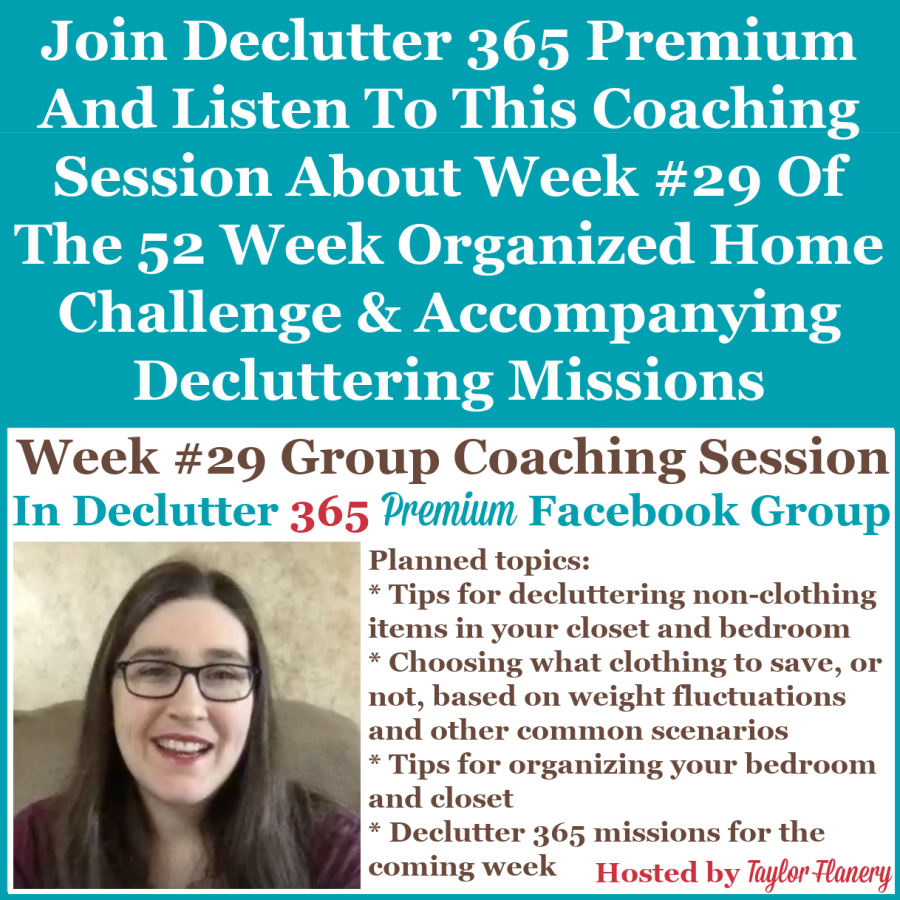 Some links on this page are affiliate links, meaning that if you purchase a product through them I receive a small commission which helps me provide this information to you for free, plus support my family. My integrity and your satisfaction are very important to me so I only recommend products I would purchase myself, and that I believe would benefit you. To learn more please see my disclosure statement.