Week #23 Organized Home Challenge
Home Office Organization
In this week's Home Office Organization Challenge I give step by step instructions for getting this area of your home organized so you can get your household paperwork done efficiently, and without the need to search everywhere for what you need.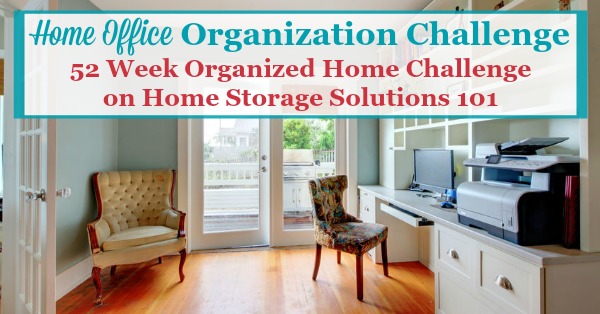 Depending on the size and layout of your home you may or may not have an entire room devoted to dealing with your household's business.
However, no matter whether you have large amounts of space in your home office, or just use a little nook in your kitchen, or even the kitchen or dining room table for your workspace, you're not off the hook with this challenge.
Of course, if you've just got a small space and you've already created your home mail organizer center from an earlier challenge, you've already got a lot of the work done to get your entire home office area organized and ready for your household paperwork.
Further, this article will not discuss in detail one of the major parts of organizing your home office, which includes organizing files into a home filing system, since we did that already a few challenges ago.
Finally, before jumping into the steps for this Challenge, keep in mind that if you operate a home-based business, or work out of your home, your home office organization scheme will need to be more involved, and tailored to your business needs so you will need to tweak the ideas below to suit your needs.
Are you new here? The Home Office Organization Challenge is part of the 52 Weeks To An Organized Home Challenge. (Click the link to learn how to join us for free for future and past challenges if you aren't already a regular reader).
Step 1: Designate Space For Your Home Office And Declutter It
The first step in the Home Office Organization Challenge is to make sure you've got a place in your home ready for you to work on household business, and that it is decluttered of stuff not related to this purpose.
Every home needs a designated area to do the household business, from sorting mail, paying bills, making phone calls, and filing important documents. Perferably this area has a flat work space where you can spread your paperwork out, at least temporarily.
If you don't yet have such an area in your home, look around and see where you can create one. (Hint - just expand the area you already designated to deal with your mail in a previous challenge if you need to!)
If you choose a room which has a couple of uses, such as also serving as a guest bedroom, for example, that can be perfectly fine. Just take a few minutes to think about all the functions of the room, and make sure you're giving adequate space to the home office components of the room, and not crowding them out.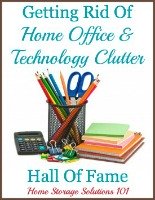 Further, to the extent that you've not already reduced the paper clutter in this room in the last few challenges, or there is non-paper clutter in the area you're designating as your home office, take some time to clear it out.
Make sure to consolidate all paperwork and other items that should be in your home office into this one area, instead of scattered all over the house.
Similarly, don't allow your home office to be your dumping ground for all the stuff you don't have a designated space for in your home, and don't know what to do with.
Remember that if you work from home, you need to be even more serious about having a designated area to get that work done, that is separated from the rest of the activity in your home. Even if you can't create a whole room you'll be amazed at what just a simple decorative screen or room divider can do to give you the mental ability to focus on work when you need to.
You can check out a full list of the decluttering missions I've suggested for this area of your home here for even more ideas.
Equipment Every Home Office Needs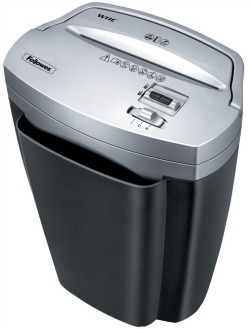 Home paper shredder
[Click to purchase on Amazon]
At a minimum here's the equipment that should be able to fit into your home office area:
Good sized flat surface to work (preferably a desk)
Confortable chair
File cabinet or other storage solutions to hold your files
Office equipment, such as computer, printer, telephone (scanner and fax if needed)
Small home shredder (check out what criteria you need to look for when you get one here)
Recycling container for paper (this is a satellite collection center, which is part of your home recycling center)
While you want to make sure you have the right equipment, don't hold onto old electronics you don't use anymore. You can check out the electronics disposal guide for ideas for how to dispose of various electronics through donation, selling, or recycling.
Step 2: Organize And Clear Off Your Desk Or Flat Work Space
The second step toward home office organization is to clear off extraneous stuff from your desk or other work space. Your goal should be to only have things on your desktop that you use daily - everything else should be stored elsewhere, such as in a drawer or file cabinet.
I know that may seem rather extreme, but there is a profound pyschological relationship between having a clear desk and being able to focus and get your work done. Since one of the goals of home office organization is to save time, getting and keeping a clear desk is key to the process.
First, completely clear off your desk and wipe it down to remove dust bunnies. Next, since your computer and accompanying office equipment take up a lot of the room on your desk set these items up next. Then, add other items you use often such as in and out boxes, and other supplies you use often.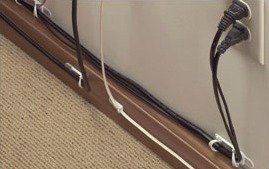 Command Cord Clip Cable Organizers
[Click here to purchase on Amazon]
If you have trouble fitting everything necessary onto your desk you may need either a larger desk, or to employ some of the other home office storage solutions I'll discuss more below in Step 4 of the Home Office Organization Challenge.
To the extent you've got lots of electronic office equipment on your desk be mindful of keeping your cords managed and untangled too. I'm personally a big fan of Command Strip products, since they hold well and are easy to install and later remove if needed, and they've got a cable organizer clips (shown in action in the picture to the left) that you can use, if needed.
Next, after working on your desktop, clear out your desk drawers, removing clutter and re-organizing the home office supplies and equipment contained in them. (You can read the linked article for more details, plus see before and after photos from readers who've done this task.)
As you know, many of these supplies (discussed in more detail below) are small, so I recommend getting some type of desk drawer organizer to keep everything compartmentalized and ready for use when needed.
Finally, start to make a habit out of cleaning up your work space at the end of your work sessions, to keep your desk clear from now on. The extra couple of minutes of effort used to put away supplies, file documents, and otherwise right the space will go a long way to keeping clutter and disorganization at bay in your home office from now on.
For more direction and inspiration for how to clean off your desk top of clutter check out my article, plus decluttering mission on the topic (at the link).
Step 3: Organize Home Office Supplies And Equipment
The next step in the Home Office Organization Challenge is to gather all of your home office supplies into one place, and declutter them, and then organize what you've got left.
For people with school age children at home I suggest also gathering the school supplies together with the office supplies, since often these supplies overlap.
Don't know exactly what you need to have in your home office? I've created a free printable home office supplies list you can review to make sure you've got what you need. (I've also created a similar school supplies checklist to help you know what school supplies you need for your kids at home.)
One of the biggest mistakes I made for years when trying to organize my own home office was trying to keep all of my office supplies in my desk drawer. It made the drawer crammed with stuff, which made it look and feel disorganized.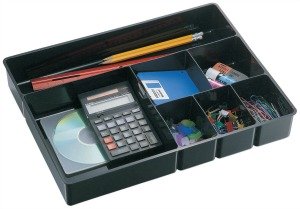 Desk drawer organizer
[Click here to purchase on Amazon]
That's why I now suggest only keeping a small amount of each type of office supplies in your desk for immediate use, and keeping a larger supply of them in a designated box or basket that you store in a closet or file drawer to dip into periodically to restock your desk supplies.
If you want to get super organized with it, you can also create a home office supplies restock or reorder list to remind yourself of the usual supplies you use, and make sure you've got them on hand at all times.
Make it a habit to check your supplies once every couple of weeks, at a minimum, to make sure you've got everything you need, or add it to your shopping list for the week if not.
Step 4: Organize Your Chargers, Cables & Cords For Electronics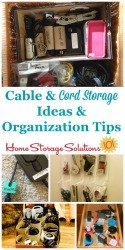 Earlier in this challenge I mentioned a little bit about electronics cords while organizing your desk. This was referring to the cords which plug into the wall, for electricity or other reasons, for your various electronics that are often found on a desk, like a computer, printer, scanner, or whatever else.
In addition to these types of cords though, these days we also have a lot of cords that are used as chargers, for cell or smart phones, or attach one piece of equipment to another for data transfers, and on and on.
These cords need to be organized and stored properly as well, so that's step 4 of the challenge.
To help you with this task I've written a couple of articles with more details. As always, first declutter your cord clutter (see the linked article for more details), and then use some of these cord storage ideas and organizing tips to help you with what you keep.
Step 5: Choose The Right Home Office Storage Solutions
The final step in the Home Office Organization Challenge is to make the best use out of the space you've got for your home office with the right types of storage solutions.
You don't need to rush out and buy all these things to have an organized home office, nor should you. Every space is unique, so creative thinking is important in utilizing space efficiently. However, these are just ideas to help you fit the items you need into the space you've got available for your supplies and equipment:
Organize your desktop with a desk organizer
[Click here to purchase similar product on Amazon]
Using high wall space is a great way to create storage space for books, notebooks, binders, or other supplies without taking additional floorspace in a room. One simple way to do this is to use a hutch or desktop organizer, such as the items shown, which mounts to the wall or sits on the desk to accomplish this.
Of course, if you have room, bookcases can also be helpful. Just make sure you consider what you want to store on the shelves to decide if you want deep or shallow shelves.
Further, rolling printer stands and rolling file carts can be a good way to make use of tight space by easily moving equipment and supplies you need in and out of place, as required by the circumstances. Some even are designed to roll under your desk to keep them out of the way while you're not working there.
Listen To Taylor's Video Tips For This Week's Organized Home Challenge & Declutter 365 Missions
Do you want more in-depth tips and instructions for how to do this week's missions and challenge all about decluttering and organizing your home office? If so, I've got recorded video tips from me, Taylor, from the video archives in the Declutter 365 Premium group, all about this week's challenge and missions.
These video tips are available on demand in the archives, once you're a member of the group.
In Week #23's video I discussed the following topics, among others:
How to declutter home office supplies
Tips for decluttering electronics, plus cords and wires
Tips for organizing your home office
Declutter 365 missions for week

I suggest watching the video archive for the week, perhaps while you're doing some decluttering or cleaning around your home, before starting the week's missions and Challenge, and then you'll be able to breeze through this week's worth of decluttering missions, as well as organize what's necessary for the 52 Week Organized Home Challenge, based on the advice and instructions within those videos.
It really is like having me, Taylor, available, 24-7, as your decluttering and organizing coach, for every area of your home!
Plus, once you're a member of Declutter 365 Premium you get access to not only this video, but all the videos for the 52 weeks of the year, for 5 years (that's over 260 videos available in the archives!)

Tell Me How The Home Office Organization Challenge Is Going For You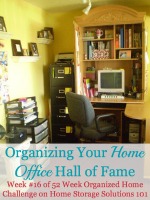 I would love to know how this week's Home Office Organization Challenge is going. You can tell me your progress or give me more ideas for how you've organized your home office in the comments.
I also love before and after pictures of organized rooms and areas, and would love to see some of yours. Submit your pictures (up to four per submission) and get featured in the Creative Storage Solutions Hall of Fame. You've worked hard to get organized, so now here's your chance to show off!
If you're looking for more inspiration I've already got a hall of fame for this week here that you can check out for cool pictures from real homes to give you more ideas.
Sneak Peek For Next Week's Challenge
We're working on our homes slowly, one area at a time, so don't get too distracted from the Home Office Organization Challenge this week, but I also know you like to know what's coming up next.
Next week, we'll finish up our focus on all things paperwork related by dealing with the digital side of papers -- emails, computer files and other digital information, as part of the Manage & Organize Emails & Other Digital Information Challenge.
Make Sure You Make The Most Of These 52 Organizing Challenges
Get your copy of the printable one page 52 Week Organized Home Challenge schedule for the year here, so you can see all the challenges we're working on.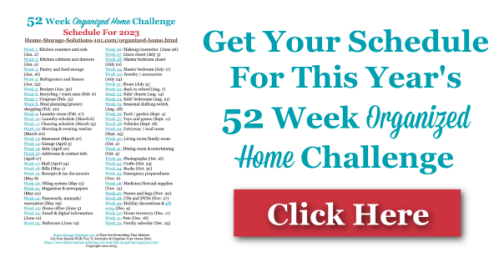 Further, if you'd like to join a community of others who are all commmitted to these organizing challenges and corresponding decluttering missions, and want more interaction with me, Taylor, video archives of Taylor providing more tips for each of these challenges and missions, as well as live monthly group coaching sessions focusing on the skills and habits necessary to maintain your home from now on, I'd urge you to join the private and exclusive Declutter 365 Premium Facebook group (you can learn more about it at the link).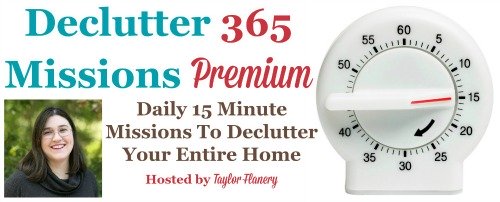 In addition, have you gotten your Declutter 365 Products yet, to make sure you can get even more assistance with decluttering and organizing your home this year? There are both free products (like the Declutter 365 calendar, a $20 value), as well as add-ons, such as daily text messages, planner stickers, and a Premium Facebook group, as well as a pack of printabe decluttering checklists.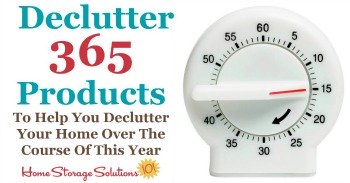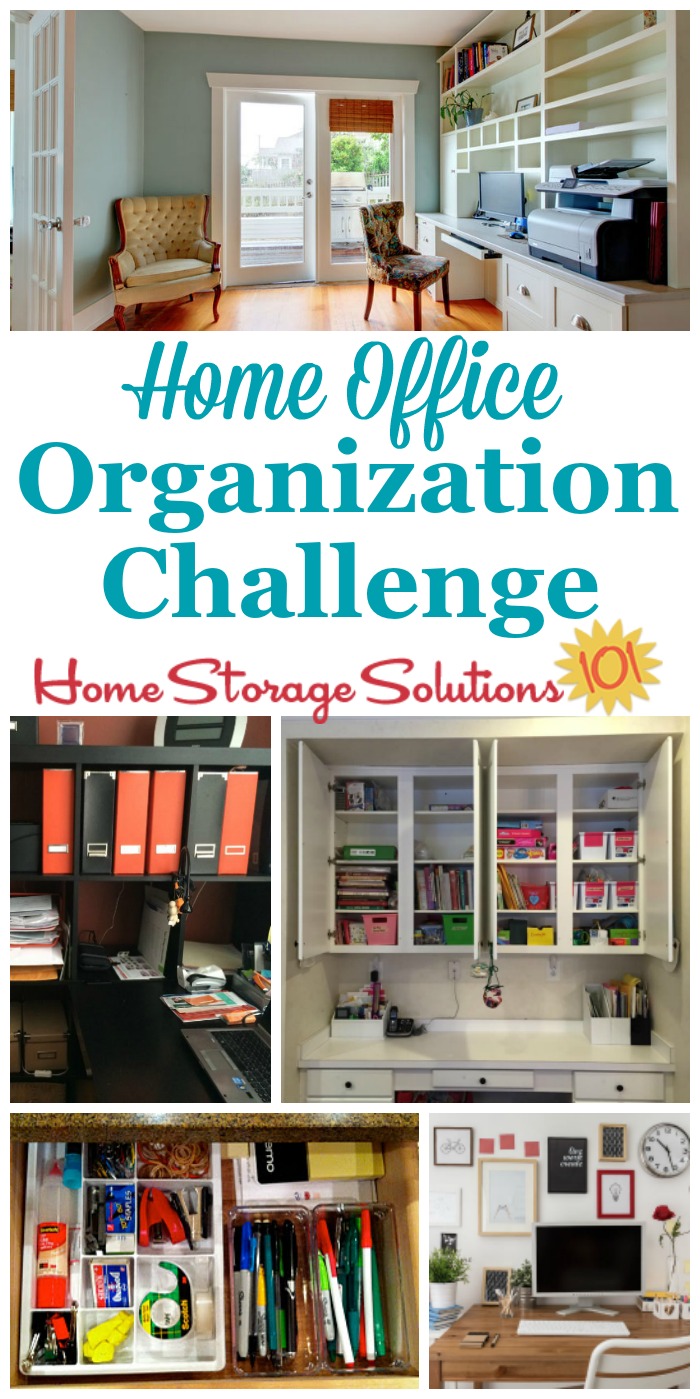 Some links on this page are affiliate links, meaning that if you purchase a product through them I receive a small commission which helps me provide this information to you for free, plus support my family. My integrity and your satisfaction are very important to me so I only recommend products I would purchase myself, and that I believe would benefit you. To learn more please see my disclosure statement.