Free Printable Home Office Supplies List
Here's a free printable home office supplies list you can use to make sure you've properly stocked your home office and have all the essential supplies available when you need them.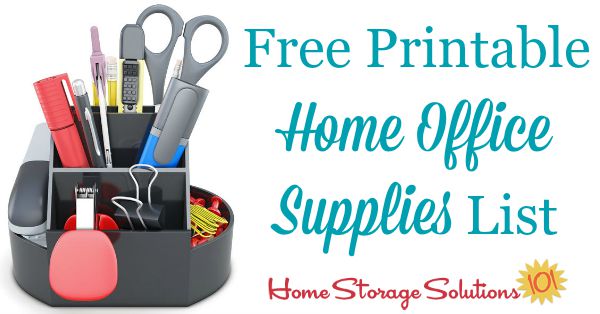 I've created this free printable (which you can get by scrolling down to the bottom of the page) to use when working on the Home Office Organization Challenge here on the site, which is part of the 52 Week Organized Home Challenge.
It is also helpful when, for example, you're going back to school supplies shopping, because many of these items will also be on sale during this time period, so it is a perfect time to stock up.
However, I want you to understand, speaking as a lover of all things office supply myself, that "stock up" does not mean hoarde. After all, there are too many of certain items, which is what we discussed in greater detail in the declutter home office supplies mission, which is part of the Declutter 365 daily missions.
I have not specifically listed quantities of these items below in the list, but I suggest not stocking more than you can use during an approximately year period. They do, after all, have sales on this stuff every single year, so no need to buy them out of the store all at once!
Essential List Of Office Supplies For Your Home
For Your Desktop & Desk Drawers
Paper & Stationery Supplies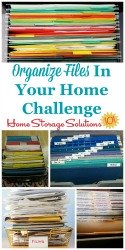 Filing Supplies
Calendar & Planning Supplies
Small List of Equipment
Here's Your Free Printable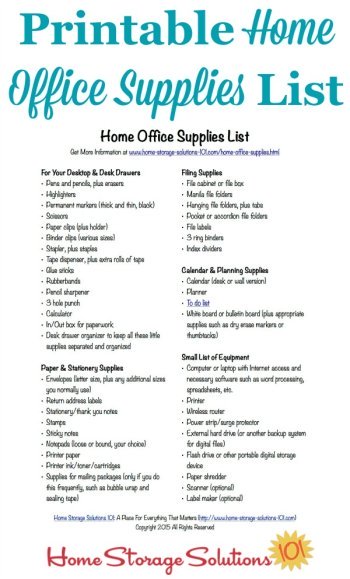 Click here to get your printable
(opens into new window, as PDF)
I Recommend The Full Focus Planner!
As I mentioned above, I recommend the Full Focus Planner (referral link), which I personally use daily. Since I began using this planner I've gotten more of my most important work done, while also finding time for more rest and relaxation.
If you purchase from Full Focus Planner make sure to use my unique promo code TAYLOR10 for 10% off!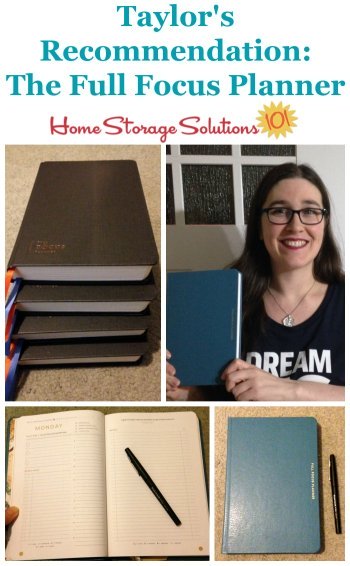 You can also read about my kids' experiences with the Full Focus Planner for Kids & Students here, in this review on the website, which also discusses, briefly, my own experiences with the Full Focus Planner.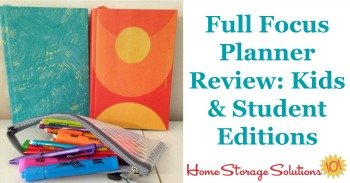 More Articles & Printables You May Enjoy
Here are several additional articles and printables on the site that you may find helpful:
Some links on this page are affiliate links, meaning that if you purchase a product through them I receive a small commission which helps me provide this information to you for free, plus support my family. My integrity and your satisfaction are very important to me so I only recommend products I would purchase myself, and that I believe would benefit you. To learn more please see my disclosure statement.