Donate Household Items To Charity
Do's & Don'ts + Ideas Of Where To Give
When decluttering your home you can donate household items to charity as one of the methods for getting items out of your home.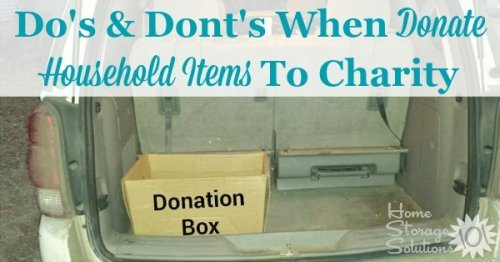 Here are some do's and don'ts when donating to charity to make sure you do it right, so you help yourself and others at the same time.
A lot of what I'm going to go through below, with these rules, is really common sense. However, every once in a while I think these are a good reminder (even for myself) as I get into a decluttering roll and start tossing lots of stuff in the donation box.
Do's When Donating To Charity
There are just a few basic rules to keep in mind when donating what you consider clutter to the charity (or charities) of your choice.
1. Consider The Best Charity For Your Specific Donations
There are many different types of charities that accept donations of household items, and each of them use these items in different ways or try to give them to various types of people (or animals) in need.
When you're vigorously decluttering your home it may be best to just send your donations to a charity which accepts a wide variety of things, like Goodwill or The Salvation Army, so you're not spending too much time trying to pass things to different organizations.
However, if you've got a large amount of a certain item you want to donate, or it is something general donation centers may not accept, such as old ratty towels, for example, you may want to get creative with where you're donating. To continue with the example, Goodwill probably doesn't want those old towels, but the Humane Society may truly appreciate them.
Basically, if you've got enough time and energy while decluttering it can be nice to consider which items to donate to which organizations. There are animal shelters, women and homeless shelters, food banks, local libraries, schools, and more that can all accept and would appreciate specific types of items.
When possible sending items to where they will be most appreciated can make the process of decluttering your home not only fulfilling for them, but for you too. Plus, it makes it more motivating to keep going with the process.
To help with this process I've started a section below where I will suggest places to donate household items to charity for common types of items. I've only got a few things listed so far, but you can skip down to get ideas below.
2. If You Want To Take A Tax Deduction You Must Get A Donation Receipt And Properly Value Your Donations
When decluttering your home the goal is to get stuff out of your home that no longer belongs. However, when you donate to certain organizations you may be able to get the side benefit of a tax deduction as well.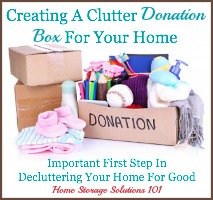 To get a deduction you've got to know what you're donating, by making a rough list of the items, so that you can prove what was provided and its valuation.
I suggest making the list as you add items to your clutter donation box or bag which you'll fill up daily, during the Declutter Your Home In 15 Minutes A Day Missions.
Knowing the proper valuation of donated household items can be tricky, and depends on what was donated, and its condition (all items must be usable, for example). Therefore, it is best to consult with your tax preparer and/or the charity you're donating with to determine valuation.
Once you donate your stuff make sure you get your donation receipt from the charity to keep as proof of the donation. Make sure you put all such receipts into your personal tax organizer system you created during Week #12 of the Organized Home Challenge so you can reference them when doing that year's taxes.
3. Make Sure You Provide Items Through The Method Specified By The Charity
Charities are always very thankful to receive your used items, but do them a favor and comply with their guidelines for donation to make it as easy for them to accept your items without having to go to extra expense, or to receive things they don't actually want or need.
Many of these charities rely on volunteer labor to help sort through donations, or must pay employees to do the task. Either way, respect the costs involved for them to deal with your donations, and present items in the way it makes it easiest for the charity.
You can learn more about dropping off donations here, for more tips on how to make sure you're complying with the donation center or charities rules.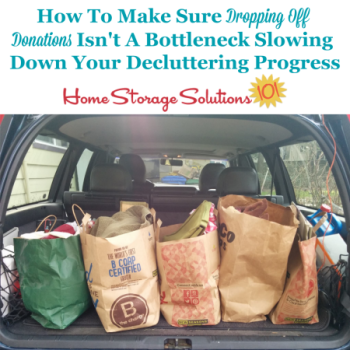 In addition, some charities will do a donation pick up. If you schedule such a pick up, or say you'll participate in a pick up going on in your neighborhood on a certain date, go ahead and actually have stuff ready when the charity arrives. They're doing you a big favor in picking up clutter from your door, so make it as easy on them as possible.
You can learn more about scheduling one of these pick ups here, and why it can be a win-win for you and the organization: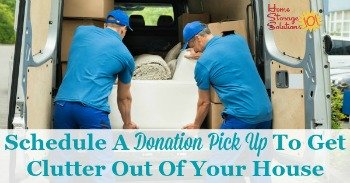 Don'ts When You Donate Household Items To Charity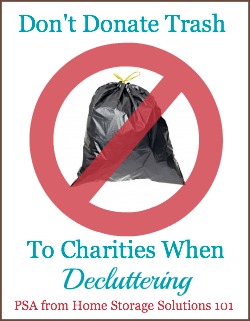 There is only one big don't when you donate household items to charity, and that is to make sure what you donate is only clutter to you, and not to the recipient of your donation.
That is basically another way of saying, don't donate trash to charities!
I know none of us would purposefully hand trash to our friends or family as a "gift," but sometimes when we're in the midst of the decluttering process we start to go pretty quickly getting things out of our house and may unintentionally do something similar to the charities we give to.
I know I've caught myself throwing what, upon more reflection is trash, into a donation box. Then, I have to stop and fish it out and put it in the trash bag where it really belongs.
The charities accept these donations so they can either sell them second-hand, or give them away to needy individuals. However, it defeats the purpose when we make a charity pay money to haul away our trash for us.
When I refer to "trash" I don't just mean the obvious stuff either, but also things that are in disrepair, don't work properly, are missing parts, or are ripped, torn or stained. If you wouldn't feel OK looking the person in the eye who got the item, letting them know it came from you, don't give it away to charity!
Donating our clutter to charities can make everyone happy when done correctly - we get the stuff out of our homes and help someone else at the same time. Follow these common sense rules and you'll continue to find fulfillment in the decluttering process for years to come.
Where To Donate Household Items To Charity
I know it can be difficult to get creative about where to donate household items to charity, and to figure out where they'll be most appreciated.
That's why I'm slowly going to be compiling a list of articles with suggested places to donate various types of items. Here is the article I've written so far: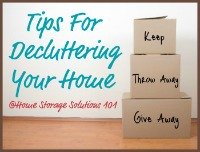 What's Next In The Decluttering Your Home Series?
The Decluttering Your Home Series is almost complete now. The final subject we started talking about today, and which we'll continue discussing next week, is how and where to get rid of the items in your home when you decide to declutter them.
Beside donating items to charity, you can sell items in a garage or yard sale, for example, which is the subject for next week.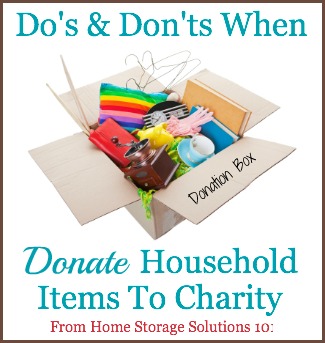 Top photo courtesy of a reader, Caroline