Drop Off Donations To Finish Decluttering Process
In this Declutter 365 mission I want you to drop off donations to a charity or donation center, to finish the task of decluttering items around your home that you've identified as clutter, and that you wish to give away to others.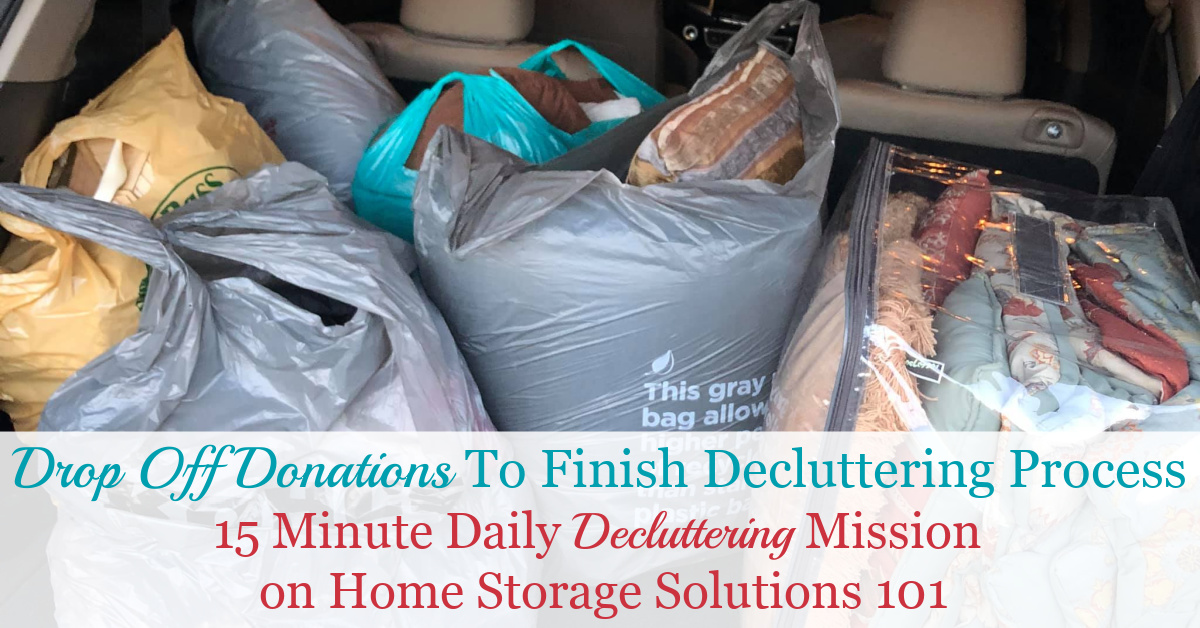 This mission is part of a series of Declutter 365 missions that focus on the final step of the decluttering process -- clearing the clutter from your home completely, by removing it from your space.
Of course, there are more ways to get rid of your clutter than just to donate it. You can also sell it, trash or recycle it, and more.
Check out this general mission about clearing the clutter from your home for more details and ideas, and to understand why this final step of the decluttering process -- getting the clutter out of your home -- is so vital to making actual decluttering progress.
But today, for this mission, our focus is on donating clutter by you physically dropping it off at a charity, or to a donation center.
I anticipate that you'll do this mission repeatedly throughout the Declutter 365 missions because dropping off donations is one of the most common ways people get rid of clutter.
In fact, I know of many Declutter 365 participants who make a weekly (or more) trip to a local donation center, so much so that workers at the donation center can recognize their car as they drive up!
Since this is such a popular method for completing the decluttering process let's examine best practices to make sure that dropping off donations doesn't become a bottleneck slowing down your decluttering progress.
How To Make Sure Dropping Off Donations Isn't A Bottleneck Slowing Down Your Decluttering Progress
When I mention that these donation drop offs can become a bottleneck in your decluttering progress, what I mean by that is when you're planning to drop off clutter for donation many people run into one or both of the following problems which slows them down, or stymies their efforts:
1. Not knowing where, or how, to donate items to particular charities or donation centers; and
2. Not actually moving the bags and boxes out of their home (or car's trunk) to the donation center.
We'll discuss both these issues, to make sure you take the necessary steps to avoid these problems, and instead make donation drop offs a common, and relatively easy part of finishing your decluttering efforts.
Bottleneck 1: Lack Of Information And/Or Understanding Of Rules For Acceptable Donations
There are a lot of charities and other organizations out there which accept your clutter, to pass it along in some form or fashion to others.
Some of these organizations and charities accept a wide-variety of household items, such as Goodwill or Salvation Army, while others accept a very limited category of items, such as Dress for Success, which accepts only women's clothing for a job interview.
No matter whether the charity or organization you're choosing to donate to accepts a wide variety of items, or just a few specific things, you can bet that they've got at least a few rules, such as:
Things they don't accept (for example my local Goodwill will not accept any old television sets)
Hours of operation when they'll take your clutter, or conversely be closed; and
Rules about how you'll need to deliver the items, such as specifying that all items be dry-cleaned or freshly laundered, or not in garbage bags, or separated into various categories
It can be very frustrating to jump right into decluttering your home, have a big bag or box or pile of items you'd like to donate, and then to realize your chosen charity or organization will only take a few of these items, or that you need to wash everything first, or to have packed it all up in a different manner.
Similarly, it's also frustrating to drive to the donation location to find out it's not open at that time (or not accepting donations, as happened for a long time during the Covid-19 pandemic).
These are the types of obstacles and hurdles that can cause a bottleneck in getting these clutter items out of your home for good, and I want you to avoid this.
Therefore, I suggest that you use one or more 15 minute sessions of time for this Declutter 365 mission to find one or more donation centers that accept the types of items you want to donate, and read their rules for what they'll accept, how they want it provided (such as in bags, boxes, etc.), what the hours and procedures are for dropping items off, as well as noting the practical information of their address and how long the estimated drive is from your home to their location.
If you plan to donate to that place frequently, bookmark the page on the website, or write down that information and place it in your household notebook, so you can reference it in the future, as needed.
Here's a screenshot example I found online when I did a little research into a local Dress for Success drop off location, to show you an example of the do's and don'ts for that particular charity. [Source of screen shot here.]
Once you've read the criteria in the screenshot, can you see how knowing this information and these rules ahead of time, before I started decluttering my closet, would be most helpful in relieving obstacles and hurdles to donating items to this organization?
I know you may not feel like you've really accomplished much using a 15 minute decluttering session to do a bit of Internet research on local donation centers, or calling to ask some questions, but it really does save a lot of frustration later, and ultimately makes it easier to do that final step of getting these clutter items completely out of your home, which is our ultimate goal.
Taylor's Tip: If you're doing a lot of decluttering, of many different areas of your home, it may be easiest for you to choose an organization which accepts a broad range of items, to make your donation drop offs a bit easier and less complicated.
When you choose a center or charity that accepts a lot of different types of items, you can add a wide variety of items to the bag or box of stuff you plan to donate, and feel confident that you can meet their rules for delivering the items in the manner accepted by the organization. You can learn the rules once, and then just keep donating to them, time after time.
In addition, make sure you also keep in mind the more general do's and don'ts for donation of items to charity, while you're decluttering.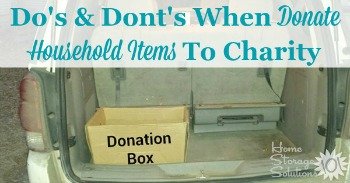 Bottleneck 2: Not Actually Getting Your Bags Or Boxes Of Clutter Dropped Off
Once you've cleared bottleneck number one, and you know the rules for acceptable donations to your charity or organization of choice, the next bottleneck to clear is to make sure you actually get your bags and boxes of clutter dropped off to that location, instead of having them languish in your home or ride around for a very long time in your car's trunk.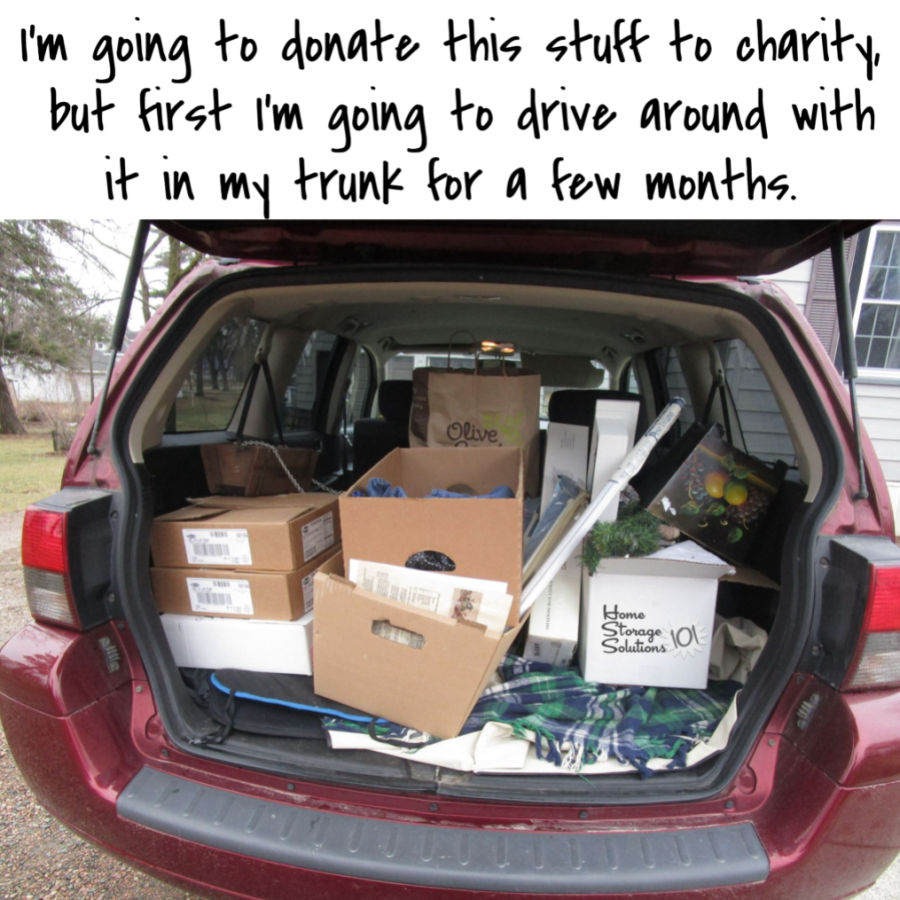 We laugh at memes like the one above, because it certainly holds at least a grain of truth, at least for many of us. (I've definitely been there, and had stuff lingering in my house or car, ready to donate for far too long, so don't ever assume I'm perfect in this regard!)
If this has ever happened to you, you know it can make you feel guilty, as well as being a hassle when you want to use your trunk or backseat of your car for hauling anything else around, so let's make sure we avoid this issue.
One way to do this is to incorporate trips to the donation center into your regular routine. For example, you may start taking the route to or from work that also passes the donation center, or always dropping off donations before heading on to the grocery store.
When you're routinely making sure things leave your home none of the trips for donating the clutter are that exhausting, because you're just dropping off one or two bags, not twelve, for example.
In addition, consistent and regular donation drop offs don't allow things to stay in your home too long, where you or others in your home can have second thoughts, and pull a bunch of stuff back out to save "just in case."
If you try this method and you still find that your vehicle stays full of undonated donations, or the bags or other clutter donations have been sitting in your home or car for more than a few days, another strategy that can work is to schedule an appointment with yourself, in your calendar or planner, to drop these items off, choosing a time that works for you as well as when the organization or charity is available to accept your donation.
When scheduling this time into your calendar make sure to treat this task like any other actual scheduled appointment, like a doctor's visit, or client meeting, where when it's scheduled into your calendar, with a time blocked period of time to get it done, you go ahead and show up and do it.
I often use this method of scheduling a time to do the task when I realize I'm dropping something off somewhere I don't normally donate, and therefore it's not part of my regular routine. It really does make a big difference in making sure clutter doesn't pile up.
Don't forget that the time you're using to place the stuff into your car, and to drive and drop it off, all counts as one or more of your 15 minute decluttering sessions as well! Make sure to give yourself credit for dropping off donations as part of your total decluttering efforts, because it certainly is!
Once You've Dropped Off Your Donations Do More Declutter 365 Missions, Then Rinse & Repeat!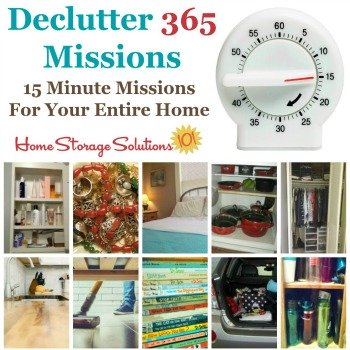 The most effective way to declutter your home is to alternate back and forth between identifying the clutter in your home, with the Declutter 365 missions, and then to completely remove the clutter from your home, such as by donating it, and then start the cycle all over again.
Doing both the tasks of identifying clutter, and then removing it completely from your home, eventually leads to a clutter free home!
You can find a round up of the Declutter 365 missions here on the site, when you're ready to identify more clutter in your home.
In addition, you can get a copy of the current year's Declutter 365 calendar here, if you need one!

Other Ways To Get Rid Of Your Donations Other Than Dropping Them Off Yourself
What if you can't get this stuff out of your home yourself, because it's too much stuff, or too heavy, or too bulky for your car, or for whatever other reason? Another alternative is to call for a donation pick up, which is discussed at the linked article.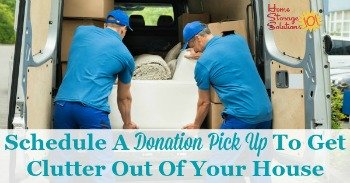 Images courtesy of Linda, Michelle, Chris, Mazie and Carolyn