Schedule A Donation Pick Up To Get Clutter Out Of Your House
If you want to get clutter out of your home an effective strategy is to schedule a donation pick up with a local charity. That's why today's Declutter 365 mission is to schedule one of these pick ups today!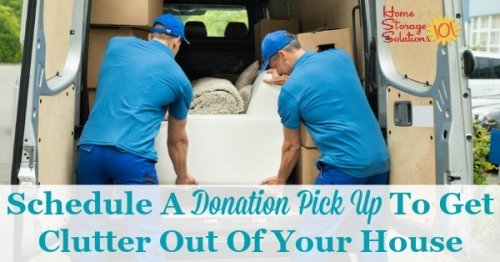 The decluttering process has several steps, and the last one in the process, which is to get the clutter out of your home, is critical, and also can be difficult.
You can decide to remove the clutter from your home in lots of ways, including trashing (or recycling it), selling it, or donating it.
Today we're focused on one of the ways to get clutter out of your home when you've decided to donate it to someone else, such as to a charity or thrift shop.
Some of these charities require you to drop off your donations to them, which of course involves you hauling all your clutter over to the shop, and carrying it to them. That can be a lot of work!
Fortunately, some places allow you to donate items to them, and then they come and pick it up for you! Take advantage of this service, when it's offered, because it can really help you see decluttering progress in your home, plus make it easier on you at the same time.
Advantages of Donation Pick Up For You As You Declutter
As mentioned, there are lots of ways to get clutter out of your home, but scheduling a donation pick up is one of my favorites, because it does have some big advantages for you, that make it a good choice to consider.
Here is a quick list of some of those advantages, so you know why I encourage you to pick up the phone today and find a charity in your area that will accept your donations, and schedule a date for pick up.
Sets A Deadline For Yourself To Gather Up Your Clutter
Once you've scheduled a date that the charity or other organization is coming to pick up your stuff, you can put it on your calendar and then work hard to make sure you have things ready for when they arrive.
A good hard deadline stops my procrastination in its tracks, and gets me going, and I bet you're the same. You don't want to disappoint the organization, or waste their time, so you will work to gather up as much stuff as possible for them.
In addition, you want to take advantage of the fact that someone is coming to help you remove clutter on a specific date, so the deadline will help you find the time to actually dig out that clutter and get it ready for them to haul away.
Get Rid Of Stuff That's Really Heavy
One of the hardest parts of decluttering is physically moving all the stuff in your home around. Picking up boxes, moving stacks and piles, bending down, lifting up, and on and on.
It's tiring, isn't it?
That's even more of an issue for really big stuff, like furniture, large appliances, big heavy boxes, etc. Sometimes the stuff is so large, in fact, that we can't possibly lift it ourselves. This is especially true if you have some physical limitations.
One of the great things about a donation pick up is that while you do have to identify the clutter, and have it ready for the charity or shop to pick up, they'll actually pick it up for you. They have one or two strong people, typically, who come for the pick up and can do at least some of that heavy lifting so you don't have to!
Please note that you should not expect to overwork someone coming to pick up your items, that's not what I'm suggesting. You've got to gather as much of it into one place as possible, or if its a piece of furniture or a large appliance for example, have moved everything around the item to give them a clear path to pick it up and carry it out.
That's still work on your part, and its unavoidable, but them picking these heavy things up can make an impossible task now at least possible for you.
Take Advantage Of Their Special Transportation To Haul It Away
Just like how some stuff is really heavy, so it's nice to get help movingf it, there are also often clutter items in your home that, even if you can lift and move them, it may be difficult for you to find transportation to get them out of your home.
For example, I remember a time in my life where my husband and I only had a compact car. You can bet we couldn't fit much into the trunk, much less a large piece of furniture, or really even very big boxes.
When we needed to get rid of large old unwanted stuff, like an old couch, or an old desk, we'd either have to rent some type of truck or other large vehicle to haul those things away, or get someone else to pick it up for us. We literally had no way, on our own, to transport these items.
It can cost significant money to either rent a vehicle or pay someone to haul away your junk. That's sometimes one of the prices you have to pay when you want to declutter your home.
However, often with a donation pick up the organization will agree to come pick the items up from your home, for free, in exchange for you giving them the item. That can be a win-win, so take advanatge of it when you can!
Lots Of Stuff Can Leave At Once
When you are working to identify as much clutter in your home as possible to meet the deadline of the scheduled pick up time, and you know you want to take advanatge of strong people helping you carry stuff off, and their truck or larger vehicle to haul stuff away, you can surprise yourself with how much stuff you can identify to get rid of at once.
This has the effect of making a lot of stuff leave all at one time from your home, and it really is very psychologically motivating to see such big results all at once.
Feel Good As You Give To A Good Cause
Finally, just like when you give to any charity or special organization, you can feel good that your donation is going to a good cause, and will be appreciated and used by someone else.
When you're deciding to get rid of clutter in your home, making sure it goes somewhere that makes you feel good is a great way to motivate yourself, and keep you from feeling stuck in indecision or possible regret for getting rid of an item.
Guidelines & Things To Remember When Scheduling A Pick Up For Donation
Now that I've hopefully gotten you excited about some of the possibilities, and reasons why scheduling a charity pick up is a great way to get rid of clutter in your home, let's make sure you approach your mission today in the right way, so you get the most out of the experience.
Identify What Charities Or Organizations In Your Area Do Pick Ups
It's just a fact that some organizations do pick ups, while others insist that you bring your stuff for donation to them. Both help you get rid of clutter, but always be on the look out for those special ones that will actually come to your house to pick it up for you. They're keepers!
If you're doing a lot of decluttering in your home over the course of several months or throughout the year (like if you're doing the Declutter 365 missions with me here on the site) it's worth your time to take a few of your 15 minute decluttering sessions and use them to do research about what organizations in your area take various types of donations, and whether they pick up or not.
I suggest making a list that you can then reference over and over, to give yourself some ideas as you run across stuff to be donated while decluttering. Be sure on the list to star, circle, highlight, or otherwise identify the organizations that do donation pick ups, since you'll want to rely on them as much as possible.
Understand How They Schedule These Pick Ups
Once you've found organizations that do pick ups, make sure you understand what their rules are for the process, so you aren't disappointed that they won't take something, or that you don't aggravate them by not following the rules, or making it harder on them.
One question you should definitely ask when arranging a pick up is how they handle the scheduling for those pick ups. Some places go to certain neighborhoods on their own schedule, so you'll need to find out when they'll next be near your house, and get that day on the calendar for yourself, and also make sure they know to stop at your home for the pick up.
Other organizations will allow you to pick the date and they'll come to pick up your donations then.
In either scenario make sure you understand their time frame, on specific dates for pick up, when they'll come. Are they giving you an exact time, or a window of time? Do you need to be present for them to do the pick up, or can you leave the items out for them? If you're to leave them out, where do you need to leave them, such as on the curb, or on your porch, etc.?
Make Sure You're Clear About The Rules Of What They Accept For Donation
Along with understanding the schedule of when the pick ups will occur, it is also very important for you to understand what the charity or organization will, and will not, pick up.
You don't want to go to the trouble of getting things ready for donation that they'll refuse to take, because that's a waste of your time, and theirs. Instead, make sure to adequately review the rules before preparing for the planned pick up.
Often, these rules and guidelines are available on their website, and if not they'll be happy to explain them to you, so make sure to ask where you can find them so you can review what can and cannot be donated. If you need to, write yourself some notes that you can refer to as you prepare for their pick up, so you use that time to only focus on the types of things they do accept. (You can save other decluttering sessions for stuff you've got that will have to go elsewhere.)
Common Types Of Items You May Want To Have Picked Up For Charity
As mentioned, you have to check with each charity or organization to determine what types of items they'll pick up, but here are some common types of of clutter in your home that, if you have them, may prompt you to schedule a pick up:
Old furniture
Used mattresses
Large appliances (check out the appliance disposal guide here for more information)
Other bulky items that are hard for you to transport
Exceptionally heavy items that you aren't easily able to lift
Large quantities of any item, such as clothes, household goods, etc. that would make a pick up worthwhile for the organization, and for you simultaneously
So as I said before, your Declutter 365 mission for the day is do a little online research, or make some calls, to identify charities or organizations that would take your donations, and will do pick ups, and go ahead and schedule a pick up and put it on your calendar today!
This is going to help you get the clutter out of your home that you've already identified, that needs to leave, and will also give you a push to keep finding even more stuff to get rid of from your home.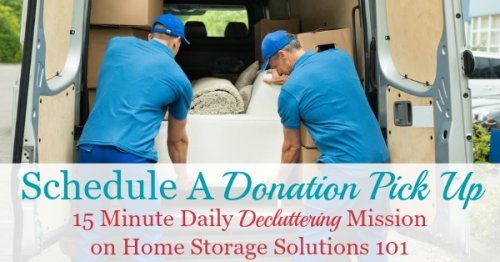 Are You Ready To Declutter Your Home?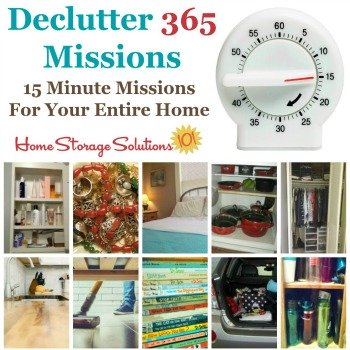 I hope today's mission has inspired you to take some simple steps to get clutter out of your home.
When you begin to declutter the feeling you get is contagious, so if you're loving the results you're getting I would encourage you to keep going.
I've got a whole series of 15 minute Declutter 365 missions that you can do.
Just pick and choose the ones you want to do, that will make a big impact in your home. But if you want someone else to tell you the order you can also grab the yearly Declutter 365 calendar and follow along as we all get our homes clutter free together!

More Ideas For Donating Items To Charity
Donating items in your home is an effective way to remove stuff from your house, and to make sure someone who needs and wants it can get those items, so they won't go to waste.
You can get even more tips for donating household items to charity here.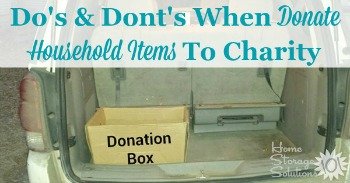 Further, you can always drop off your donations to your charity or donation center of choice, instead of only relying on them to pick the donations up. You can check out the Declutter 365 mission to drop off donations here for more details, and to make sure you avoid the bottlenecks that slow down your decluttering progress, when you're dropping off the donations yourself.