How To Get Organized: Printables & Checklists To Help You Get Started
There's a good way to figure out how to get organized -- use printables and checklists to keep you on track.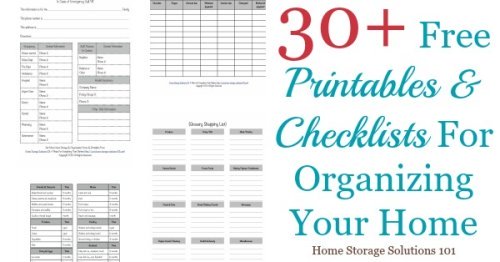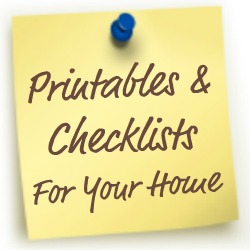 Each person, family and home is unique so lists will only get you so far, but they are a great way to get started, to reference when you need ideas, and to get you back on track if you start to get disorganized.
The printables and checklists I've provided will also help you brainstorm ideas for how to use various spaces in your home, and where to store certain items to get the most use out of the space you've got.
Many of these printables can be combined into one book, called a "household notebook," which I suggest you personalize to fit your family's routines, schedules, wants and needs. It can be a working manual to keep your house organized and your family life on track.
Here are the printables I've added so far (check back often because more are added all the time!).
Daily And Weekly Challenges & Missions On The Site
I run both a weekly organizing challenge and a daily decluttering mission on this site, consistently. Here are some printables dealing specifically with these challenges. They're free to join, so I encourage you to check them out and see if you want to participate too!
Decluttering Checklists & Worksheets
Contact Information, Address Book & Password Forms
Financial & Budget Printables, Plus Document Retention
Food Storage Printables & Forms
Grocery Shopping, Couponing & Meal Planning Forms
Health & Safety Resources
Home Inventory & Storage Forms And Checklists
Home Supplies Checklists
Schedules For Your Home & Life