Coupon Categories And Subcategories For Organizing Coupons
Here are some master coupon categories, and subcategories, to help you organize your coupons if you clip them. Using these categories to help you file your coupons can keep you from getting overwhelmed and more easily put your fingers on the coupon you need, when you need it.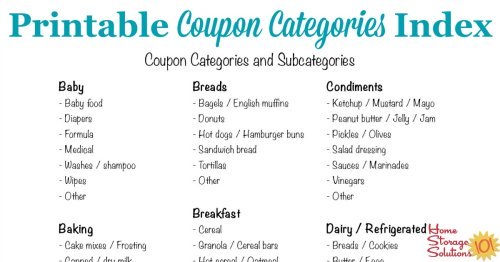 I've listed all the categories and subcategories below, for you to review.
Ideally you will tweak these categories a bit to fit your family's normal purchases, adding or subtracting categories as needed.
Further, if you don't coupon heavily you may just want to use the main categories, not the subcategories listed at all. However, the more coupons you have in your organizational system the more subcategories will become helpful to you in finding what you need quickly, especially when standing in the grocery aisle.
Although I suggest tweaking the categories I've created a two page printable you can print out if you just want to use the coupon categories the way I've already laid them out. You can scroll down to get it.
Categories For Coupon Organization
The categories listed below, with the master categories listed in alphabetical order, and the subcategories listed as bullet points undeneath.
Baby
Baby food
Diapers
Formula
Medical
Washes / Shampoo
Wipes
Other
Baking
Cake mixes / Frosting
Canned / Dry Milk
Cookie / Brownie mixes
Flour / Sugar
Muffin mixes
Oil / Cooking spray
Spices / Seasoning packets
Yeast / Baking powder, soda
Other
Beverages
Coffee / Tea
Juice
Powdered mixes
Sodas
Water
Other
Breads
Bagels / English muffins
Donuts
Hot dogs buns / Hamburger buns
Sandwich bread
Tortillas
Other
Breakfast
Cereal
Granola / Cereal bars
Hot cereal / Oatmeal
Pancake mix / Syrup
Other
Canned / Jarred Food
Canned / Dried fruit
Canned meats
Canned vegetables / Canned beans
Pasta sauce / Tomatoes
Soup / Broth
Other
Cleaning Supplies
Air fresheners
Dishwasher detergent
Dishwashing liquid
Floor care
General cleaners
Glass cleaner
Other
Condiments
Ketchup / Mustard / Mayonnaise
Peanut butter / Jelly / Jam
Pickles / Olives
Salad dressing
Sauces / Marinades
Vinegars
Other
Dairy / Refrigerated
Breads / Cookies
Butter / Eggs
Cheese (block, shredded, sliced)
Cottage / Cream / Ricotta chesse
Milk / Cream / Creamer
Yogurt / Sour cream
Other
Dried Goods
Fresh Food
Frozen Goods
Bread
Breakfast
Desserts
Dinners / Pizzas
Meats
Vegetables / Fruits
Other
Household Goods
Batteries
Foil / Plastic wrap
Greeting cards
Lightbulbs
Office supplies
Storage containers / bags
Trash bags
Other
Laundry Supplies
Fabric softener / Dryer sheets
Laundry detergent
Stain removers / Bleaches
Other
Medical
Cold / Flu / Allergy
First aid / Bandaids
Pain relievers
Vitamins / Supplements
Other
Paper Goods
Napkins
Paper towels
Plates / Utensils
Tissues
Toilet paper
Other
Personal Care: Dental
Mouthwash / Whitening products
Toothbrushes / Floss
Toothpaste
Other
Personal Care: Cosmetics / Makeup
Body wash
Cosmetics
Lotion
Skin / Facial care
Soap (bar and hand soap)
Other
Personal Care: Hair Care
Shampoo / Conditioner
Hair dye / Hair care and product
Other
Personal Care: Miscellaneous
Deodorant
Pads / Tampons
Razors / Refills
Shaving gel / Shaving cream
Other
Pets
Cat litter
Cat food
Dog food
Treats
Other
Snacks
Cookies / Candy
Crackers
Nuts / Snacks and trail mixes
Popcorn / Chips / Pretzels
Pudding / Jello
Other
Miscellaneous
Entertainment
Rebates
Restaurants
Store coupons
Other
Printable Coupon Category List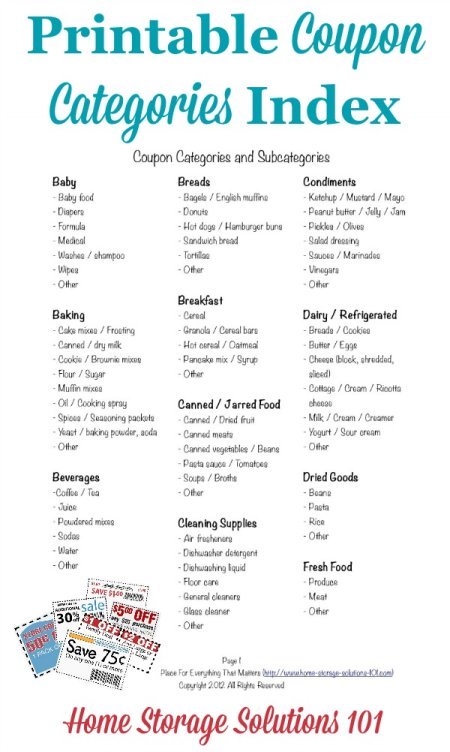 Click here for free printable
(opens into new window as 2 page PDF)
One way to use this free printable is as a table of contents for your coupon binder, to remind yourself where you may have filed one of those clipped coupons when searching for something in particular, or to help you remember where you should file it to begin with.
Other Couponing Resources And Articles On This Site
I've created some additional resources and articles on the site about couponing, which you may also find useful.
Want To Do More Decluttering Missions? Get Started With Declutter 365 Today!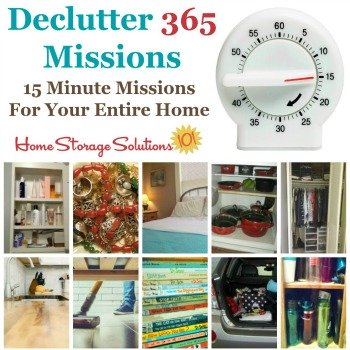 Once you declutter one type of item in your home I bet you'll want to declutter some more. After all, decluttering gives you a great reward for even a small investment of time and energy.
The Declutter 365 system is designed to help you declutter, over the course of a year, your entire house, with just 15 minutes of decluttering each day!
Hundreds of thousands of people use this proven system to get rid of their clutter, and bring peace and calm back to their homes.
Declutter 365 works to guide you to clear the clutter without overwhelm, focusing on just one small area at a time, and without making a huge mess in the process, so you see consistent forward progress without all that "messy middle" that makes it even harder to function in your home than before you started.
In addition to building a daily decluttering habit, the Declutter 365 program, along with the accompanying 52 Week Organized Home Challenge, teaches you the skills, habits, routines, and mindsets necessary to maintain the clutter free and organized state of your home from now on, so it'll never be as messy and cluttered as it is right now, ever again.
If you haven't already, make sure to get your copy of this year's Declutter 365 annual calendar here (it's FREE!), find today's date, and do 15 minutes of decluttering on the day's mission. Then, repeat again tomorrow, and again and again. Over the course of the next year, if you do this 15 minutes per day, you'll declutter your whole house!