Declutter Expired Coupons & How To Avoid Wasting Coupons In The Future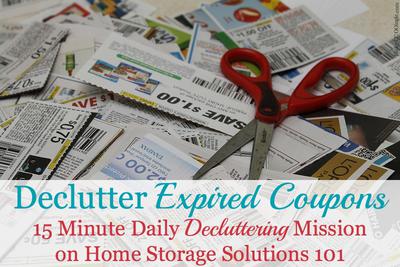 Today's mission is to declutter expired coupons. Here's my article on not only what to do with those expired coupons you declutter today, in this 15 minute mission, but also how to avoid having expired coupons that you've got to deal with in the future.
Using Coupons Is Exchanging Time For Money So Use Your Time Wisely
There is nothing wrong with using coupons. But you have to realize that when you coupon you are exchanging time for money.
Again, exchanging time for money is fine. That's what jobs are, after all. But whenever we engage in any exercise like that we need to make sure that the time invested actually makes sense for the return you're getting.
For every coupon you clip and then have to throw away, because it is expired, you've gotten zero return for your time investment. In fact, the fact that you've got to declutter the expired coupons, on top of already wasting time cutting that coupon out, makes it a double time waster.
That is the type of actions that gives couponing a bad name. It makes people feel like couponing is more trouble then it is worth. And if all you're doing is cutting out all kinds of coupons, never to actually use most of them, then yes, it is more trouble then it is worth.
How To Avoid Having Expired Coupons In The Future
So here's what you can do to avoid wasting coupons in the future, so you don't end up with huge stacks of expired coupons!
Only Clip Coupons For Items You're Likely To Use
It stands to reason that if you aren't going to use a coupon then you should not use your time to cut it out. There is zero gain in such an exercise.
So if you see an awesome coupon for half price _________ (fill in the blank) but you hate that product,
just pass that coupon on by. No use clipping it to begin with.
Gather All Your Coupons Together In One Central Location
Once you've clipped coupons that you plan to actually use, such as for products you buy consistently each week or month, then you need to be able to actually find them.
Have you ever been to the store, ready to make your purchase, and then remembered you had a coupon, but it was at home? Yeah, me too.
Or maybe you actually did think ahead, and knew you were buying something, and you had a coupon for it, and then spent way too long searching for that coupon amongst your various stashes in your house? Yeah, me too.
Both of those actions waste your time, and lead to expired coupons.
So you need to designate a single place in your home for all your coupons. Gather them all up from places like the bottom of your purse, in your wallet, the glove compartment of the car, your kitchen junk drawer, or wherever else, and put them all together.
Organize Your Coupons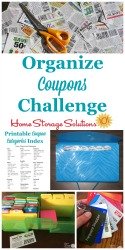 Finally, once all your coupons are in one location, the final step toward avoiding expired coupons in the future is to organize the coupons you've clipped and collected. You can read my
article on how to organize coupons here
.
Only when you know what you have, where it is, and can readily access them when you need them, can you actually maximize your savings with your couponing efforts.
Once you have done that all of a sudden you'll see that couponing isn't a big waste of time, because you're not spinning your wheels wasting time on things that don't save you money. Instead, for the time invested you'll find out how much you can really save with coupons, making it completely worth your time!
And yes, I know that today's 15 minute declutter mission is to declutter expired coupons. So see below for my suggestion of what to do with expired coupons!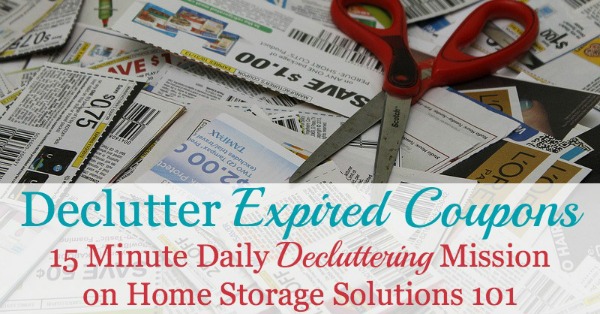 Top photo courtesy of Carol Pyles, and collage image photos courtesy of two readers, the top from Brandy and the bottom from Sherry
What To Do With All Those Expired Coupons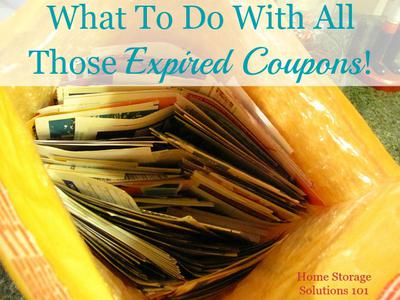 Once you've done today's declutter mission you'll most likely be left with a big stack of expired coupons.

You need to get them out of your home. They're paper clutter, since they're no use to you.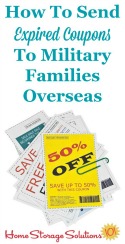 At first, these may seem like trash (or recycling actually, please!) but don't be too fast in chucking them all out the door.
Did you know that although these expired coupons won't do you any good they can be used by someone? Well, at least some of them can.
You can donate these coupons for up to six months after expiration for military families to use in commissaries. Here's my
article on how to do it
.
So don't feel guilty for letting those coupons expire before you could use them. Instead, bless someone else with them and still get them out of your home!
Are You Ready To Declutter Your Home?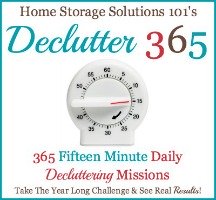 I hope you've been inspired to get rid of excess and expired coupons now.
When you begin to declutter the feeling you get is contagious, so if you're loving the results you're getting I would encourage you to keep going.
I've got a whole series of
15 minute decluttering missions
(eventually 365 of them!) that you can do.
Just pick and choose the ones you want to do, that will make a big impact in your home. But if you want someone else to tell you the order you can also grab the
15 minute daily decluttering mission calendars
and follow along as we all get our homes clutter free together!

Top photo courtesy of EvelynGiggles
Related Pages You May Enjoy
Getting Clutter Free 15 Minutes At A Time Hall Of Fame
Free Printable February Declutter Calendar With Daily 15 Minute Missions
Go From Declutter Expired Coupons & How To Avoid Wasting Them In The Future To Home Page