Printable Weekly Dinner Menu
With Premade Grocery List Sample
If you're stuck for what to make for dinner, here's a printable weekly dinner menu with premade grocery list sample, with recipes included, so you can plan your weeknight meals for your family.
The recipes included in this PDF (see link below) include the following:
Baked Fried Chicken served with baked potato and steamed broccoli
Mushroom Barley Soup served with a side salad and bakery bread
Chicken Tetrazzini served with Sauteed Asparagus and fresh pear wedges
Slow Cooker Ginger Beef with Broccoli served over rice with fresh orange slices; and
Salmon Patties served with Corn and Bean Salad and a fresh fruit medley
This printable list is courtesy of my good friend Crystal, who has the website MakeDinnerEasy.com. If you're looking for someone to do your meal planning for you, and share a pre-planned menu with you each week, she's your woman.
Every week she sends out a newsletter which contains both a dinner plan, plus a premade grocery list sharing what ingredients you should purchase, and best of all she does all this free of charge! You can sign up here for her newsletter.
Here's Your Printable Menu Plan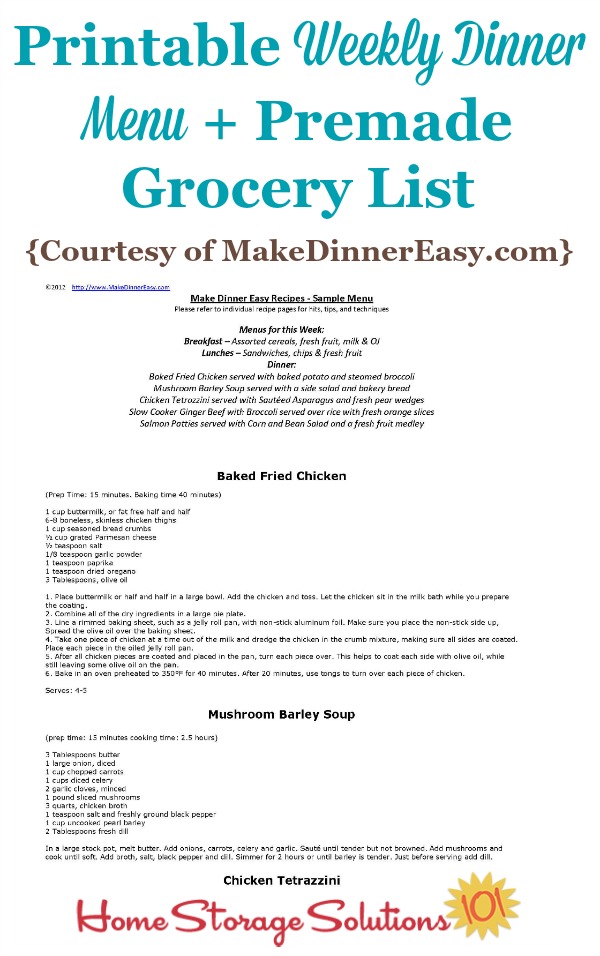 Click here to get your printable
(opens into a new window as 4 page PDF)
Even More Meal Planning And Grocery Shopping Printables And Articles You May Enjoy
I hope you've enjoyed this printable to help you get organized. You can get even more printables here. Some of them include: