Printable Garage Storage
Inventory Form
Use this free printable garage storage inventory form to keep track of what you've got stored in this area of your home, for both short and long-term storage.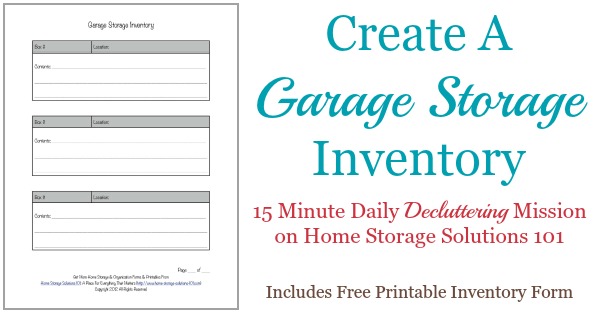 Your garage is obviously the place that you can park your car, to keep it sheltered from the elements.
But in addition to storing your vehicles here, garages have also evolved to house supplies for many activities, many of which are related to either the outdoors areas of your home, or to your vehicles.
For example, you may store your gardening or sport equipment and supplies in this area, as well as car supplies and maintenance equipment.
Further, depending on the layout of your home, what other storage areas you have, and how much stuff you own, this area also can be used for long-term or short-term storage of all kinds of items.
If you're like many people things go out to the garage for storage, and then you forget where you put them or what you've got out there.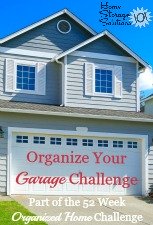 This garage storage inventory form is designed to be used in conjunction with the Organize Your Garage Challenge here on the site, to both declutter and organize the items in your garage, and then keep them that way.
First, make sure that you label (on all four sides, and the top) all the boxes or other containers you place in storage within your garage, using both a number and a very short description of the container's contents.
Then, fill out the inventory using the number of the box, a longer description of what it contains, and approximately where, in the garage, the container is located so you can find it again more easily.
After you've completed the inventory make a copy of it, and keep one copy in the garage where it can be referenced, when necessary, and another in your home management binder, or with your home inventory forms.
Here's Your Free Printable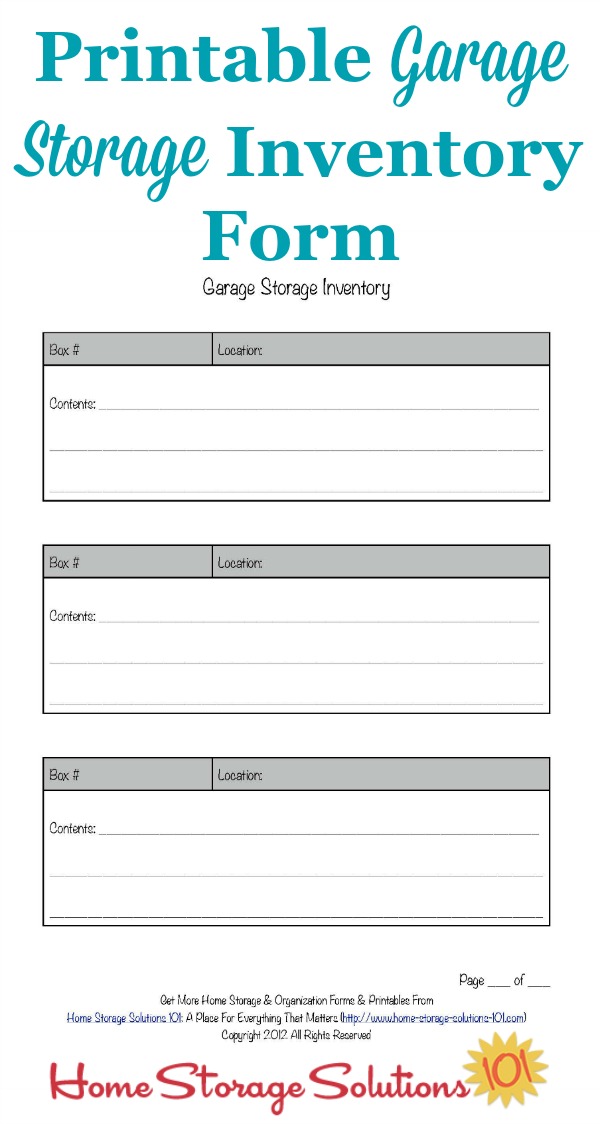 Click here for free printable form
(opens into PDF in new window)
Want To Do More Decluttering Missions? Get Started With Declutter 365 Today!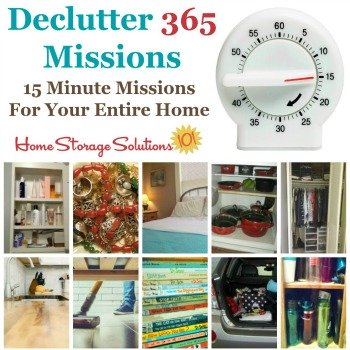 Once you declutter one type of item in your home I bet you'll want to declutter some more. After all, decluttering gives you a great reward for even a small investment of time and energy.
The Declutter 365 system is designed to help you declutter, over the course of a year, your entire house, with just 15 minutes of decluttering each day!
Hundreds of thousands of people use this proven system to get rid of their clutter, and bring peace and calm back to their homes.
Declutter 365 works to guide you to clear the clutter without overwhelm, focusing on just one small area at a time, and without making a huge mess in the process, so you see consistent forward progress without all that "messy middle" that makes it even harder to function in your home than before you started.
In addition to building a daily decluttering habit, the Declutter 365 program, along with the accompanying 52 Week Organized Home Challenge, teaches you the skills, habits, routines, and mindsets necessary to maintain the clutter free and organized state of your home from now on, so it'll never be as messy and cluttered as it is right now, ever again.
If you haven't already, make sure to get your copy of this year's Declutter 365 annual calendar here (it's FREE!), find today's date, and do 15 minutes of decluttering on the day's mission. Then, repeat again tomorrow, and again and again. Over the course of the next year, if you do this 15 minutes per day, you'll declutter your whole house!

Additonal Printable Forms You May Like
Here are some additional printable inventory forms on the site that you may find helpful.