Printable Garage Storage
Inventory Form
Use this free printable garage storage inventory form to keep track of what you've got stored in this area of your home, for both short and long-term storage.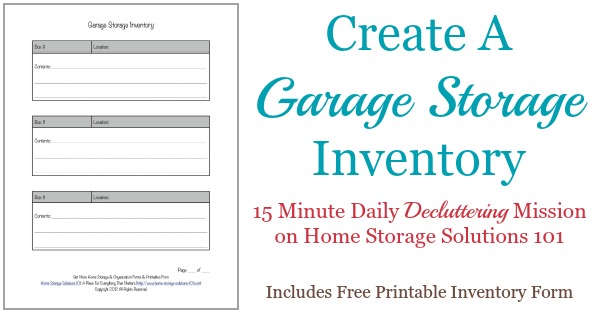 Your garage is obviously the place that you can park your car, to keep it sheltered from the elements.
But in addition to storing your vehicles here, garages have also evolved to house supplies for many activities, many of which are related to either the outdoors areas of your home, or to your vehicles.
For example, you may store your gardening or sport equipment and supplies in this area, as well as car supplies and maintenance equipment.
Further, depending on the layout of your home, what other storage areas you have, and how much stuff you own, this area also can be used for long-term or short-term storage of all kinds of items.
If you're like many people things go out to the garage for storage, and then you forget where you put them or what you've got out there.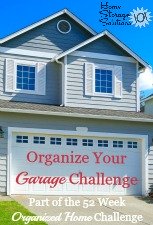 This garage storage inventory form is designed to be used in conjunction with the Organize Your Garage Challenge here on the site, to both declutter and organize the items in your garage, and then keep them that way.
First, make sure that you label (on all four sides, and the top) all the boxes or other containers you place in storage within your garage, using both a number and a very short description of the container's contents.
Then, fill out the inventory using the number of the box, a longer description of what it contains, and approximately where, in the garage, the container is located so you can find it again more easily.
After you've completed the inventory make a copy of it, and keep one copy in the garage where it can be referenced, when necessary, and another in your home management binder, or with your home inventory forms.
Here's Your Free Printable

Click here for free printable form
(opens into PDF in new window)
Additonal Printable Forms You May Like
Here are some additional printable inventory forms on the site that you may find helpful.