Free Printable Address Book Pages
Below is a free printable address book pages that you can print out, and use to organize your contact information for your friends, family, and other places and entities.

Instructions For Using This Form
I have designed this form to be used in a binder or folder, that you designate for holding your addresses and other contact information, for use in the Create A Simple Address Book and Organize Contact Information Challenge.
I suggest printing multiple pages of this form, and hole punching it for use in a binder, or adding each page to page protectors.
At the top of each form there is a space to state which letter of the alphabet the page is for, and I suggest having at least one page available for each page of the alphabet. Therefore, initially, you should print out at least 26 copies of the form.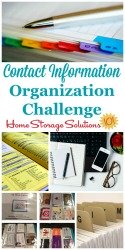 Obviously, you can then print out even more copies if you need more than one page for specific letters of the alphabet.
To be able to find your contact information more quickly I also suggest creating dividers between the alphabetical pages, such as with alphabetical divider tabs (referral link).
The form itself is pretty self-explanatory. The notes category is something I've added, which is not always present in all address books, but that I find helpful. This allows you to put any other information about the person you may learn, but might forget, but wish to remember.
Examples of information you could place in the notes section include spouse or childrens' names, birthdays, mutual acquaintances, or anything else that is important to you about that person or entity.
Here's Your Free Printable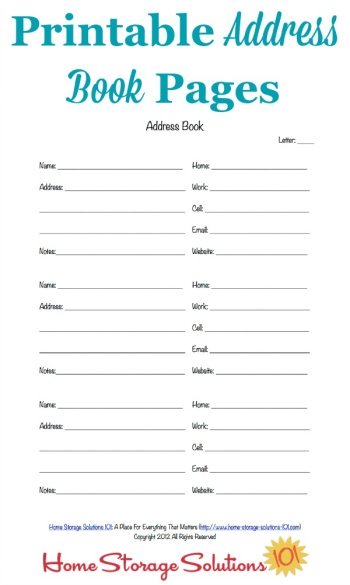 Click here to get printable
(opens into a new window, as PDF)
Don't Forget To Use Alphabetical Tab Dividers To Make Your Entire Address Book
If you're making an entire book, using this printable form, don't forget the alphabetical tab dividers to make it easier to find the letter of the contact you're looking for.
How One Reader Has Used This Form
Below are two photos from a reader, Alyssa, who downloaded this form to use for herself. In fact, she used this form as part of making an entire binder system for her addresses and phone numbers, labeling the front of the binder her "Address Book and Phone Numbers". Notice how she placed the form within a sheet protector in her notebook, something I recommend you do as well if suits your needs.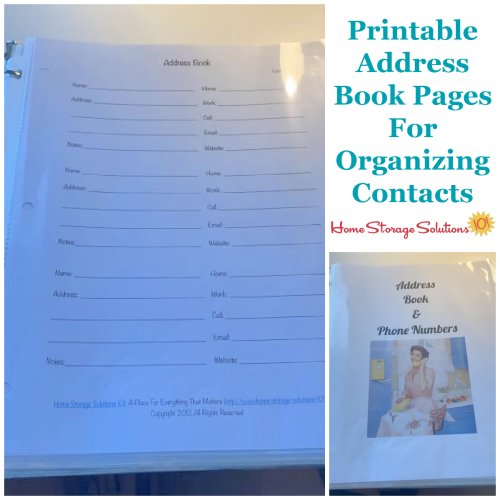 Additional Printables You May Find Helpful
Here are additional free forms and templates on the site you may enjoy:
In fact, you can find even more printables, checklists and forms here on the site: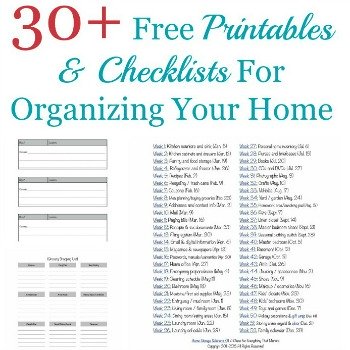 Some links on this page are affiliate links, meaning that if you purchase a product through them I receive a small commission which helps me provide this information to you for free, plus support my family. My integrity and your satisfaction are very important to me so I only recommend products I would purchase myself, and that I believe would benefit you. To learn more please see my disclosure statement.