Free Printable Monthly Bill Organizer
Use this free printable monthly bill organizer to keep track of when your bills are due, so you don't have any more late payments.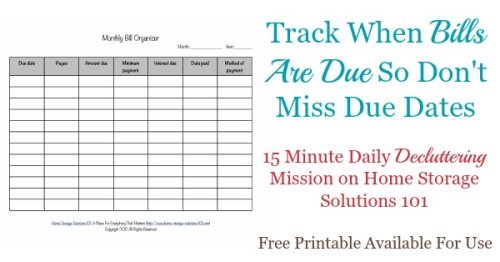 How To Use This Printable Bill Organizer To Make Sure You Pay Your Bills On Time
This printable is designed for use in Week #11's Organize Bills Challenge, or whenever you wish to get this area of your life a bit more organized.
One of the things you've got to do to pay bills in an organized fashion is to make sure you pay them by their due date, so you avoid late penalties and higher interest payments.
As you receive bills each month in the mail, or with emails for online bill payments, each will list the bill's due date, along with much of the information listed printable monthly bill organizer. As you receive these bills go ahead and fill out the information on this form.
In addition, fill out the information for bills that reoccur each month, such as mortgage or rent, insurance payments, car payments, etc., whether you receive a bill for these amounts each month, or not.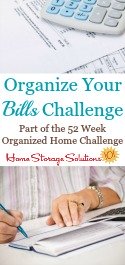 Ideally you'll list these bills in chronological order, by their due date, so you make sure you pay all of them before their past due.
All bills that must be mailed in should be paid at least seven days before the due date to allow time for mailing and processing, so you don't miss the payment deadline.
Similarly, online bill payments should be paid at least a couple of days in advance to make sure they process before the deadline has passed.
Once you've filled out this form once, for a month or two, you can start to detect patterns and trends of when various bills are due, since they typically have the same due date from month to month, and many will have at least a similar average amount due.
This can help you plan how much money to have in your bank account at various times of the month, to make sure you can cover all of your bills. Further, if you've got several bills bunched up together with similar due dates, and you're not able to cover them all at once, call a couple of the companies and see if you can change your due date.
Often, companies will accomodate you by just putting you in a different billing cycle, which can alleviate some pressure on your bank account and keep you from being consistently late with payments, which can hurt your credit score.
Here's Your Free Printable
Click the image below to open a new screen to get your free printable.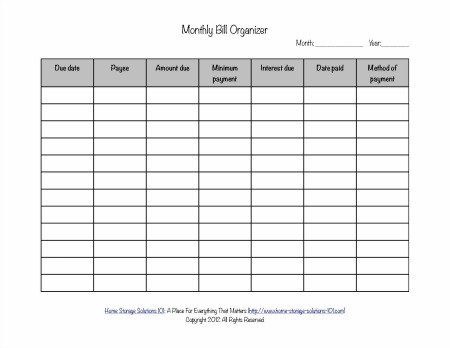 Click Here To Get Your Free Worksheet
(opens into a PDF in a new window)
Other Financial And Budgeting Related Articles
If you've enjoyed this printable monthly bill organizer, you may also find these additional articles on the site helpful.