Printable Basement Storage
Inventory Form
Use this free printable basement storage inventory form to keep track of what you've got stored in this area of your home, for both short and long-term storage.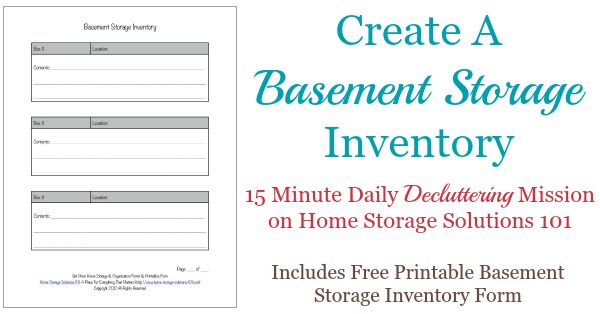 A basement is a wonderful place to store all types of items that you need for both long-term and short-term storage.
However, the more stuff you have down there, and the less often you access it, the more likely you are to forget where you stored items.
To keep this from being a problem you should label all the boxes or other storage bins you put into storage, as discussed in more detail in the Basement Organization Challenge.
However, you can only get so much information onto a small label. That's where this basement storage inventory comes in handy.
You can label and number each box or storage bin, as well as say a one or two word description on the label. Then, on this printable form you can add more description of what contents are held in each storage container.
You can write as much or as little detail as necessary on the sheet to help you remember the contents of each container when you need it.
Further, you can write the approximate location in your basement of the box onto the form, such as on the south wall, or on the shelves next to the water heater, etc. This can help you narrow down where the container is that you're looking for when you need to access something.
Once you fill out the inventory sheet save it in a safe place, such as with your other home inventory forms, or you could just save it in your home management binder.
Oh, and people have questioned whether this is worth the hassle if you've got a lot of stuff in your basement. I totally understand that mind set, but my response is -- if you can't be bothered to write down what you have, even in very broad terms, is it worth actually storing this stuff? Or instead, should you spend your time decluttering your basement so you have less stuff and have time to fill out an inventory for those items instead.
Here's Your Free Printable

Click here to get your printable form
(opens into PDF in new window)
Want To Do More Decluttering Missions? Get Started With Declutter 365 Today!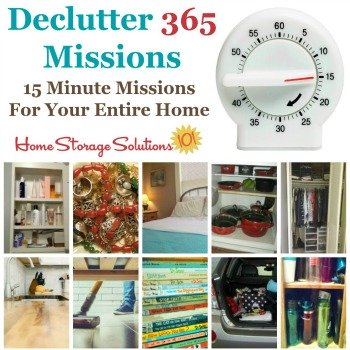 Once you declutter one type of item in your home I bet you'll want to declutter some more. After all, decluttering gives you a great reward for even a small investment of time and energy.
The Declutter 365 system is designed to help you declutter, over the course of a year, your entire house, with just 15 minutes of decluttering each day!
Hundreds of thousands of people use this proven system to get rid of their clutter, and bring peace and calm back to their homes.
Declutter 365 works to guide you to clear the clutter without overwhelm, focusing on just one small area at a time, and without making a huge mess in the process, so you see consistent forward progress without all that "messy middle" that makes it even harder to function in your home than before you started.
In addition to building a daily decluttering habit, the Declutter 365 program, along with the accompanying 52 Week Organized Home Challenge, teaches you the skills, habits, routines, and mindsets necessary to maintain the clutter free and organized state of your home from now on, so it'll never be as messy and cluttered as it is right now, ever again.
If you haven't already, make sure to get your copy of this year's Declutter 365 annual calendar here (it's FREE!), find today's date, and do 15 minutes of decluttering on the day's mission. Then, repeat again tomorrow, and again and again. Over the course of the next year, if you do this 15 minutes per day, you'll declutter your whole house!

Additonal Printable Forms You May Like
Here are some additional printable inventory forms on the site that you may find helpful.