Printable Freezer Inventory Form
Below is a free printable freezer inventory form can be used in your home to keep track of both what you have to eat, and when you should use it by, to take full advantage of your freezer as a food storage asset.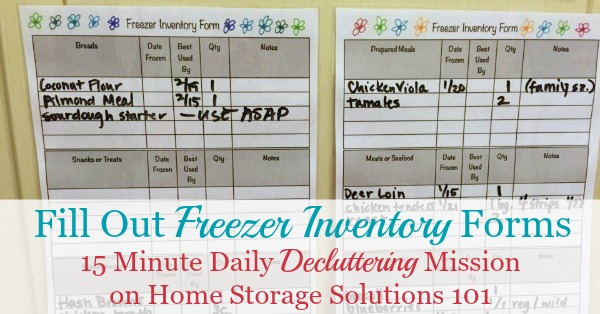 Reasons You May Want To Use A Freezer Inventory Form In Your Home
Freezing foods is an excellent way to preserve them longer. This can, when done correctly, help you save money at the grocery store and help you eat more nutritious food year round.
For example, if you have adequate freezer space you can take advantage of sales and coupons to stock up on certain freezable items, such as meats or produce and freeze the excess to be used later, so you're always eating at the low sales prices.
In addition, whether you purchase produce at the store, a farmers market, or harvest it from your own garden, you can eat nutrtious food at the peak of ripeness and freshness even in the winter if you preserve some of it in your freezer during harvest time.
However, all freezer food has a limited life span, although it is longer than if left out or just in the refirgerator. Once you've stocked up you need to make a plan to actually eat the food in your freezer so it serves its intended purpose. That is where this freezer inventory form can help - to remind you to eat what you have while it is still at its prime.
Where To Place Your Freezer List And How To Use It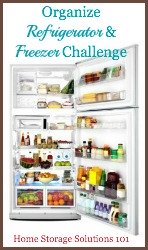 I've designed this form to be used in conjunction with doing the Organizing Refrigerator and Freezer Challenge, which is part of the 52 Weeks to an Organized Home series.
The most convenient place to place your form, for most people, will be on the freezer itself, such as on the lid or door of the freezer. Place the list on the outside, not the inside of the freezer so you can refer to it easily whenever you want.
If, for some reason, you don't want to place your freezer inventory form on the freezer itself I would still place it somewhere close to your freezer, in your kitchen where you can consult it often, such as in a household notebook or binder, or on the inside of a cabinet door.
(I would place it close to the freezer storage times cheat sheet, to make it handy to see how long you have from the time of freezing something to eat it.)
Your inventory will change constantly, because you will be adding new things to the freezer and also removing all or a portion of items frequently, as you eat each day with your famliy. Therefore, I suggest placing your form into a page protector sheet and using a dry erase marker to fill it out.
That's exactly what a reader, Sarah, did with the form. She sent in this photo, saying, "I did this about a week ago. I love these printables you sent out. I laminated them and can write on them with a dry erase marker. I'm hoping this will help me save money at the store...weekly I will asses what we've used and still have."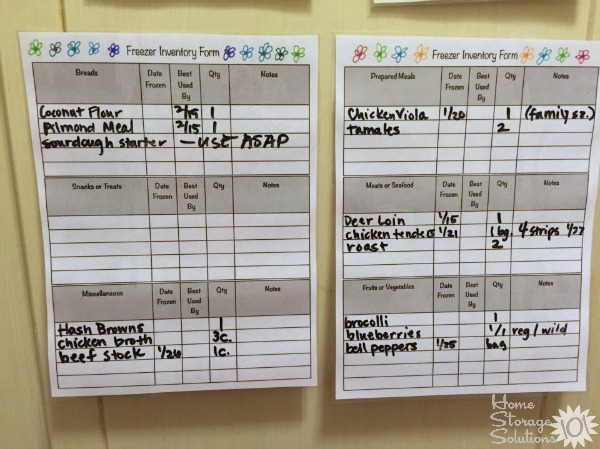 When you laminate or put the printable forms inside a page protector this allows you to easily change the quantity of items, up or down, or to remove or add things to the list without having to reprint the form each time.
Here's Your Printable Form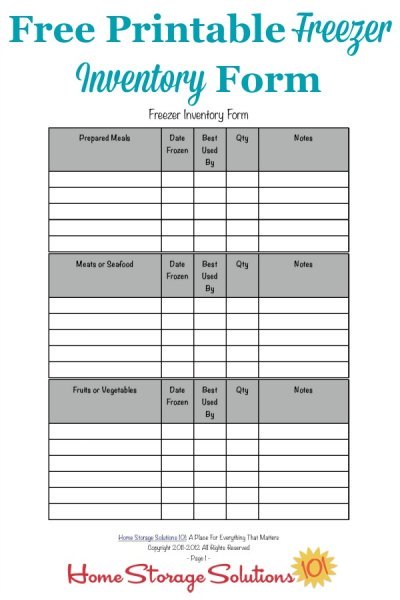 [Click here to get your printable form]
(opens into another window as 2 page PDF)
Other Printable Forms You May Like
Here are some additional printable forms about food storage that you may find helpful.