Free Printable Fall Decluttering Checklist
Here is a free printable fall decluttering checklist that you can use to get rid of clutter around your home when autumn begins.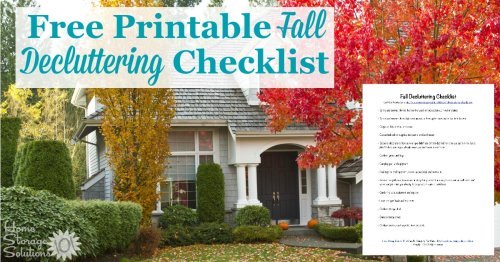 I love when the season turns to fall, don't you? The leaves begin to change, the air feels a little crisper, and it really does feel like the beginning of something new.
That's especially true if you've got school-aged kids, or are in school yourself, since the beginning of school, which happens in the autumn, also feels very much like the beginning of a new year.
While enjoying this change of season make sure to get summer clutter out of your home, to get ready for these new beginnings and also for the holidays that are quickly approaching.
I love this quote, which seems so apt for fall decluttering -- "The trees are about to show us how lovely it is to let things go."
Below is my checklist of things you should declutter from your home in the fall to get you going (I've listed them first in the article itself, with links to other articles on the site which will help you do all these decluttering tasks, and then below that is the the free printable PDF version of this checklist).
Please note, many of these decluttering tasks will look familiar, because many of them are items I've added to the Declutter 365 calendar around when the season changes from summer to fall, mainly in the months of September, October and November.
Fall Checklist
Spring & Summer Clothes
Make sure to get rid of spring and summer clothes that went unused, or have gotten worn out or stained over the course of the past spring and summer. After all, if you never wore the the clothes in the past season why would you think you'd wear them next spring or summer? And if they are now past their prime, you know you won't wear them again either, so it's time to let them go.
When you do your seasonal clothing switch to make your closet ready for fall and winter clothing, it's the perfect time to also either store or declutter those warmer weather clothes.
You can get more ideas for how to declutter excess clothes from your wardrobe here.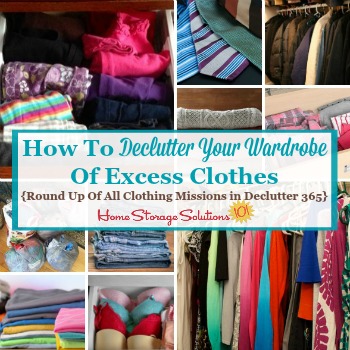 Spring & Summer Shoes
Similarly, it's time to look through your shoes and get rid of ones that are worn out, don't fit properly, or that you know you won't wear anymore.
Especially look at your summer shoes, since that season has just ended. Get rid of sandals that have broken, or the pair of tennis shoes you wore out during those long summer walks.
You can get more tips for decluttering shoes here.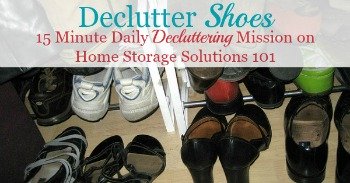 Outgrown Kids Clothes & Shoes
When school begins, and you're getting lots of kids' clothing for back to school, it's the perfect time to also get rid of outgrown clothes for your kids.
If you've got a younger sibling at home who could later wear some of these clothes you can definitely put some of the outgrown clothes into storage, but otherwise get them out of those kids' drawers and closets to allow room for the new stuff.
You can get more tips for decluttering kids clothes here.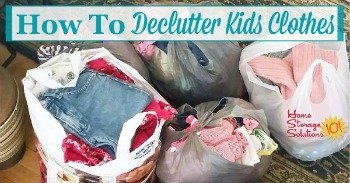 Excess Kids School Supplies, Backpacks & Lunch Boxes
As school begins make sure you only have the school supplies you really need in your home, and not excess stuff. This is especially true if you also are getting new backpacks, lunch boxes, and other school supplies for your kids.
You can get tips for decluttering and organizing school supplies within your home here.
Seasonal Decorations From Summer
There are lots of seasonal and holiday decorations you may have used this past summer, and now that the seasons are changing it's time to put these items away until next year, or get rid of stuff you won't use again (or that you never even got out and used to decorate in and around your home with).
You can get tips for decluttering summer decorations here.
In addition, here are ideas for holiday decoration storage, for the items you'll put away but are keeping for next year.
Outdoor Games & Toys
Summer was the prime time for kids (and adults) to get outdoors and have some fun, with toys and games.
As the seasons change, and it's harder to get outside to play because of work, school, and cooler temperatures, make sure to get rid of any outdoor toys and games that no one in your household played with during the previous warm season, or that were broken or worn out over the course of the summer.
Camping Gear & Equipment
I know you can camp all year long, at least some places, but prime camping season, during the summer, is over. So get rid of camping gear and equipment that you never used at all, or that got broken or worn out on your last few trips this past summer.
Pool Supplies & Equipment
As the weather gets colder it's also about time to close down the pool for the season. That makes it the perfect time to declutter pool supplies and equipment, as well as pool toys and swimsuits.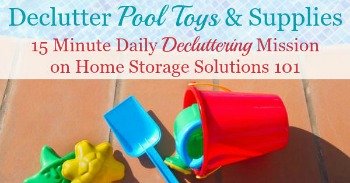 Summer-Weight Linens
As the seasons change many people also change from their summer-weight linens, such as light blankets and sheets, to those which are warmer, to keep themselves warm on cooler nights.
Therefore, this fall get rid of worn out summer-weight linens, those you never even used over the spring and summer, or those heavier winter-weight linens you already know you're not going to use during the upcoming seasons.
You can get tips for decluttering sheets here, and for decluttering blankets here.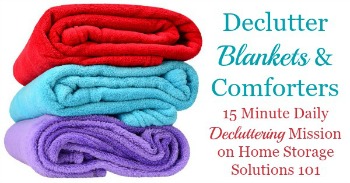 Gardening & Yard Tools, Equipment & Supplies
Once the leaves begin to change and all the vegetables are harvested from the garden, it's time to declutter excess gardening and yard tools, equipment and supplies.
Obviously don't get rid of all your rakes, shovels, the lawnmower, etc. You will need these items again when spring arrives. But get rid of duplicates (if you don't need and use both), anything that has broken, or that you didn't use during the entire previous season.
Here are tips for decluttering gardening supplies, and a similar Declutter 365 mission on the site for decluttering yard tools.
Outdoor Storage Shed
While you're getting rid of gardening and yard stuff, also declutter your outdoor storage shed while the weather gets cooler, but before it gets cold.
Honestly, an outdoor storage shed is very much like the junk drawer of your outdoor spaces, so it will need to be regularly cleared out to keep it functional.
Here are instructions for how to declutter an outdoor storage shed.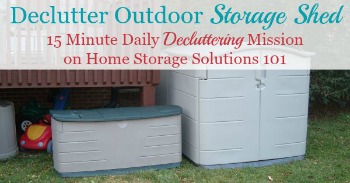 Garage Storage Areas
The weather turning cooler also makes it a great time to declutter your garage.
Here are tips for decluttering your garage.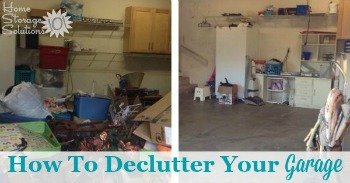 Outdoor Spaces, Such As Patio, Deck Or Porch
Finally, the changing seasons make it the perfect time to declutter outdoor spaces, such as your patio, deck or porch.
You can get rid of seasonal decorations, re-decorate these outdoor spaces with fall decor, and also put away any furniture or other items that need to be stored during cooler weather.
You can get tips for decluttering your patio, deck or porch, at the links.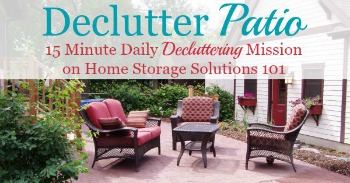 Here Is Your Free Printable Checklist
Below is the printable version of this checklist, available in PDF format.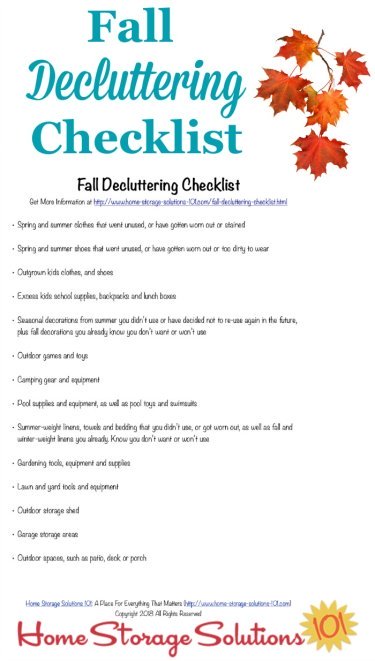 Click Here To Get Your Free Checklist
(opens into a PDF in a new window)
I hope this autumn decluttering checklist helps you get ready for the changing season around your home.
Along with decluttering, the changing from summer to fall also means it's time for a bit of cleaning in your home as well. If you're interested, make sure to grab a copy of the printable fall cleaning checklist on the sister site, Household Management 101.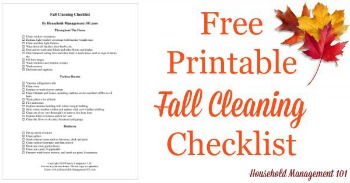 In addition, if you want to get ready for the next season, make sure to also check out the winter decluttering checklist here on this site.