How To Declutter Fall Decorations
Today's mission is to declutter fall decorations, in and around your home, once the season has passed to get ready for the next season, and keep your seasonal decor organized and clutter free.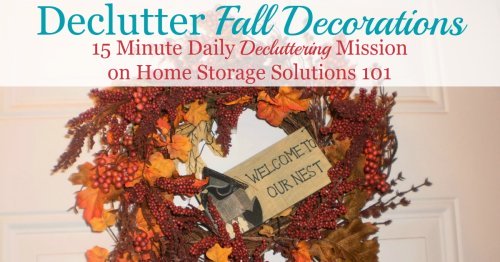 The term "fall decorations" is purposefully broad and a bit vague, since we all like to decorate our homes with seasonal decor in different ways, and I want this mission to apply to your situation.
Therefore, for you, fall or autumn decorations could include pumpkins or other gourds, leaves, wreaths, table decorations, centerpieces, or whatever other fall colored or themed knick knacks you've got.
This mission is actually part of the Holiday Decoration Storage & Organization Challenge here on the site, which is one of the 52 Week Organized Home Challenges.
Normally I have these individual Declutter 365 missions that relate to a specific challenge close in time to when we're working on that particular challenge according to the annual declutter calendar, but in this instance I have actually purposefully spread these missions out throughout the year.
The reason? While the challenge about holiday decorations is always done in December, because for many of us our Christmas decorations constitute the largest portion of our total holiday decorations, I know that many of us also have decorations to place around our home for other times of the year, for lots of seasons and holidays.
Since it's easiest to declutter and organize seasonal decorations as the season itself happens, these missions are spaced out to make it easy for you to get this task accomplished.
So lucky for you, all you have to do today is focus on fall and autumn decor, and nothing else.
Declutter What You Didn't Use This Season & What Is Perishable
As always, when we do these missions, I'm not asking you to declutter all of your fall seasonal decor. Instead, only get rid of what you no longer want or need, and then we'll organize and properly store the rest.
If you never even got out some of this seasonal decor this fall, and it's all still packed away in boxes, now is a good time to really consider whether you need to keep it, or at this point is it really clutter that is taking up valuable space in your home?
Similarly, if your decor is perishable, such as real pumpkins or other gourds, now is the time to throw it out, before it sits somewhere, like your front porch, and begins to rot.
Organize & Properly Store What You're Keeping
After getting rid of any decorations that are now merely clutter, you're ready to properly store and organize the decor you are keeping.
You'll thank yourself next year when you've put everything away safely, so it all stays nice and looking pretty, and also so it's easy to find and put back out again.
Organizing now allows you to enjoy the seasonal decoration of your house more in the future, to keep it a more fun and festive process, instead of a chore, or frustrating because you can't locate everything you need.
I recommend keeping all of your fall decorations together in one or two containers, and separated from other seasons decor, so it's easy when the beginning of fall rolls around again, to pull out these few decorations without having to move around other decorations for holidays like Valentine's Day or Easter and spring decor.
Holiday colored containers can help make it easier to identify which decor is in which box, such as fall colors like orange or brown, being perfect colors for your containers that hold your fall decorations. If you use a different color container just make sure to label it so it's easily identifiable.
You can get more ideas for how to organize and store holiday decorations here.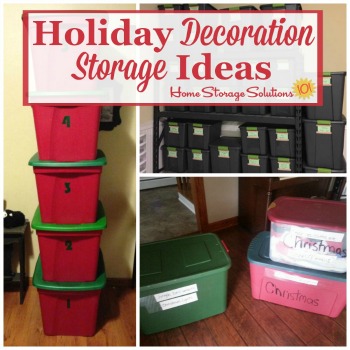 Once the fall decorations are put away you'll be ready to pull out all those Christmas decorations from storage, and get ready for the Christmas season in your home!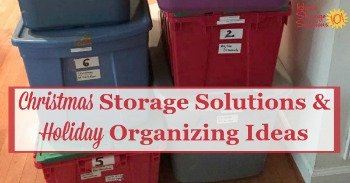 Other Seasonal Decoration Decluttering Missions
As I mentioned earlier, there are additional seasonal decoration decluttering missions here on the site that you can work through, to make the process of decluttering and organizing your holiday decorations easier and less overwhelming.
Here are additional Declutter 365 missions we do about this topic:
Want To Do More Decluttering Missions? Get Started With Declutter 365 Today!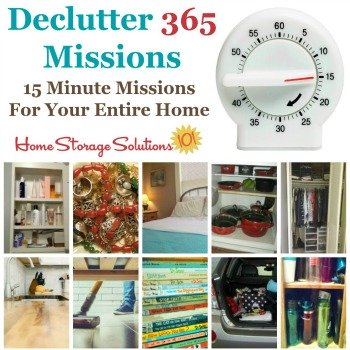 Once you declutter one type of item in your home I bet you'll want to declutter some more. After all, decluttering gives you a great reward for even a small investment of time and energy.
The Declutter 365 system is designed to help you declutter, over the course of a year, your entire house, with just 15 minutes of decluttering each day!
Hundreds of thousands of people use this proven system to get rid of their clutter, and bring peace and calm back to their homes.
Declutter 365 works to guide you to clear the clutter without overwhelm, focusing on just one small area at a time, and without making a huge mess in the process, so you see consistent forward progress without all that "messy middle" that makes it even harder to function in your home than before you started.
In addition to building a daily decluttering habit, the Declutter 365 program, along with the accompanying 52 Week Organized Home Challenge, teaches you the skills, habits, routines, and mindsets necessary to maintain the clutter free and organized state of your home from now on, so it'll never be as messy and cluttered as it is right now, ever again.
If you haven't already, make sure to get your copy of this year's Declutter 365 annual calendar here (it's FREE!), find today's date, and do 15 minutes of decluttering on the day's mission. Then, repeat again tomorrow, and again and again. Over the course of the next year, if you do this 15 minutes per day, you'll declutter your whole house!

You can also check out this fall decluttering checklist to make sure you've decluttered all the things you should for this season of the year.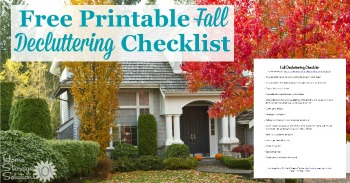 Top photo courtesy of Cyuahoga jco, from Flickr CC, and then photos in collage provided by readers, with top left from Kelly, top right from Tiffany, and bottom right from Amy