How To Declutter Your Porch Or Other Outside Entrance To Your Home
Today's mission is to declutter your porch or other outside entrance to your home so that it's welcoming for guests and family when they see your home and come on in.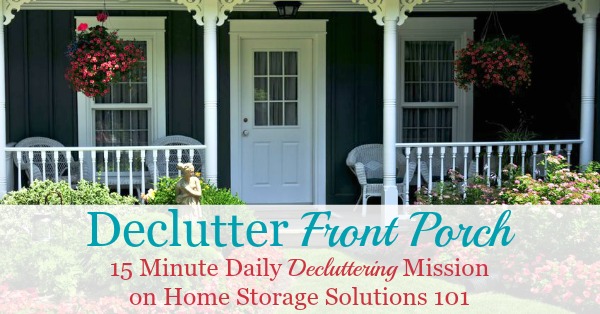 The mission is designed to be done while we're focused on the Organizing Outdoor & Garden Storage Areas Challenge, which is one of the 52 Week Organized Home Challenges here on the site.
Of course, you can do this mission whenever you need to in your home. I find that good times to focus on this mission are when seasons are transitioning, such as when it's almost time for spring, or when it's getting ready to be fall and winter.
No matter when you do it though, you'll be pleased with the results because your front porch is a very visible area to both guests and family members, who come through the door each day. Therefore, it's one of the areas that makes a big first impression of your home to everyone, both guests and household members.
Focus On The Outside Of Your Home During This Mission
When working on this mission I want you to understand that today we're focused on the outside entrance of your home, whether you've got a front porch, stoop, or just a small doorway where everyone enters.
Later, in a different challenge, we focus on decluttering the inside entryway and then organizing your entryway, to make sure the inside also makes a good impression once people step into your home.
Today though, make sure they have a good first impression even before they enter.
Consider The Functions Of Your Front Porch To Help You Declutter
When working on this mission, the first step is to think about the functions of the space. For any entrance to your home the main function, is, of course, to allow people to safely and easily walk up to your door, open it, and enter into your home, or exit when they leave.
Therefore, make sure to clear clutter and allow space for a nice walkway, and leave plenty of room to open the door fully and completely. You may also want to consider lighting, so that it's easy to navigate both during the day and at night.
Additional functions of your front porch may include relaxing or entertaining guests or hanging out with your family. If this is the case, make sure there's enough space for everyone to sit or stand comfortably, and perhaps places to set a beverage, or some shade to allow them to stay cooler.
Don't Forget About Seasonal Decorations & Furnishings
Earlier I mentioned that a great time to work on this mission is anytime the seasons are changing, and the reason is that your porch is that a final function of a front porch or outside entrance to the home, is to have a little seasonal decoration outside your home.
This could include certain plants, like spring or fall flowers, wreaths for the front door, banners, or even furniture that is seasonal, such as items that come out only during the summer, but are put away during the winter.
Over time, because of weathering, you may find you need to replace items that have gotten old, worn, sun faded, or have mildewed or molded.
In addition, even items that made it through the season, but are not appropriate year round, need to be put away. In this instance decluttering involves putting currently unused items away into storage, instead of completely getting them out of your home.
Take A Few Minutes To Clean Up Your Porch
After you've decluttered the space, getting rid of or putting away what shouldn't be in the space anymore, if you've got time I encourage you to also do a bit of porch clean up.
Give your porch or entryway a good sweeping, and clean up the front door to remove fingerprints and smudges.
Here are tips for cleaning the door, on the sister site, Stain Removal 101, that you may find useful for this mission.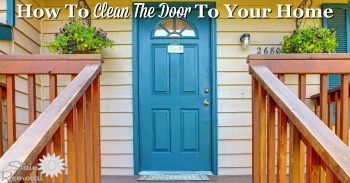 You may also want to clean up any outdoor furniture you've got on the porch so it's enjoyable for people to use it again.
Here are instructions for that as well: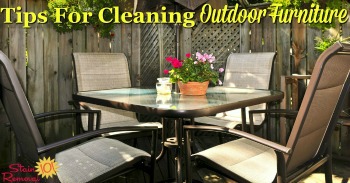 Photo From Participant Who's Already Done This Mission
Here's a photo below, from a Declutter 365 participant, Holly, who has already done this mission. I hope photos like this will show you what positive results missions like this can make in your home, and get you inspired to tackle the task for yourself!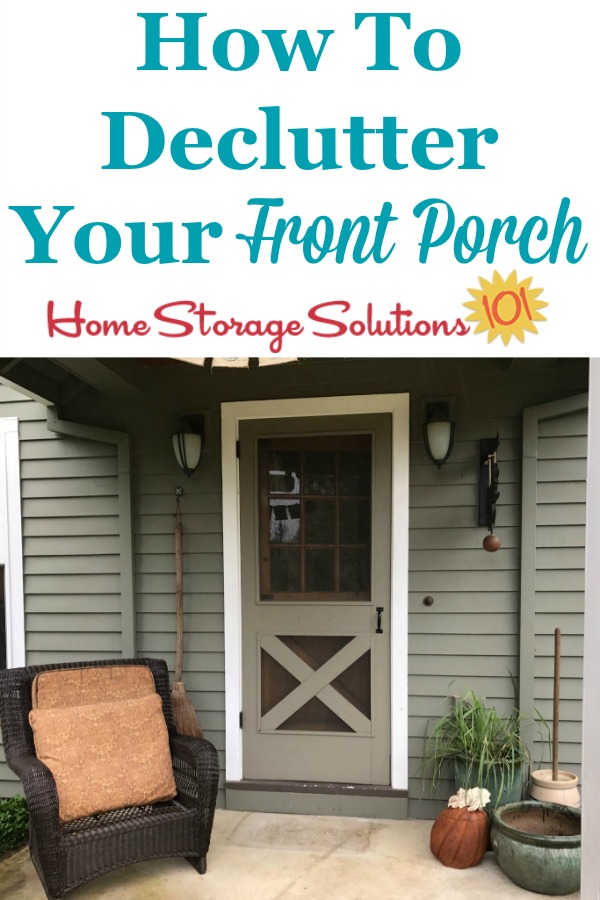 Holly said, "I organized the front porch and the back patio for fall. The wood furniture is put away in the shed, the other furniture is covered and all of the "things" are in their winter homes. The unused porch swing is at the charity shop, the moldy basket (bummer!) and 15 year old welcome mat are in the burn pile (not burning - - too many wildfires out west for that). We even brought the two big planters down from the second floor deck and cleaned them up to they're ready for fall mums."
You did a great job Holly, it looks wonderful! Congrats on your hard work, now enjoy that porch!
Want To Do More Decluttering Missions? Get Started With Declutter 365 Today!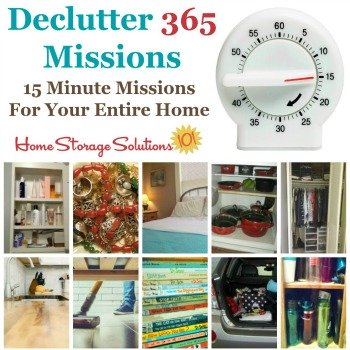 Once you declutter one type of item in your home I bet you'll want to declutter some more. After all, decluttering gives you a great reward for even a small investment of time and energy.
The Declutter 365 system is designed to help you declutter, over the course of a year, your entire house, with just 15 minutes of decluttering each day!
Hundreds of thousands of people use this proven system to get rid of their clutter, and bring peace and calm back to their homes.
Declutter 365 works to guide you to clear the clutter without overwhelm, focusing on just one small area at a time, and without making a huge mess in the process, so you see consistent forward progress without all that "messy middle" that makes it even harder to function in your home than before you started.
In addition to building a daily decluttering habit, the Declutter 365 program, along with the accompanying 52 Week Organized Home Challenge, teaches you the skills, habits, routines, and mindsets necessary to maintain the clutter free and organized state of your home from now on, so it'll never be as messy and cluttered as it is right now, ever again.
If you haven't already, make sure to get your copy of this year's Declutter 365 annual calendar here (it's FREE!), find today's date, and do 15 minutes of decluttering on the day's mission. Then, repeat again tomorrow, and again and again. Over the course of the next year, if you do this 15 minutes per day, you'll declutter your whole house!

If you're already decluttering outdoor areas, here are a couple more missions that you may want to do.
Here's how to declutter your patio.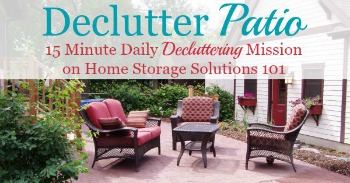 In addition, here's tips for decluttering your deck.