How To Declutter Your Entryway Or Foyer
Today's mission is to declutter your entryway or foyer to make this highly trafficked area of your home functional, and inviting for your family and guests.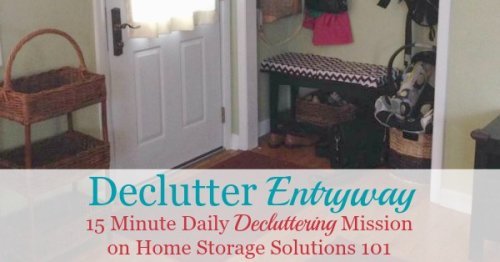 This mission is designed to be done while we work through the Mudroom & Entryway Organization Challenge here on the site, which is one of the 52 Week Organized Home Challenges.
The reason is, of course, that before you can truly organize a space you've got to first declutter it.
That's because we never want to organize clutter.
And as a bonus, when you declutter your entryway or other front entrance to your home, you'll actually be about 90% of the way there to having the space organized, because of how our entryways function in our homes.
It's one of those spaces where often, less is more.
What This Mission Entails & Why It's Important
Today we're focused on the inside of your home, looking at the area that family members or guests walk through, after they enter your front door.
In a later mission this week we'll focus on when people walk in the back door of your home, so only focus on the entrance to the front door today.
In addition, in an earlier mission a few weeks ago we focused on decluttering the front porch or outside part of the entrance to our home, so if you haven't done that make sure to do it now as well.
The reason we do focus on this area of our home is because it is used every single day by household members, and guests. It's one of the first impressions everyone has of the home, and so when you improve the look and functioning of this space it can really make everyone feel more comfortable and their stay become more enjoyable.
The Purpose Of Your Entryway: Hold The Stuff People Carry In And Out Of Your Home Frequently
Some of us may have huge houses, with large dramatic entrances that are designed to "make a statement." If that's you, you'll still want to declutter and create some functional areas for your entryway, but decluttering won't be as large of a concern because you've got a lot of space to work with.
On the other hand, for most of us, the entryway to our homes is not large and grandiose, but instead a relatively small space that is highly trafficked, and therefore needs to be very functional, and mainly clear of stuff, instead of pretty or highly decorated.
In most entryways there should be little, if anything, within the space that doesn't serve a purpose. And the purpose of basically everything in that space is that it should help your family members or guests who are walking into your home have a place to put stuff they're carrying in with them down, and then to hold that stuff by the door until those same family members pick that stuff back up again when they leave your home.
Only after those purposes are served should you place anything decorative or otherwise non-functional into this small area.
The Types Of Items Often Carried In And Out Of Your Home
The types of things that are often carried in and out of homes, and that should (potentially) have a place close to your entryway to be held, include:
Coats and jackets (remember we'll declutter the coat closet in tomorrow's mission, and declutter excess coats and jackets the day after that)
Other clothing and gear people carry for the weather, such as hats, gloves, scarves, umbrellas, etc.
Shoes (check out the article about decluttering excess shoes by your entryway here that we did in an earlier mission)
Things in people's pockets, including coins, keys, cell phones or other electronics, etc.
Bags people are carrying, such as purses, gym bags, briefcases, and/or backpacks and school bags
Mail that someone has picked up from the mailbox outside and is bringing into the house
I've added the links above to various articles on the site that may help you either declutter and/or organize some of these common items that people carry into the house, so be sure to check them out if you're looking for solutions for these particular things for yourself.
The list above is merely ideas of things you may want to make room for as you're decluttering the space in your entryway, but you are ultimately in control of what you want to have stored in this space.
Depending on the size of your entryway, and your personal preferences, you may choose to make room in other areas of your home for some of these things. For example, my entryway is really small, and with three kids in school I had to designate a different area, past the entryway, for holding backpacks or there would be a tripping hazard by the door all the time because of those big bags.
Move Out Items That Don't Belong Or That Have A Home Elsewhere
Because people are always putting stuff down as they come into your home, by default the entryway is often a dumping ground for stuff that really doesn't belong there, but someone put down for "just a minute" and then never came back to deal with.
That means during this mission, along with identifying stuff that you'll completely remove from your home, you're also going to find a lot of stuff that you do want to keep, just that you want to put somewhere else.
Make sure as part of doing this task that you carry that stuff to the right place in your home and put it away.
You're going to want to keep decluttering stuff from the space, either by getting rid of it or putting it elsewhere, until the space again feels functional, less cramped, and allows your entryway to fulfill it's purpose, to hold the stuff people are regularly carrying in and out of your home.
Make Sure To Combine This Decluttering Task With A Daily Tidy Up Routine
One thing you'll find is that even after clearing the clutter from your entryway or foyer is that clutter and mess will re-accumulate, as people use this space. That's completely natural and expected.
To keep the area looking nice, combine this decluttering mission with a good daily tidy up routine in this area, to keep it looking good from now on. You can find out more about this daily routine here: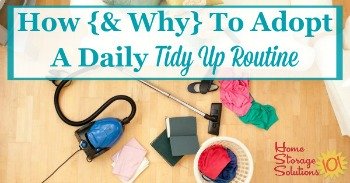 Before & After Photos From Readers Who've Already Done This Mission
Doing this mission may take you some work, but it's worth it, and the results can be dramatic. Below I've added quite a few before and after photos from readers who've already done this mission to let you see how much of a difference this task can make, and hopefully get you motivated to do this mission for yourself.
The first collage of photos below is from a Declutter 365 participant, Ellie, who said, "It doesn't look like much but this took me more than 2 hours to go through our drop zone/landing area for everything that comes in the house. I went through shoes, boots, hats, gloves, backpacks, scarves and bags. Filled one donation bag, decluttered a bit, cleared the island (major dumping zone) swept and washed the kitchen floor. I'm feeling accomplished 😀"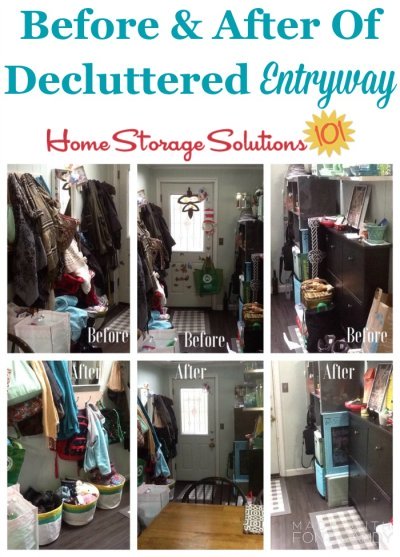 Next is a before and after collage from another reader, Carrie, who said, "The before and after is our entrance way, our laundry/mudroom is under construction and this was driving me nuts!"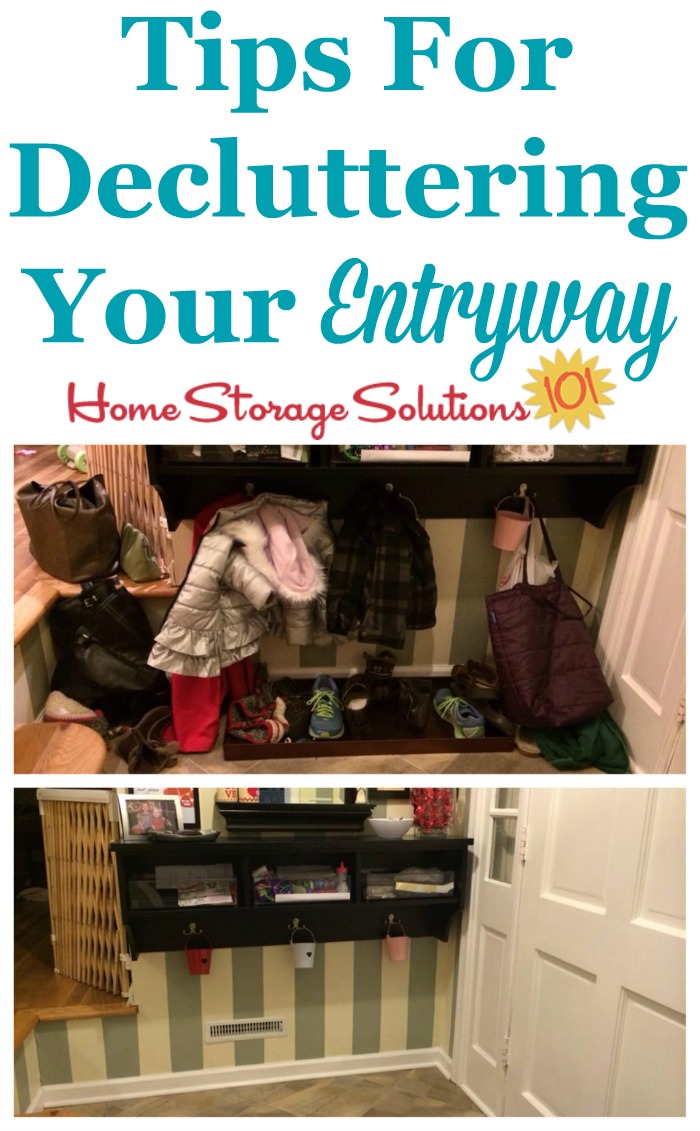 Here are several before and after photos from a reader, Linda, who also worked on the entrance to her home.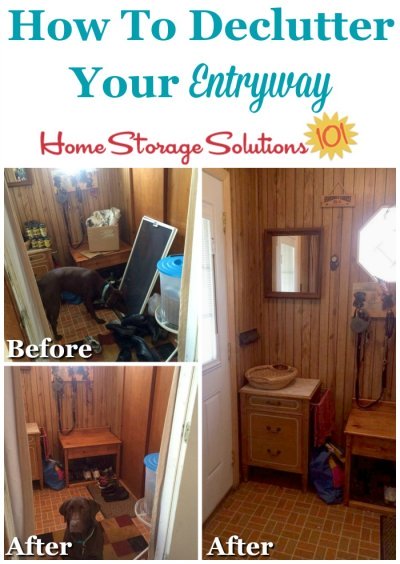 Finally, here's a picture of the middle of the process of decluttering, along with an after photo, from another Declutter 365 participant, Holly. She said, "Our front hall is the place to stuff everything we don't know what else to do with - - out it came and on to the table to sort. Now it's neatly put in place and two boxes are off to the thrift shop."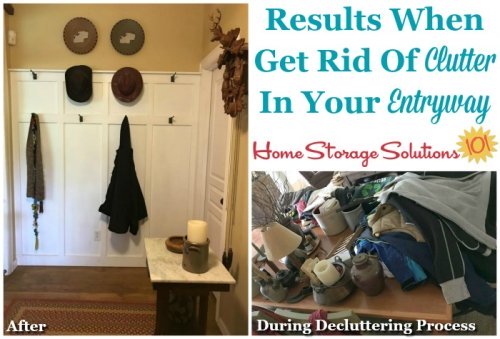 Want To Do More Decluttering Missions? Get Started With Declutter 365 Today!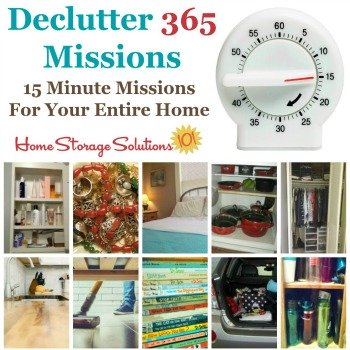 Once you declutter one type of item in your home I bet you'll want to declutter some more. After all, decluttering gives you a great reward for even a small investment of time and energy.
The Declutter 365 system is designed to help you declutter, over the course of a year, your entire house, with just 15 minutes of decluttering each day!
Hundreds of thousands of people use this proven system to get rid of their clutter, and bring peace and calm back to their homes.
Declutter 365 works to guide you to clear the clutter without overwhelm, focusing on just one small area at a time, and without making a huge mess in the process, so you see consistent forward progress without all that "messy middle" that makes it even harder to function in your home than before you started.
In addition to building a daily decluttering habit, the Declutter 365 program, along with the accompanying 52 Week Organized Home Challenge, teaches you the skills, habits, routines, and mindsets necessary to maintain the clutter free and organized state of your home from now on, so it'll never be as messy and cluttered as it is right now, ever again.
If you haven't already, make sure to get your copy of this year's Declutter 365 annual calendar here (it's FREE!), find today's date, and do 15 minutes of decluttering on the day's mission. Then, repeat again tomorrow, and again and again. Over the course of the next year, if you do this 15 minutes per day, you'll declutter your whole house!

In addition, check out this article about what you need to do to prepare for guests in your home.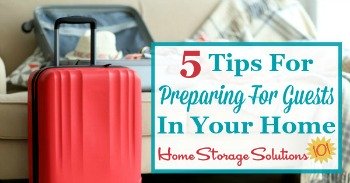 Further, here's my round up of entryway and mudroom storage solutions and organizers, so you can check out lots of them in one place within my Amazon shop. Once at my shop scroll down to find this list. (referral link)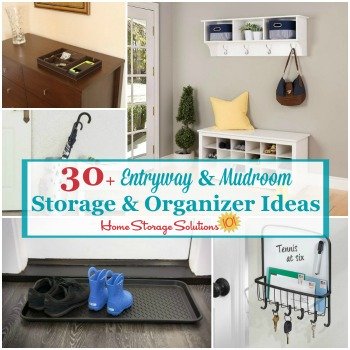 Top photo courtesy of a reader, Alexandria, who said, "We took the doors off our entryway closet and made a little shoe/coat/etc. nook since we don't have a mudroom but have a family of five."
Some links on this page are affiliate links, meaning that if you purchase a product through them I receive a small commission which helps me provide this information to you for free, plus support my family. My integrity and your satisfaction are very important to me so I only recommend products I would purchase myself, and that I believe would benefit you. To learn more please see my disclosure statement.