How To Declutter Your Mudroom Or Back Entrance To Your Home
Today's mission is to declutter your mudroom, or other back entrance to your home, to make it a functional and useful place for your household.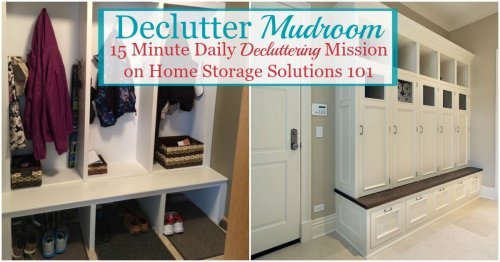 This mission is designed to be done while we work through the Mudroom & Entryway Organization Challenge here on the site, which is one of the 52 Week Organized Home Challenges, since the first part of organizing any space is to first declutter it.
Of course, you can do this mission whenever you feel it's necessary for your home.
Also, even if you don't have a mudroom, this mission also applies to any back entrance to your home, so it complements the mission earlier this week to declutter your front entryway to your home.
How Decluttering Both The Front & Back Entrances Of Your Home Are The Same
In many ways decluttering your front entrance and back entrance of your home are similar (so if you haven't already, go ahead and check out the entryway decluttering article linked above for some general directions).
When decluttering your mudroom, first identify the functions of the space. For both the front and back entryway of your home that function by definition has to include giving people, both guests and household members, a clear path of access into or out of your home. Therefore, removing tripping hazards and things that people have to manuever around get in and out of the door is of paramount importance.
Another function of this space is often that it's used as a temporary holding or storage area, so that people who come into your home have a place to take things off (like coats) or put things down (like bags) and leave them close to the door until they're ready to leave, at which time they pick them back up.
I say this is often a function of the space, but not necessarily a function, because how much and what type of stuff you can hold or store in this space depends on how big it is. If you've got a huge mudroom, for example, definitely use it to its full advantage to help you store coats, or bookbags, or shoes and boots, or whatever else you want or need to put in there.
However, if your mudroom is small obviously the less you can realistically fit into the space, and you'll need to think of other places in your home to hold some of this stuff, like a coat closet, or in a hallway, or elsewhere.
How Decluttering Your Mudroom Or Back Entrance Is Different Than The Front Entryway
The big difference when decluttering your front versus the back entrance of your home is that when decluttering the back entrance you don't have to be quite as concerned about accomodating guests.
That's because, typically, guests are more likely to come in the front door. That means when decluttering your mudroom or back entrance you can focus more on making the space functional, without quite as much concern about how it looks from a home decorating standpoint.
Of course, you still want it to be nice for you and your family's comfort, so make sure to check out these mudroom ideas on the sister site, Stain Removal 101, for 5 ways to keep it clean and inviting.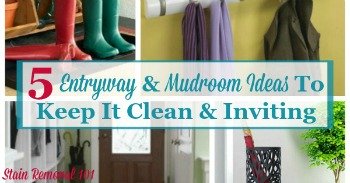 In addition, for many people, if they've got a mudroom or back entrance it serves a dual purpose in the home, such as also functioning as a laundry room or utility room.
If that's the case for you, make sure to think about the additional functions of the room as well, when deciding what should stay in the space versus what needs to go.
You can get more ideas for decluttering your laundry room here, if that applies to you.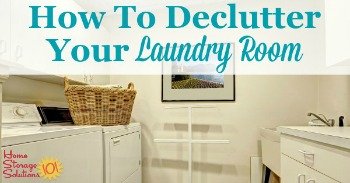 Make Sure To Combine This Decluttering Task With A Daily Tidy Up Routine
One thing you'll find is that even after clearing the clutter from your mudroom or back entrance is that clutter and mess will re-accumulate, as people use this space. That's completely natural and expected.
To keep the area looking nice, combine this decluttering mission with a good daily tidy up routine in this area, to keep it looking good from now on. You can find out more about this daily routine here: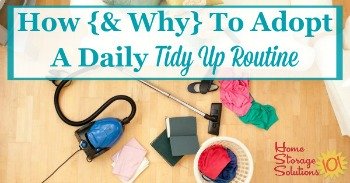 Before & After Photos From Readers Who've Done This Mission
Decluttering your mudroom won't be easy, but it is definitely worth the effort! To help you get motivated to tackle this task for yourself, make sure to check out these before and after photos by fellow Declutter 365 participants who've already done this mission.
First, here is a before and after photo from Kimmie, who said of the before photo, "Painting the furniture today and getting the ice fishing gear to its home. The mud room WILL be done." Later she also provided the after photo, and said of it, "Everything painted, distressed and an old cabinet on top with a ton of storage. Gotta paint a verse on front of cabinet but that can wait a few days. Now to tackle the desk and utilize that cabinet for paperwork, taxes, and keepable papers."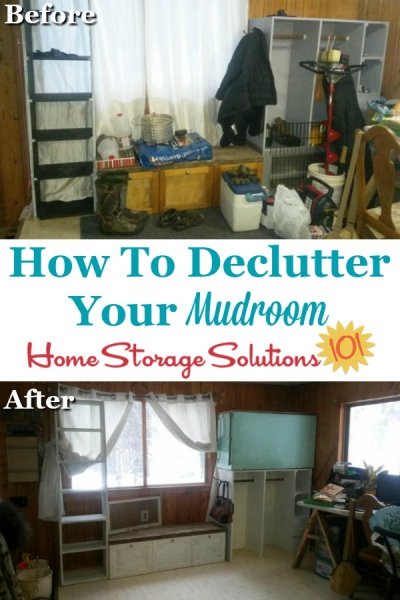 In addition, here's another set of before and after photos, from another reader, Heather. She said, "My mudroom/laundry room has been accumulating stuff for 30 years. Here is a before and after pic."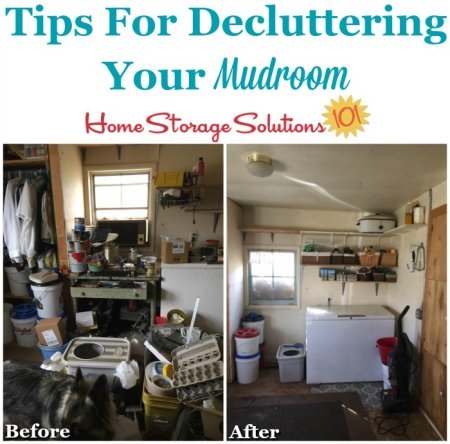 It's quite a transformation, isn't it? Congratulations Heather, you did an amazing job!
Want To Do More Decluttering Missions? Get Started With Declutter 365 Today!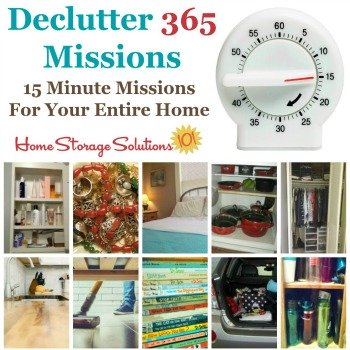 Once you declutter one type of item in your home I bet you'll want to declutter some more. After all, decluttering gives you a great reward for even a small investment of time and energy.
The Declutter 365 system is designed to help you declutter, over the course of a year, your entire house, with just 15 minutes of decluttering each day!
Hundreds of thousands of people use this proven system to get rid of their clutter, and bring peace and calm back to their homes.
Declutter 365 works to guide you to clear the clutter without overwhelm, focusing on just one small area at a time, and without making a huge mess in the process, so you see consistent forward progress without all that "messy middle" that makes it even harder to function in your home than before you started.
In addition to building a daily decluttering habit, the Declutter 365 program, along with the accompanying 52 Week Organized Home Challenge, teaches you the skills, habits, routines, and mindsets necessary to maintain the clutter free and organized state of your home from now on, so it'll never be as messy and cluttered as it is right now, ever again.
If you haven't already, make sure to get your copy of this year's Declutter 365 annual calendar here (it's FREE!), find today's date, and do 15 minutes of decluttering on the day's mission. Then, repeat again tomorrow, and again and again. Over the course of the next year, if you do this 15 minutes per day, you'll declutter your whole house!

In addition, here's my round up of entryway and mudroom storage solutions and organizers, so you can check out lots of them in one place within my Amazon shop. Once in my shop, scroll down to find this list. (referral link)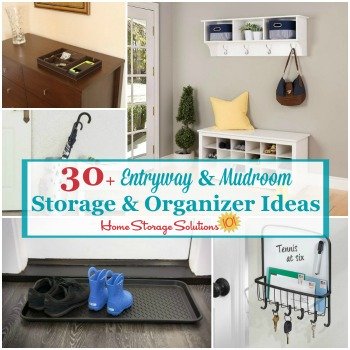 Some links on this page are affiliate links, meaning that if you purchase a product through them I receive a small commission which helps me provide this information to you for free, plus support my family. My integrity and your satisfaction are very important to me so I only recommend products I would purchase myself, and that I believe would benefit you. To learn more please see my disclosure statement.