Garage & Yard Sales Strategies & Tips
To Get Rid Of Clutter & Make Cash
Garage and yard sales are a good way to both get rid of clutter and make some cash at the same time, when done right.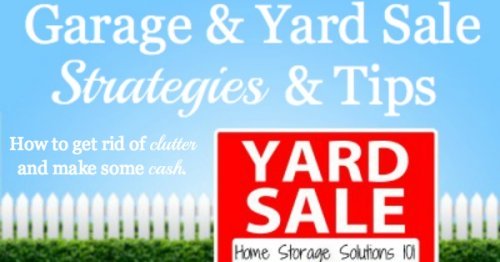 The problem is that they take a heck of a lot of work, and often we think we'll sell off our stuff in this manner but we never get around to doing it.
When that occurs you've not actually gotten rid of all your clutter, but instead just piled it up somewhere else in your home, and perhaps made an even bigger mess.
In addition, you are also not making any money off your clutter, and you never know, you might just be sitting on a gold mine.
Tips For Preparing For Garage Or Yard Sales
My first, and biggest garage and yard sale tip is to make a decision, early in the decluttering process, of how you will get rid of the items you've determined are clutter in your home.
There is nothing wrong with realizing that you just don't have the time or energy for selling your stuff, either through a yard or garage sale, or some other method such as consignment, ebay, craigslist, etc. In that case just donate your usable clutter to charity.
However, if you do commit to having garage or yard sales for your clutter, really commit so that it actually happens.
The first big committment is choosing a date, now, several months in advance. That way you have a goal you're working toward.
Then, set up several boxes that you'll use to collect the items for sale. If possible, choose plastic tubs with good sealing lids to help keep out pests and vermin while you're decluttering.
I think a key to using garage and yards sales as part of your decluttering strategy is to do them routinely, at least one a year, and perhaps twice if you can find enough stuff.
Therefore, you can invest in some good containers if you don't already have any lying around, and use them over and over for storing the items in between sales.
Yard And Garage Sale Pricing Tips
One thing people dread when getting ready for their garage or yard sales is pricing out the items.
There are many ways to price items for sale, and whatever works for you is fine. However, if you're searching for a better method I suggest you try adding plain colored dots to each item.
Go ahead and create a poster with a key showing what each dot means, price wise, such as a pink dots equal one quarter, purple dots are fifty cents, orange dots are a dollar, etc. The advantage of this method is that it is easy to slash prices at the end of the day with this method, since you can just change the key for what the dots mean.
If you want, you can add these price sticker to the item as you go through your home decluttering, so you don't have to have a marathon session for pricing right before the sale.
Key To A Good Sale: Advertisement & Marketing
You can have really awesome items for sale, in a great location, on a great day, and still not have a good garage or yard sale if you don't advertise and market it well.
First, try to coordinate with other families in your community, if possible, to all have your sales on the same day. The more sales, the more people will come to all of them.
This also helps you commit to a deadline for your sale, since others are also participating, which can be a good motivation factor.
Next, spread the word far and wide. Some of my favorite inexpensive methods include ads on Craigslist, large colorful signs on major roadways, and notices on community noticeboards, such as in your local grocery store.
If you do a community yard sale perhaps the investment in a classified ad in the newspaper might be worth it, but they are expensive so weigh the pros and cons before running one.
Staying Organized Before, During & After The Sale
The key to keeping your sanity whle preparing for, during and after garage and yard sales is to be organized about the process.
If you plan for your sale during the entire process of decluttering your home, and organize and price the items at least generally as you go along, it will save you a ton of trouble when the sale is just a few days away.
Also, if you have an excess of old plastic shopping and grocery bags, save them for the sale, and allow people to use them to hold the things they purchase!
During the entire process make sure you keep your two goals in mind as you prepare: make some money, and get rid of clutter.
Remember, you cannot easily do a sale on your own. Plus, it is more fun, and will keep you sane, if you enlist helpers for the day. Give each helper a specific task, including directing crowds, answering questions, making sales, and taking payments. You may also want someone to help with entertainment, such as keeping nice music going, passing out (or selling) refreshments, etc.
Make sure you've gone to the bank and gotten lots of small bills and change, and also that you've designated someone to always be watching the money!
Part of the fun of garage and yard sales for those buying is scoring a deal and bargaining. Be ready to haggle and cut deals, since your goals is to get this stuff out of your home. Throw in freebies, or buy one get one half of deals, anything to get the stuff out of your home.
Finally, as much as you want to sell everything, realistically, that will just not happen. Therefore, instead of hauling all that stuff back into your home at the end of the day that didn't sell, instead make arrangements for a charity to come pick up the rest, or drop it off yourself directly from your lawn at the end of the sale to the charity of your choice.
I'd love to hear your tips, as either a shopper or seller, at garage and yard sales below in the comments, telling me how you get ready for them or maximize the cash you get for your stuff from them.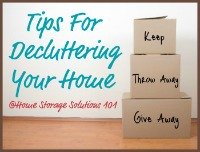 This Is The End Of The Decluttering Your Home Series
The Decluttering Your Home Series is now complete, although during the process of writing it, and discussing topics with everyone, I identified some additional areas about the decluttering process I'll get around to exploring later with you in greater detail.
In the future, I plan to flesh out several areas of the process, including how to keep clutter from entering your home to begin with, where to donate various types of items to charity, and yes, even more about selling and getting rid of your clutter through garage and yards sales, and through other means too.