Get Rid Of Clutter 15 Minutes
At A Time Hall Of Fame
Below is a list of tasks that can help you get rid of clutter 15 minutes of time, or items to consider decluttering. Plus there's a hall of fame showing success stories to get inspired by what others have accomplished.
Clutter can be insidious in the negative effects it has on our homes and lives. We may not realize it at the time but it burdens us both physically and psychologically.
That's why we have to get it out of our homes.
Both the 52 Week Organized Home Challenge and the Declutter 365 Missions are designed to work, in conjunction, to help you slowly but steadily rid yourself of excess junk.
Below are some of the general suggestions for decluttering missions and items to not forget to visit in your quest to lighten the load in your home, that didn't really fit into another category.
Whether you've done these missions when I've scheduled them during the year, or any other time doesn't really matter to me. I just want to celebrate your success, so here's your chance to show off some before and after pictures when you've done one of the missions. If you're ready to share now click here to begin!
General Decluttering Missions:
The decluttering missions you may want to tackle, or items you may want to get rid of include:
Set up a donate (and perhaps a sell) box or bags to serve as a collection station, and then donate or sell regularly to get that stuff out of the house!
Restaurant and takeout menus
Create satellite recycling centers throughout the house
Make sure trash cans placed throughout house
Batteries
Musical instruments
Vases
Gather all medicines, vitamins into central location
Expired medications, vitamins (here's how to dispose of medications)
Make sure have adequate first aid kit contents
Traveling medication and first aid kit supplies
Crete 72 hour emergency supplies kit for your home
Have fire extinguishers placed throughout house
Create area to place keys and other items as come in door
Mudroom or back entrance to home
Clear space for morning launch pad for family members
Hallways
Light bulbs
Clear off dining room table
Candles
Table linens
Create storage area for excess toiletries, paper goods
Purse (clear out trash, lighten so not so heavy)
Wallet
Briefcase, workout bags and/or other bags you carry regularly
Car's trunk
Car's glove compartment
Add storage area in car for reusable grocery bags
Add car emergency kit
Suitcases and luggage
Pet toys
Pet supplies (including old food and treats)
Stairs (and under the stairs storage area)
Rugs (from throughout house, including bathroom, mudroom, etc.)
Create area for mending broken objects
Umbrellas
China cabinet, buffett and/or sideboard
Clear space for family calendar
Create home inventory (use checklist to make sure don't forget anything)
Fill out home inventory forms
General Decluttering Hall Of Fame
Here are the hall of submissions received so far:
If you're ready right now you can skip down to share your success with me now.
More Resources To Declutter Your Entire Home
Clutter rarely just accumulates in one area of your home, but instead with time can overfill your entire home.
Follow the Declutter 365 plan to get your whole house decluttered, one small step at a time, over the course of the year, and see fantastic results that you can maintain year after year!
Start with my free gift to you, a 12 month declutter calendar (a $20 value), which lists 365 different decluttering missions that will transform your whole house.
The step by step plan laid out in the calendar will guide you through the process of removing physical clutter, digital clutter and even set up foundational routines and habits for your home, to make it clutter free and organized from now on.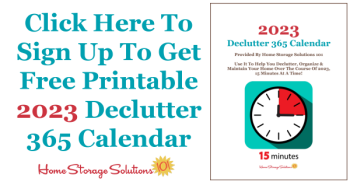 You can also get additional services to help you succeed with the Declutter 365 plan, including receiving daily text messages about each day's mission, planner stickers, and joining a private and exclusive Facebook group devoted to helping encourage and motivate you as you work through the daily and weekly tasks.
You can learn more about Declutter 365 products here.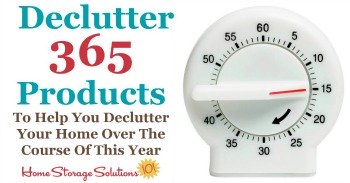 Join The Getting Clutter Free In 15 Minutes A Day Hall Of Fame
Have you participated in one of the Declutter Your Home In 15 Minutes A Day Missions, either while it was running for the day or when it was convenient for you?

Are you proud of your accomplishments and want to show the world what you decluttered today, and are getting out of your home?

Here's your chance to tell me about it. Pictures are highly encouraged, but you can also just write a description of what you decluttered too (note you've got to at least explain what we're seeing in the picture you upload).

You can send up to four pictures in each submission.
Get Rid Of Clutter Hall Of Fame
Here are the Hall of Fame submissions that have already been submitted.

Check these out to get inspired about what others have accomplished with the power of 15 minutes a day.