How & Where To Recycle Batteries & Properly Dispose Of Them
Today's declutter mission is to dispose of old and used batteries as they accumulate around the house. Instead of throwing batteries away into the trash though here's how and where to recycle batteries that are regularly found around your home, or at the very least how to properly dispose of them.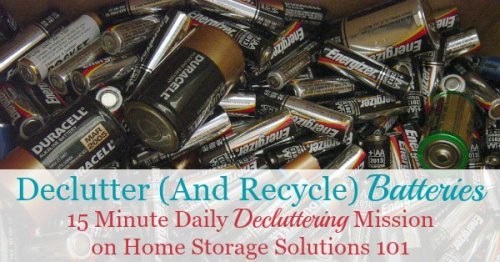 Why You Should Properly Dispose Of Batteries
Batteries are amazing, and they make lots of electronics portable to make our lives easier. But they do this through some pretty complicated chemical reactions and they contain some not so environmentally friendly components, including heavy metals.
If you dispose of batteries improperly you risk contamination of the environment. For example, if batteries are incenerated as some household trash is, certain metals can be released into the air or get concentrated in the ash.
In addition, in landfills batteries can slowly leach heavy metals into the soil, ground water or surface water, not to mention batteries contain strong corrosive acids.
So think twice before dropping batteries in with your normal trash.
Figuring Out What To Do With Your Batteries Is Confusing & Ever Changing
It took me a long time to research this article and try to figure out what we should do with our batteries, because there is a lot of conflicting information out there, or articles address only one type of battery, but not all types, making a complete picture hard to put together.
As I researched I realized one of the reasons for this conflicting information is because batteries are constantly being reformulated to both improve them, but also to make them more effective and lessen their negative environmental impacts. For example, the levels of mercury in alkaline batteries has been significantly reduced and in some brands eliminated in the past few years. The result of this is that the way to dispose of certain batteries years ago, and how to do it now may be different.
In addition, it is hard for us, as consumers, to know exactly what type of batteries we're dealing with. Sure, I can tell if it is a 9 volt or a C battery, but I have no idea what chemical composition it has. For example, a 9 volt could be either a dry cell battery or a lithium battery, and it will be labeled as such, but that ultimately impacts how it is disposed of or recycled.
Knowing the composition and type of the battery is crucial to figuring out proper disposal or recycling for it, but in the end all you need to do is get the batteries into the right hands of someone with that knowledge, and they can make the correct choices for you. So how I've treated this article is a bit different than I originally intended. Basically, I've tried to figure out what I should be doing with my own batteries after all this research, so you can do the same, and to save you the hard work of trying to figure it out.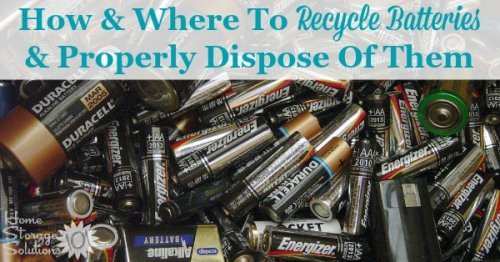 What You Need To Know: Single Use Versus Rechargeable Batteries
The main distinction you need to make when figuring out how to and where to recycle or properly dispose of your batteries is whether they're single use or rechargable.
The most common types of single use batteries are alkaline, button and lithium batteries.
Rechargable batteries are just that, ones that can be recharged, and include common sizes of rechargable batteries like AA as an example, but also things like your cell phone and laptop batteries. These batteries have names like nickel-cadmium, lithium ion, small sealed lead acid, nickel metal hydride, and nickel zinc.
How To Dispose Of & Recycle Rechargeable Batteries
It is much easier to find a place to recycle rechargable batteries than single use batteries, and the reason is that the technology for recycling rechargable batteries is much more developed and universal, plus these rechargable batteries contain more heavy metals which require them to be recycled instead of just disposed of them to lessen their environmental impact.
There are lots of take back programs, many found in local area businesses, as well as recycling centers, where you can take all your collected rechargable batteries for recycling. Examples of stores that take these types of batteries include Walmart, Home Depot, Best Buy, Batteries Plus, Sears, Staples, Target, and more.
The best resource to find a take back center or recycling facility near you is call2recycle.org. Just type your zip code into the search feature and it will give you all the options in your area. Simple and easy.
How To Dispose Of & Recycle Single Use Batteries
When researching how to properly dispose of and/or recycle single use batteries is where I started to get more conflicting information, and that's because there is some disagreement about whether it is necessary to even recycle these batteries.
If you look on websites like Duracell, they tell you that it is perfecly fine to throw single use alkaline batteries in small quantities directly into your trash can.
The thing is just because you can throw them in the trash doesn't mean you should. There is still an environmental impact from these batteries, and if they don't get recycled at a minimum they really should be disposed of in a hazardous waste landfill instead of a regular one where the rest of your trash ends up.
The problem is that single use batteries are harder to recycle, although technological strides are being made everyday that make it easier.
In addition, currently, as of 2015, only the state of California makes it illegal to throw any batteries (including single use batteries) directly into the trash. In that state you must dispose of all batteries in a better way, and presumably more and more states will follow suit in the future.
So here's what you can do to recycle, or at least properly dispose of single use batteries -- check the Earth911 website for a recycling location near you. The link provided takes you to a page where you can find a recycling locator in your area for the type of single use battery you've got including alkaline, button cell and lithium batteries.
If you cannot find a place to drop these batteries off in a location convenient to you another option is to use a mail-in program to send your batteries for recycling. There are some companies that will do this including The Big Green Box. You should know though, that unlike the drop off locations you can find, these mail in programs cost you money.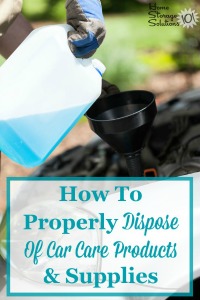 Automobile Batteries
Finally, a quick word on automobile batteries. Most car batteries are actually recycled, and it is really simple to do. Most retailers that sell car batteries will also take the old ones back for recycling, and some stores will even give you a credit or discount for trading in your old battery when purchasing a new one.
(You can also get more information about proper and safe disposal of automotive fluids and car maintenance supplies here if you've also got other automobile related items to declutter from your home.)
I hope this information helps you while decluttering and disposing of your batteries in the future. I'd love to hear how you do it in the comments below.
Want To Do More Decluttering Missions? Get Started With Declutter 365 Today!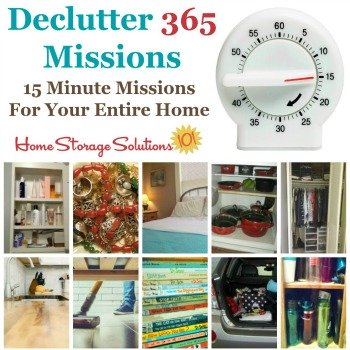 Once you declutter one type of item in your home I bet you'll want to declutter some more. After all, decluttering gives you a great reward for even a small investment of time and energy.
The Declutter 365 system is designed to help you declutter, over the course of a year, your entire house, with just 15 minutes of decluttering each day!
Hundreds of thousands of people use this proven system to get rid of their clutter, and bring peace and calm back to their homes.
Declutter 365 works to guide you to clear the clutter without overwhelm, focusing on just one small area at a time, and without making a huge mess in the process, so you see consistent forward progress without all that "messy middle" that makes it even harder to function in your home than before you started.
In addition to building a daily decluttering habit, the Declutter 365 program, along with the accompanying 52 Week Organized Home Challenge, teaches you the skills, habits, routines, and mindsets necessary to maintain the clutter free and organized state of your home from now on, so it'll never be as messy and cluttered as it is right now, ever again.
If you haven't already, make sure to get your copy of this year's Declutter 365 annual calendar here (it's FREE!), find today's date, and do 15 minutes of decluttering on the day's mission. Then, repeat again tomorrow, and again and again. Over the course of the next year, if you do this 15 minutes per day, you'll declutter your whole house!

You can also get more ideas for electronics disposal here: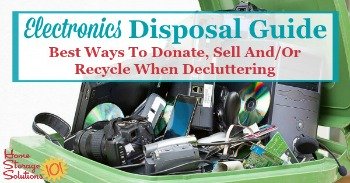 Top photo courtesy of Heather Kennedy