Electronics Disposal Guide: Best Ways To Donate, Sell And/Or Recycle When Decluttering
Here is an electronics disposal guide which provides the best ways to donate, sell and/or recycle or dispose of items such as computers, monitors, TVs, cell and smart phones, video gaming systems, and more when decluttering.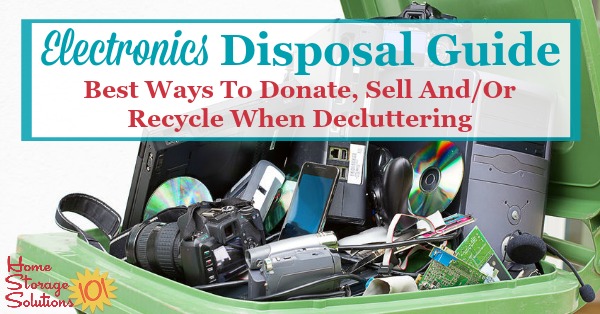 Once you've decided to get rid of something in your home you may think the hard work and decisions are over, but sometimes getting rid of stuff can be just as tough, or even tougher, than deciding to part with it in the first place.
You have several options when deciding what to do when disposing of electronics, including: (1) donation; (2) sell or trade-in; and (3) recycling or trash disposal. The article below will discuss, at least briefly, these options so you can choose the right one for you in any given situation.
Further, I recognize that the choice you make for disposal, such as to donate versus trade it in or recycle it for parts, will be impacted by several competing interests including:
(1) How much effort each option takes, including how much time you want to spend in the diposal process;
(2) Protection of your identifying and private information (that can be stored on some of these electronic devices);
(3) Cost, including how much you might be able to get for it or how much it will cost to dispose of it; and
(4) Environmental concerns.
I know that can seem a bit overwhelming, so I've provided below, instead of every conceivable option, only some of the best ones I know about, to help you get rid of these items and keep going with your decluttering success.
After all, you don't want electronics disposal to slow you down of acheiving your ultimate goal of a clutter free home!
A Quick Word About Batteries
Before we dive into the heart of this article, I want you to know that batteries that are held in your electronics can be their own issue to consider.
If you're donating or trading-in an electronic obviously the battery will stay with it, but in other situations dealing with the battery may be a separate matter. Here's my article on how and where to recycle batteries and properly dispose of them when decluttering. It provides information about many common types of batteries in your home, including in certain electronics like laptops and smart phones.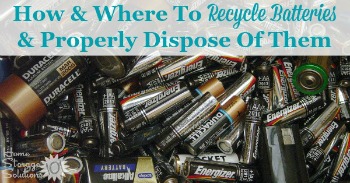 Ways To Dispose Of Electronics: Pros & Cons
As mentioned above, there are three main ways to dispose of electronics, and each of the pros and cons of the various methods will be discussed below, along with resources that can be helpful for you.
Donation
If the electronics you decide to declutter are still useable you may want to donate them. This is always one of my recommended ways to declutter because it helps someone else in need.
Before you donate always make sure the electronic is actually in working order and you've provided all the necessary parts, such as cords and wires, or chargers, with it if you have them. In addition, make sure whoever is receiving the donation actually does want it. It's great to give something that is needed, it isn't great to saddle someone else with something they also consider clutter.
The one thing you really want to think about before donating is to make sure you've deleted your personal and private information from the machine, and just deleting the files and emptying the trash folder is NOT enough. You actually need to wipe the hard drive, or delete the information in the smart phone. This can seem intimidating if you're not technologically savvy, and you don't want to damage something in the process of trying to wipe it clean, otherwise it isn't useful to the person or entity that receives the donation.
The simplest way for non-techies (and I'd consider myself one) is to contact a service, like Geek Squad, that will do this for you, for a fee, of course.
There are lots of places you can donate used electronics. One I am aware of is the Dell Reconnect Program which has partnered with Goodwill to either refurbish, when possible, or responsibly recycle, when the technology is old or obsolete, all computers that are donated to the Goodwill.
Sell Or Trade-In
If you're replacing relatively new technology with something even newer you may want to consider either selling or trading-in the older version to make a bit of your money back.
The big pro of this is recouping a bit of cash, or at least not spending as much on the new purchase.
The con is that you still need to make sure your data is wiped away so others cannot access it, and it can take more of your time to find someone who will accept your older technologies.
One of the simplest trade-in programs I've found is the Amazon Trade-In program, where you can trade-in older electronics in exchange for Amazon gift cards. You have to make sure they will accept your exact make and model of electronics, but when they do it can be a simple way to recoup some of your money.
The Amazon Trade-In program will accept at least some cell phones, tablets and laptops, video games or consoles, Kindle e-readers, consumer electronics and photo and film gear, as well as some DVDs and CDs, as well as books. You can find out more about the program here:
Other stores also have some trade-ins available, including Apple, Best Buy, Radio Shack and Staples.
Recycle Or Otherwise Dispose
The third option for disposing of your electronics is through recycling, or other disposal. I actually don't recommend "other disposal" because that basically means throwing it away into a landfill, and that is not good for the environment because of the parts and components found in many electronics. There are high levels of chemicals and heavy metals that can cause major problems in landfills.
Instead, electronics are known as "e-waste" and if it's not going to be reused by someone else, through donation of sale, it should be recycled, properly.
Apparently there are good ways to recycle e-waste, and not so good ways, but how are you supposed to figure it out when decluttering? I don't think you should personally try to figure it out, and instead you should donate these items to a place that has already committed to figuring it out for you.
I have also found it easiest to take things directly into a store, for in-store drop off, when I can. Some businesses which have in-store drop off for these electronics for recycling include Best Buy and Staples.
If you don't have these types of stores in your area call your local waste disposal company, and they will be able to tell you where some of the nearest e-waste disposal and recycling businesses are in your area, or where other companies in your area may have in-store drop off.
Electronics Decluttering Missions
Here are some of the electronics decluttering missions on the site: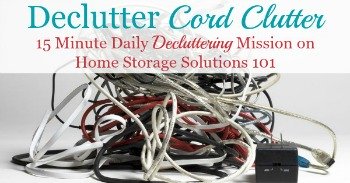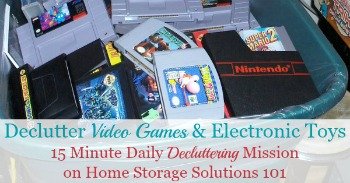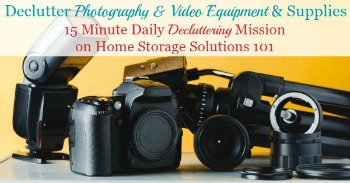 I understand you may have more than just electronics to dispose of in your home when decluttering. Another type of item that can be difficult to properly dispose of are large appliances. You can get more tips for disposal of appliances here, in the ultimate guide to disposing of large appliances when decluttering.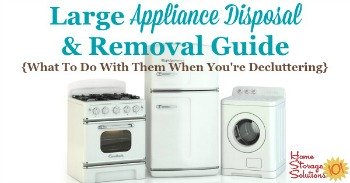 Some links on this page are affiliate links, meaning that if you purchase a product through them I receive a small commission which helps me provide this information to you for free, plus support my family. My integrity and your satisfaction are very important to me so I only recommend products I would purchase myself, and that I believe would benefit you. To learn more please see my disclosure statement.