How To Declutter Pillows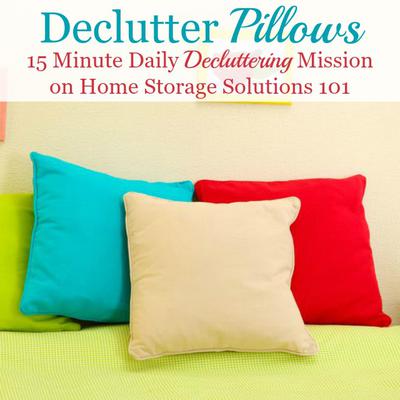 Today's mission is to declutter pillows, including both the ones on your bed and any decorative pillows you have anywhere in your home.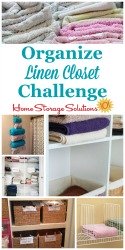 This mission is designed to be done while working on the
Organize Linen Closet Challenge
here on the site, which is one of the 52 Week Organized Home Challenges.
Instructions For Decluttering Bed Pillows
First, focus on getting rid of pillows you use to sleep with each evening.
Get rid of any that you dislike for whatever reason, like that horrible pillow that hurts your neck, or the one that is so old it is falling apart.
Then, get rid of any excess pillows until you're left with a reasonable number.
Generally, as a rule of thumb, you only need enough of these pillows for each of the beds you have in your home.
If, when you are examining your pillows, you notice that some are dirty but you want to keep them this may be a good opportunity for you to wash them, to get them freshened back up. Here's instructions for
how to wash pillows
, plus how to dry them to keep them from getting lumpy.
Instructions For Decluttering Decorative Pillows
After you've focused on the bed pillows, it is time to focus on the decorative
pillows.
I am about to say something controversial, so remember that you are always the person who makes the decisions in your home about what to keep versus what to get rid of, so my word is far from law. So here's my controversial statement -- I really don't like decorative pillows, and feel the majority of them are clutter.
I know some people love these types of pillows, and if they genuinely bring you joy and you don't feel like they are causing you any type of nuisance, feel free to keep them.
But for me I find them, most of the time, to be clutter because I end up just moving them around from place to place.
For example, decorative pillows on your bed -- all you do is move them on and off. On when you are making the bed and want it to look "pretty", and then off again to sleep in the bed at night. It seems like a waste of time and energy to me. They aren't pretty enough to make this waste of time and energy worth my while, so they're clutter.
If you do choose to keep some of your decorative pillows make sure that you get rid of excess decorative pillows that you don't like or use, and keep only the ones you like, that you have room for, and that match your decor.
Once you've identified which pillows you'll get rid of, see below for some discussion about what you can do with the ones you're getting out of your home.

Are You Ready To Do This Mission?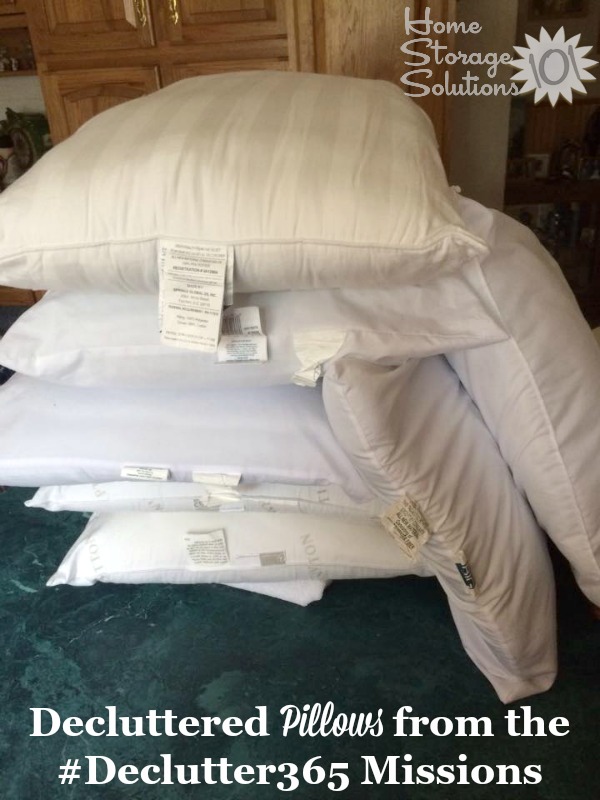 Once you've identified for yourself, in your home, which pillows you'll get rid of, you may face a bit of a dilemma like a reader, Linda, did. She sent in the photo above of the pillows she decided to get rid of as part of this mission, saying, "These are leaving the house... So far. Destination to be determined!"
Then, after Linda investigated a bit, she said, "Checked, animal shelter only wants blankets, sheets and
towels
. Homeless shelter doesn't want used or gently used pillows either. Goodwill/Salvation Army also no pillows, they toss them."
Presumably the reason that these items are difficult to donate is because of the fear of bed bugs and lice within these types of items. That is the same issue that many people have found when trying to donate stuffed animals.
That can make the process of decluttering pillows a bit frustrating, since it appears that unless you can get creative your choice is to throw them away.
What Linda decided to do with hers, since she didn't want them in the landfill, was to burn them. I'm personally not a huge fan of that because with all the synthetic fibers you never know what you're breathing in when you burn stuff like that these days, plus, it is always a fire hazard if the fire you've made gets out of control.
So, for now, my suggestion is to throw the pillows away. You could check and see if they could be recycled somewhere, in a similar manner that rags and scrap clothing are recycled if filling the landfill is something you'd like to avoid.
In addition, for any pillows that are still usable, but that you don't want, you could try to find someone personally, that you could give them too, such as someone setting up a new home, or something like that.
I would also love to hear your suggestions and ideas of what to do with these pillows you want to get rid of, so tell me in the comments below. Hopefully we can figure out, collectively, a good way to deal with these items!
Are You Ready To Declutter Your Home?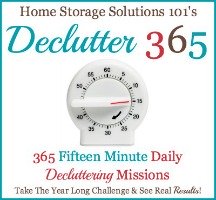 I hope this has inspired you to get rid of your pillow clutter.
When you begin to declutter the feeling you get is contagious, so if you're loving the results you're getting I would encourage you to keep going.
I've got a whole series of
15 minute decluttering missions
(eventually 365 of them!) that you can do.
Just pick and choose the ones you want to do, that will make a big impact in your home. But if you want someone else to tell you the order you can also grab the
15 minute daily decluttering mission calendars
and follow along as we all get our homes clutter free together!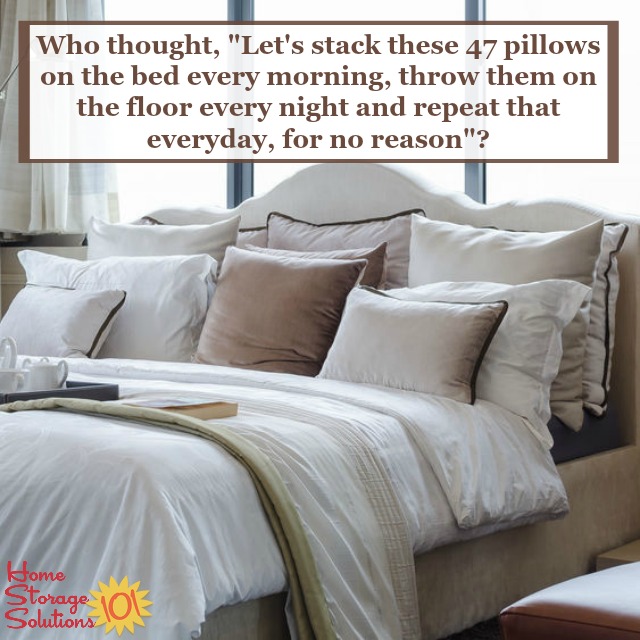 Related Pages You May Enjoy
Getting Clutter Free 15 Minutes At A Time Hall Of Fame
Getting Rid Of Closet Clutter Hall Of Fame
Go From How To Declutter Pillows To Home Page