How To Declutter Party Supplies & Decorations
Today's mission is to declutter party supplies and decorations from your home that have now become clutter.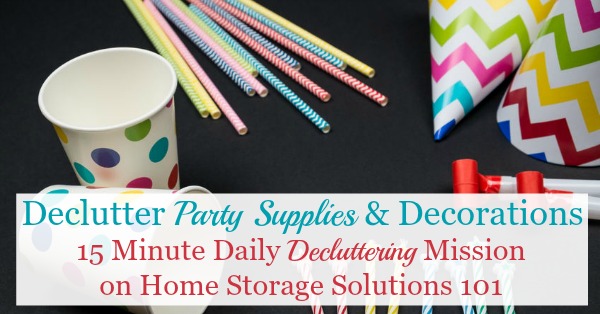 Today's the day to look at all those old decorations and other supplies, and decide if you're actually going to use these items, or if you've saved them for so long that they're no longer useful.
This could mean getting rid of old kids party decorations that your kids have now outgrown, because no, your teen doesn't want Teenage Mutant Ninja Turtle napkins at their next birthday celebration. :)
Or you could re-remember that you've got quite a few decorations or supplies, and can now get them organized and in one place, so you can make a concerted effort during the upcoming holiday season, or for the next celebration, to actually use this stuff up, instead of buying more.
I tried to intentionally make this mission broad, so that it would apply to whatever types of supplies and decorations you have in your home, that you've been saving up.
That includes supplies and decorations for birthdays, anniversaries, surprise parties, wedding or baby showers, and on and on.
What it doesn't include are decorations for specific holidays, for your home, because we work on those consistently, throughout the year, as those holidays come along. (You can see lots of holiday decluttering missions here.)
Here's some ideas of the types of things to gather up around your home, and make decisions about today (if the item has a link, that means I've also got a decluttering mission specific to that type of article, and you can read the article at the link for more details and ideas):
Cups and plates
Party hats
Birthday and other types of candles
Baloons
Banners, and streamers
Party favors
Only know what you've got, and it may be unique to you, so just make sure you only keep those party supplies and decorations that you fully expect to use within the next few months to a year or two. If you don't plan to use it within that time frame, it's time to let it go today.
Photo From Reader Who Has Already Done This Mission
Here's a photo from a reader, Pam, who started looking around for excess and old party supplies, and found these. She said, "My name is Pam and I am a leftover party napkin hoarder. I had forgotten all about this stash."

What types of supplies and decorations did you forget you even had in your house? Do this mission, and find out today!
Are You Ready To Get Rid Of Your Party Related Clutter?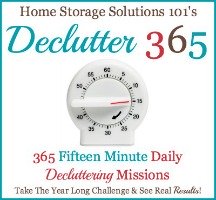 I hope seeing these pictures and instructions have inspired you to declutter your excess and unwanted party decorations and supplies.
When you begin to declutter the feeling you get is contagious, so if you're loving the results you're getting I would encourage you to keep going.
I've got a whole series of 15 minute decluttering missions (eventually 365 of them!) that you can do.
Just pick and choose the ones you want to do, that will make a big impact in your home. But if you want someone else to tell you the order you can also grab the 15 minute daily decluttering mission calendars and follow along as we all get our homes clutter free together!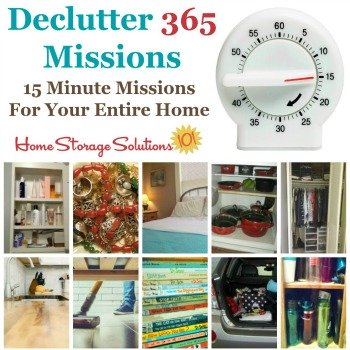 In addition, often for parties we're serving guests food and drinks. So another mission that you could do after this one is to declutter serving dishes.