How To Declutter Serving Dishes
Today's mission is to declutter serving dishes, to keep your kitchen or dining room from being cluttered, and only keeping what you love and actually use.

You may work on this mission as you work on decluttering and organizing your kitchen cabinets, your dining room, or when you're getting ready for a big party or holiday get together, and plan to use some of these larger serving dishes for a big event.
Of course, you can also do this mission whenever you want, and feel the need!
If you haven't gotten some of these typically large and bulky serving items out of their storage spots for years, they're dusty and half-forgotten, this is a mission you know you really need to do! So let's begin today!
What Types Of Dishes Are Included Within This Mission?
Similar and related mission within the Declutter 365 calendar are to declutter dishes in your home, along with missions to declutter cups and glasses, declutter mugs and coffee cups, as well as to to declutter and organize silverware.
Check out the declutter dishes mission for lots more general information on decluttering these types of items.
So how does this mission, to declutter serving dishes, fit in with all those other related missions?
It's really meant as a catch all, for those often large and bulky items that you use when serving larger groups, such as serving bowls for family meals, or items that you use when you've got guests or are hosting parties, such as to put out appetizers, dessert trays, or even for smaller serving dishes, like for condiments and sauces.
Here are examples of some of the types of items I imagine you might look through today, to decide if these things will stay in your home, or get purged.
Large serving bowls and salad bowls
Platters and large plates
Serving trays
Gravy boats, and tureens
Punch bowls, and punch ladles
Large serving spoons and forks
Larger coffee urns, and tea pots, for serving larger groups
Cake trays and stands
Tiered serving trays, for appetizers or desserts
Ramekins, and smaller bowls and containers for holding dressings and sauces
The sky's the limit, so just look around at what you have, and if you haven't dealt with whatever serving dishes you've got, as part of one of those other related missions, today is your day!
Please note, we also have a mission to declutter china and silver. Some of your serving dishes may fit into this category, so get more information about these types of dishes or serving pieces in that mission article.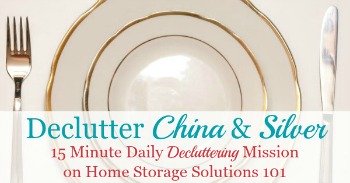 How Often Do You Use Them? Do You Love Them?
Now that you understand the types of serving dishes you're considering today, the next thing you've got to know is how to decide what to keep versus what to get rid of.
The main thing I want you to ask yourself, as you look through these serving dishes, is "how often do I use this?"
If you use it regularly, or even use it just once a year, but consistently do use it for the annual holiday party, for example, chances are these are the types of serving dishes you should keep.
If, on the other hand you have serving dishes you haven't used in years, or while you used to use the item annually, but you haven't thrown that particular get together for years, and therefore it's been collecting dust, it is most likely time to part with it.
After you get rid of things you don't use frequently enough to justify keeping, you may have decluttered enough to be able to easily store the rest of the items.
On the other hand, these types of serving dishes are often large, and therefore bulky, so if you need to further reduce the total to fit into your storage space available, then ask yourself, "do I really love it, or does it work well?" If you've got two punch bowls, and you absolutely love one, and the other one you find to be wobbly, or hideous looking, guess which one you should keep?
Further, if you've got duplicates, and only need one at a time, not both, get rid of the one you don't like as well, and keep the other.
Keep decluttering until you can fit stuff into the storage space you've designated for these types of serving dishes.
Hints About Where To Store The Items You Do Keep
Typical places to store these serving pieces are within your kitchen cabinets, or your dining room china cabinet, or hutch.
If you need to find more space in these areas for these serving containers, you can check out these articles with tips for decluttering these areas at the links: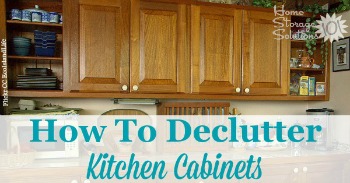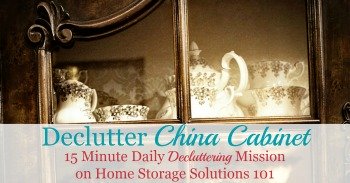 A good rule of thumb is that the less frequently you need to use the item, the more difficult it should be to access. That's because the items you use regularly, or daily, should be in the easiest places to access.
So it's helpful to store frequently use serving dishes somewhere easy to access within your cabinets, close to where you'll use them. So for example, a big serving bowl you use for salad almost every evening for your family, should be in an easy to reach kitchen cabinet, in the kitchen since that's where the kitchen table is located. On the other hand, the serving platter you only use for Thanksgiving can be at the back of a kitchen cabinet, or very high up on a shelf, or very low on a shelf that's harder to reach, or even in a storage area in your home that you keep excess serving dishes in, just for use on rare occasions.
By using these criteria to decide where to store stuff, you'll make it as easy for yourself as possible on a daily basis to grab the stuff you use frequently.
Photos From Readers Who've Already Done This Mission
Check out these photos from Declutter 365 participants who've already done this mission, to see how they did it, the results they achieved, and to get yourself inspired to tackle this task for yourself.
First, here are photos from a couple of readers, showing their results from this mission.

The top photo in the collage is from a reader, Tracy, who worked on decluttering and organizing the big top kitchen cabinet, above her stove, which is where she keeps her big bowls and platters.
The second photo in the collage is from another reader, Belinda, who went through quite a few of her kitchen cabinets and pulled out many serving dish items that were clutter for her, to get them out of the cabinets. As you can see, they were some pretty bulky items, so it really did make a lot of extra space within her cabinets for other things!
In addition, here's another photo from a reader, Ilene, that showed the results after she'd decluttered and organized the cabinet where she kept her serving bowls.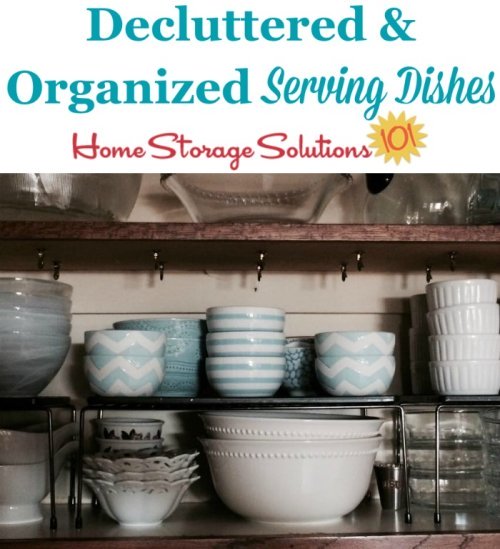 Notice how Ilene has made more room within her cabinets to store more of these serving dishes, by adding some extra shelf expanders within the cabinets, to allow stacking. This is a great way to keep youur cabinets organized, easy to pull the right things out without having to move other stuff, and also fit more items within the cabinets, all at once!
You can get shelf expanders here:
Want To Do More Decluttering Missions? Get Started With Declutter 365 Today!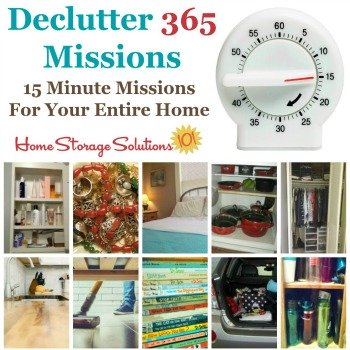 Once you declutter one type of item in your home I bet you'll want to declutter some more. After all, decluttering gives you a great reward for even a small investment of time and energy.
The Declutter 365 system is designed to help you declutter, over the course of a year, your entire house, with just 15 minutes of decluttering each day!
Hundreds of thousands of people use this proven system to get rid of their clutter, and bring peace and calm back to their homes.
Declutter 365 works to guide you to clear the clutter without overwhelm, focusing on just one small area at a time, and without making a huge mess in the process, so you see consistent forward progress without all that "messy middle" that makes it even harder to function in your home than before you started.
In addition to building a daily decluttering habit, the Declutter 365 program, along with the accompanying 52 Week Organized Home Challenge, teaches you the skills, habits, routines, and mindsets necessary to maintain the clutter free and organized state of your home from now on, so it'll never be as messy and cluttered as it is right now, ever again.
If you haven't already, make sure to get your copy of this year's Declutter 365 annual calendar here (it's FREE!), find today's date, and do 15 minutes of decluttering on the day's mission. Then, repeat again tomorrow, and again and again. Over the course of the next year, if you do this 15 minutes per day, you'll declutter your whole house!

Often these types of serving dishes or used when you have parties, or guests, so a related mission you may also want to tackle is decluttering excess party supplies and decorations.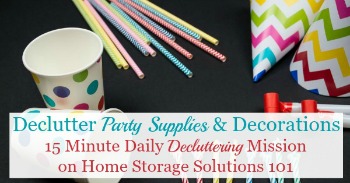 Some links on this page are affiliate links, meaning that if you purchase a product through them I receive a small commission which helps me provide this information to you for free, plus support my family. My integrity and your satisfaction are very important to me so I only recommend products I would purchase myself, and that I believe would benefit you. To learn more please see my disclosure statement.