How To Declutter China Cabinet, Hutch, Sideboards And/Or Buffets
Today's mission is to declutter your china cabinet, hutch, sideboard and/or buffets, that hold your china, silver, crystal, and additional items for use within your dining room.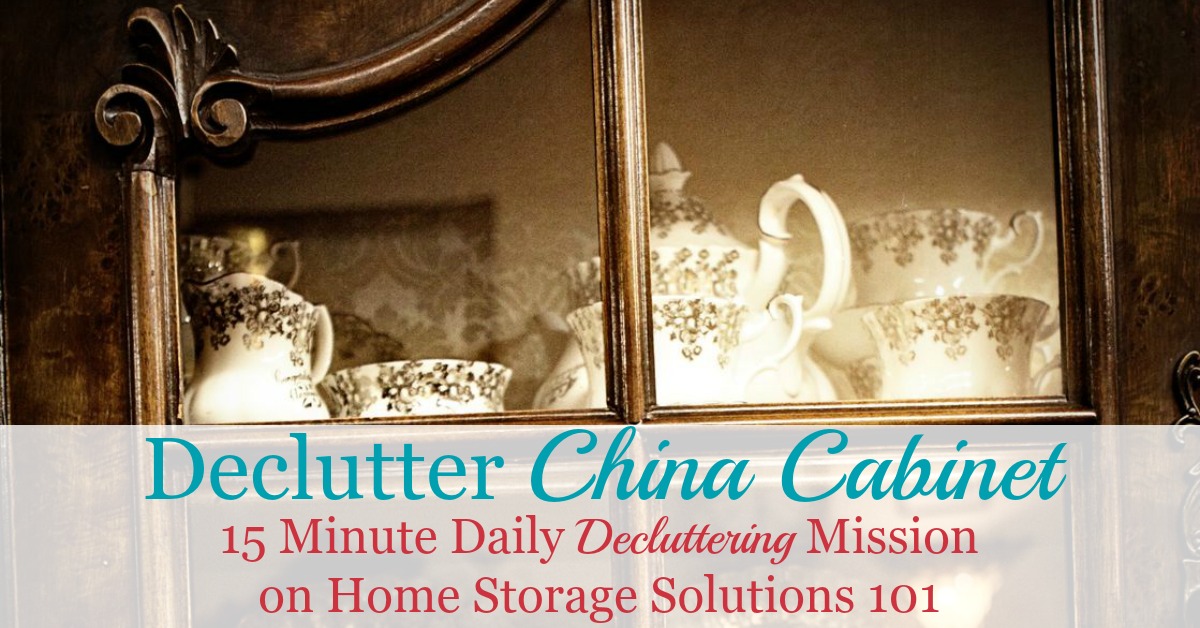 This mission is designed to be worked on while we're focused on the 52 Week Organized Home Challenge dedicated to organizing your dining room, although of course you can work on this mission whenever you need.
Further, I've tried to make this mission as broad as possible, to include whatever type of furniture or storage unit you've got in your dining room, or perhaps your kitchen, that holds your china and crystal, and perhaps your silver, and most likely many other things.
You might have a china cabinet, or instead a hutch, sideboard, buffet, and some people even use a curio cabinet for holding these types of items.
Whatever you've got, today's the day to focus on clearing the clutter out of it.
This mission may also sound like it would take longer than 15 minutes, depending on how large your furniture is, and how much stuff you've got in there.
That's OK too. As usual, these missions will take you as long as they take, for the amount of stuff you've got to work through, and so I encourage you to work in 15 minute increments, until you get it done.
On the other hand, I've got several missions on the Declutter 365 calendar throughout this week, which may help empty this cabinet or hutch out over several days, depending on what you store in there. That means you don't really have to do it all in one day anyway!
Some of the missions we've already had, or will have that may apply to clearing out clutter from inside this cabinet include:
As always, I do not expect you to clear out everything from these dining room storage areas, because you are more likely than not enjoying and using some of these things. Those things that are enjoyed, used, and there's storage space for are not clutter.
Instead, clear out what doesn't belong, should be placed elsewhere, and what you no longer want or need. Tidy up what you do keep, and make sure it all fits and that you can easily access it when you need it.
In addition, if you've got time, since china cabinets, and the items held within them don't always get dusted frequently, you could also dust and freshen up the items you've got stored in there, making them look their best.
Remember, do not get overwhelmed as you work through this mission. Depending on what you've got in there, you might need to make some big decisions about what to keep or get rid of, or how to get rid of certain things.
To keep from being mentally overwhelmed, and to prevent yourself from making a big mess that is difficult to clean up, work within one cabinet, one shelf, or one drawer at a time. Make decisions about everything held in that space before moving on. Put back what you're keeping, until you've gone through it all, and then you can rearrange and organize what's left.
You will need to keep decluttering until everything you are keeping neatly and easily fits into the space available, without being crammed in there.
If you're still making decisions about what china, glassware or silver to keep versus get rid of, since that was yesterday's mission, don't forget to check out this article about how to declutter silver and china to help you make those sometimes tough decisions.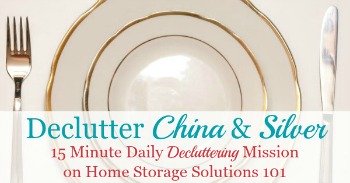 Photos From Readers Who've Already Done This Mission
Below I've gathered a few photos from readers who've already done this mission, to hopefully get you inspired to tackle this task for yourself.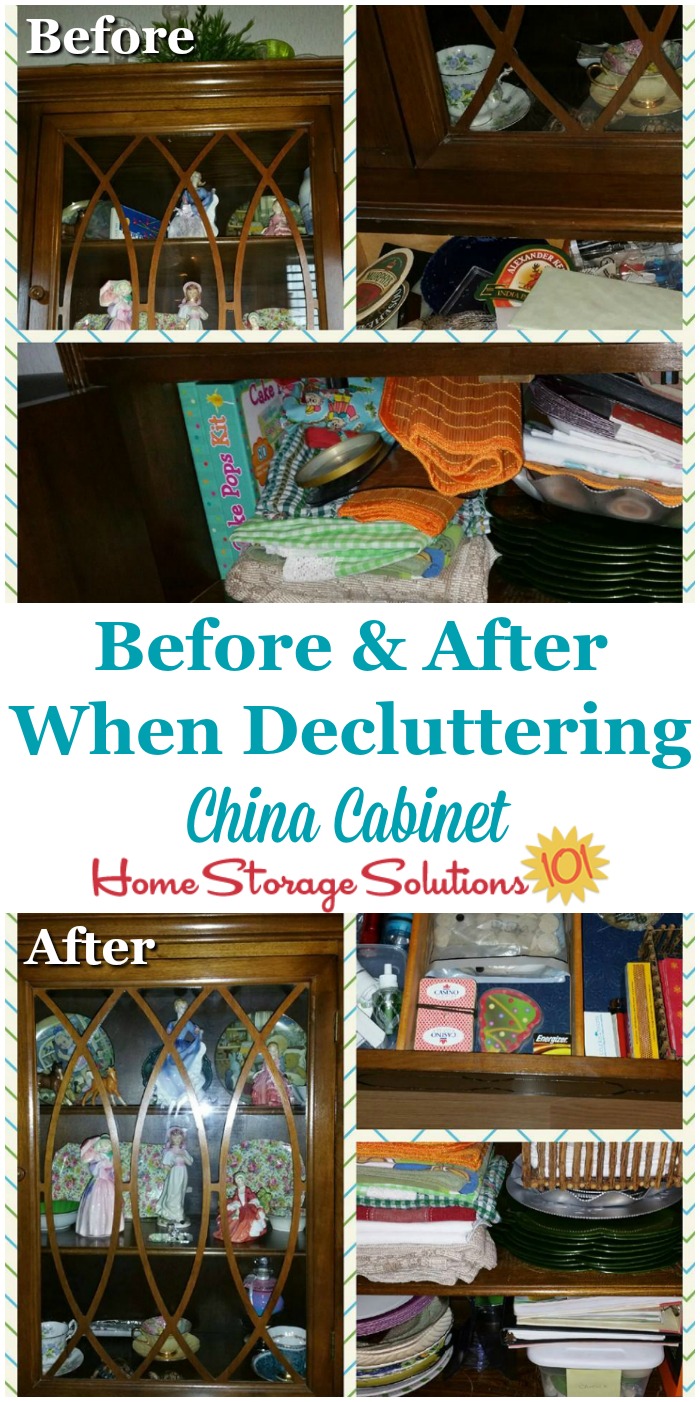 These photos above are from a reader, Beth, who showed the before and after when she did this mission in her own china cabinet. As you can see, she had a lot of different types of items in the cabinet, so she had to work on each section separately.
You can do the same yourself. That's why I suggest focusing on just one drawer, or one shelf, or one side of a cabinet at a time. It allows you to make decisions about a smaller amount of items at one time, and finish making those decisions completely before moving on to the next set of decisions.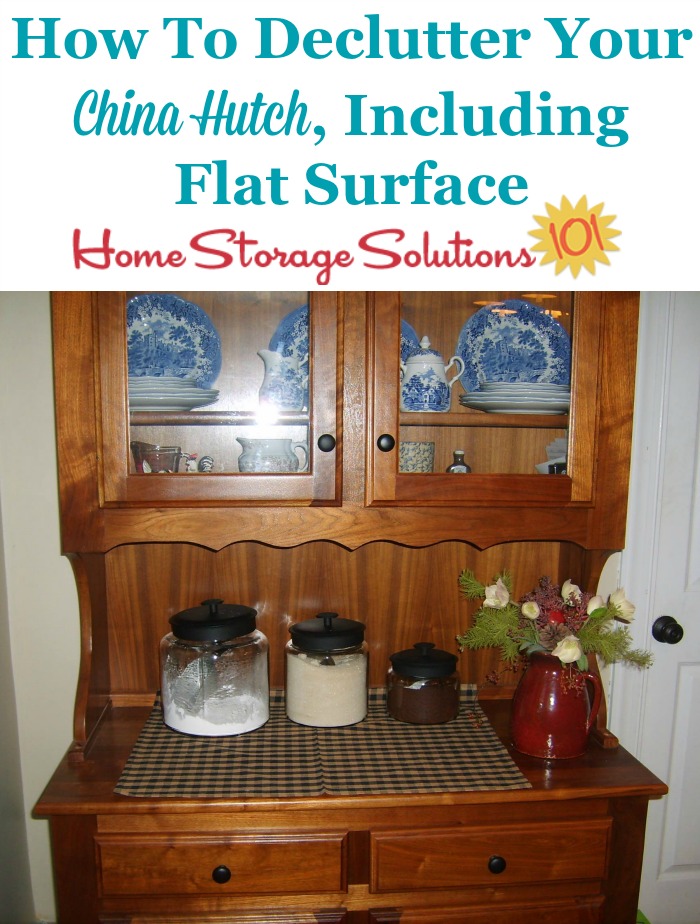 This next photo is from another reader, Renee. She focused on an area of her hutch that many of us have to deal with, the flat surface which had gotten cluttered. She said, "I have decluttered my hutch top. I also went through papers on the inside twice and pitched. I have more to do on the inside of this hutch. My husband bought me new canisters on our vacation, so I got those set up here and the old ones are on sale on e-bay."
If you've got flat surface clutter on your hutch or sideboard too, make sure to check out this article about how to declutter flat surface clutter, and then keep it from coming back. I know this can be a big problem for people in their dining room, as elsewhere in their home!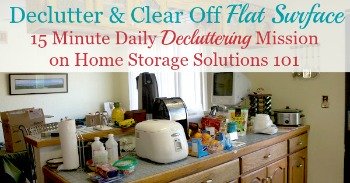 Are You Ready To Get Rid Of Your China Cabinet Clutter?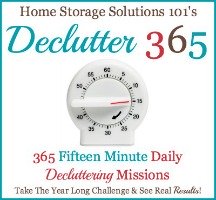 I hope this article, and these photos from readers has inspired you to get rid of your china cabinet or hutch clutter.
When you begin to declutter the feeling you get is contagious, so if you're loving the results you're getting I would encourage you to keep going.
I've got a whole series of 15 minute decluttering missions (eventually 365 of them!) that you can do.
Just pick and choose the ones you want to do, that will make a big impact in your home. But if you want someone else to tell you the order you can also grab the 15 minute daily decluttering mission calendars and follow along as we all get our homes clutter free together!
If you haven't already, make sure to also check out 52 Week Organized Home Challenge article that this mission is designed to be a part of, all about how to organize your dining room.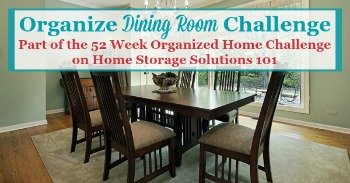 In addition, you most likely won't declutter everything from inside your china cabinet during the mission. To the extent you're keeping china and glassware, make sure you know these tips for storing china, glassware and crystal properly.