Declutter Plastic Cutlery & Take Out Supplies: 15 Minute Mission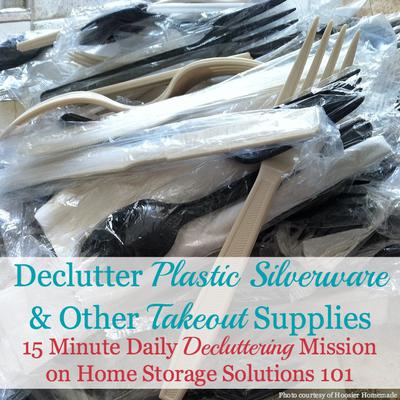 Today's decluttering mission is to declutter plastic and disposable silverware and cutlery as well as other take out supplies.
The sky's the limit on what these additional supplies may be. Everyone has their own types of things they tend to stash.
For others it may be napkins, little packets of salt and pepper, condiment packets, etc.
There are many reasons we keep stuff like this. Some of these include that it was free, or I paid for it as part of my meal so I want to keep it. There's also, I hate to throw it away, and I might need them later. Or you just may hate to waste them.
For whatever reason you keep them what happens then, often, is that they all get tossed in a drawer and then eventually it starts to pile up.
When you are decluttering don't throw them all out, obviously, if you do periodically use some of it. On the other hand, be realistic. If you have accumulated a large collection of stuff you clearly accumulate faster than you use it so now is the time to pare it down to a more reasonable amount.
The question then becomes of what to do with the stuff you've decided to declutter.
Bonus points if you tell me ideas for what to do with the items in the comments.
Obviously, recycle when you can instead of throwing things straight in the trash can. But in addition, I believe many of these take out supplies could be used by someone, even if you personally can't. So definitely consider donation as well.
Tell me in the comments your ideas for places where you could donate these types of items that would really appreciate them.
In addition, at the bottom of the article I've provided a few simple ideas for how to stop accumulating this type of clutter in your home from now on.
Top photo courtesy of Liz Latham at Hoosier Homemade, and second photo in collage courtesy of a reader, Michelle
Join in and write your own page! It's easy to do. How? Simply click here to return to kitchen clutter.
Don't Forget To Check Your Car For This Stuff!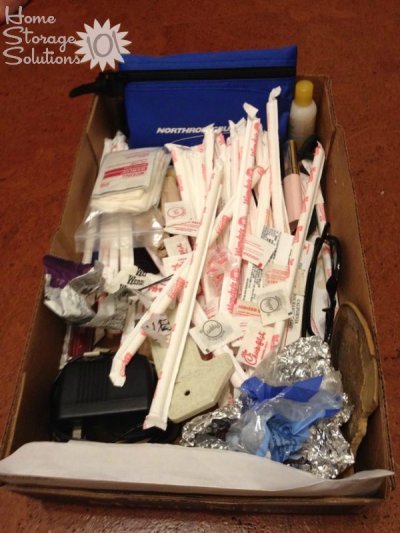 When doing this mission don't forget to check your car and get rid of any of these types of items from there.
We'll do a full
car interior decluttering mission
later as well, but get that stuff out of these at some point soon!
The photo above is from a reader, Karin. She said, "When I cleaned out our cars last September, look at what I found...LOL"
Join in and write your own page! It's easy to do. How? Simply click here to return to kitchen clutter.
Look At What Readers Have Decluttered!
Here are some of the supplies that readers have decluttered when doing this mission.

Amanda found all kinds of take out containers that she'd saved. She exclaimed, "45 pieces GONE!"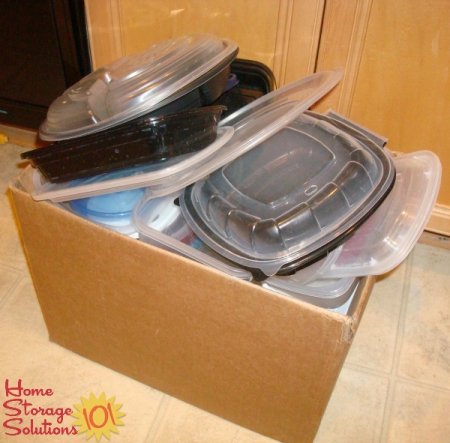 Kate decluttered a bunch of spoons, saying, "I think we can stop saving our 16 Handles yogurt spoons."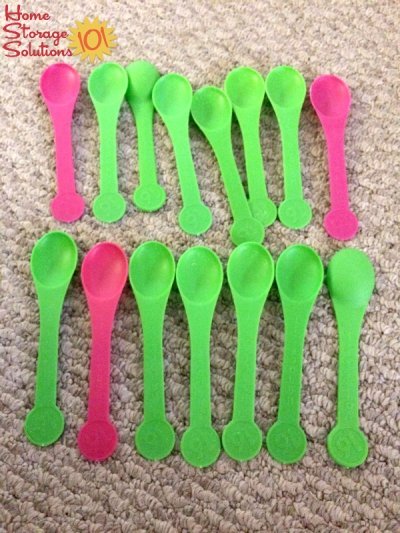 Rita decluttered all these condiment packets, saying, "I recycle the cutlery and paper plates, but I did have packs of condiments I will not ever use! I used to take them to a place I worked, but haven't worked there in 2-3 years! So here's my stash I tossed today! Love these mini challenges! So quick and EASY to do!"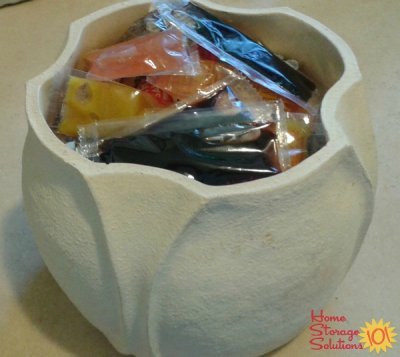 Join in and write your own page! It's easy to do. How? Simply click here to return to kitchen clutter.
Tips To Keep From Accumulating These Items In Excess In Your Home From Now On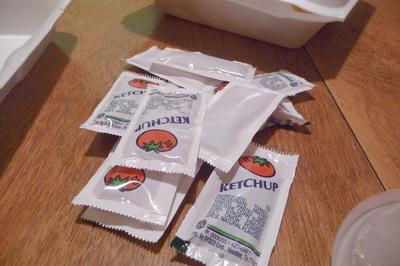 If after doing this mission you find you've accumulated way too many of these supplies, such as enough condiment packets to use for a good three years or more, etc., then you need to set some ground rules for yourself for the future so this doesn't happen again.

Say No To Taking Them Just Because They're Free
You may think it takes too much effort to tell someone not to add these types of things to your take out packages, but just remember how much effort it is taking right now to declutter it!
You've got to get yourself out of the mentality that just because something is free you need to take it. In fact, I wrote an
entire article on this concept here
.
Similarly, only take what you'll use right during that meal, instead of also taking extra for later. That just leads to waste.
Designate A Space For The Supplies & When Its Full That's It!
A similar concept is to choose a container for these take out supplies, and once it is full, stop accumulating them. Don't try to keep shoving more in, or adding another container. Just say no.
Make A Concerted Effort To Use These Items If You Are Going To Keep Them
Finally, if you're going to save some of these items for later, make a concerted effort to make sure later comes.
Go ahead and use some of these supplies. Some ideas include:
Camping
Picnics
Packed lunches for yourself or kids
Busy nights in
Similarly, if you collect all those condiment packets actually eat them. A lot of those packets don't have expiration dates, but you know eventually even those condiments will be past their peak. So if you've had some in a drawer for 15 years, you might just want to toss it all to be safe and start fresh!
Tell me below your tips for not accumulating too much of an excess of these items again once you've done this mission.
Want To Do More Decluttering Missions? Get Started With Declutter 365 Today!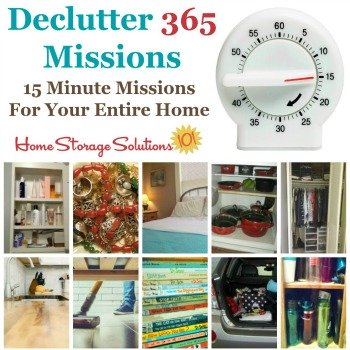 Once you declutter one type of item in your home I bet you'll want to declutter some more. After all, decluttering gives you a great reward for even a small investment of time and energy.
The Declutter 365 system is designed to help you declutter, over the course of a year, your entire house, with just 15 minutes of decluttering each day!
Hundreds of thousands of people use this proven system to get rid of their clutter, and bring peace and calm back to their homes.
Declutter 365 works to guide you to clear the clutter without overwhelm, focusing on just one small area at a time, and without making a huge mess in the process, so you see consistent forward progress without all that "messy middle" that makes it even harder to function in your home than before you started.
In addition to building a daily decluttering habit, the Declutter 365 program, along with the accompanying 52 Week Organized Home Challenge, teaches you the skills, habits, routines, and mindsets necessary to maintain the clutter free and organized state of your home from now on, so it'll never be as messy and cluttered as it is right now, ever again.
If you haven't already, make sure to get your copy of this year's Declutter 365 annual calendar here (it's FREE!), find today's date, and do 15 minutes of decluttering on the day's mission. Then, repeat again tomorrow, and again and again. Over the course of the next year, if you do this 15 minutes per day, you'll declutter your whole house!

One idea would be to also
declutter party supplies
, since often you have excess old napkins, plasticware, and more from these old party supplies.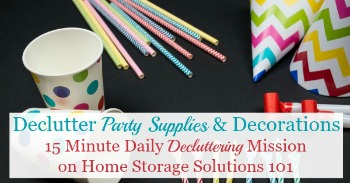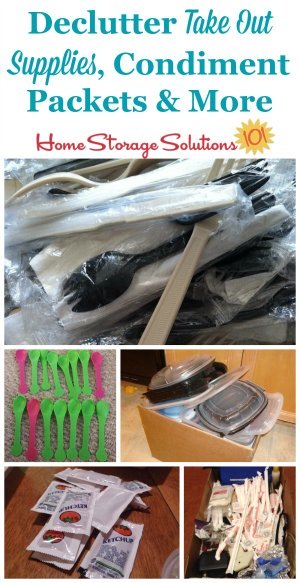 Top photo courtesy of Rex Roof
Related Pages You May Enjoy
Getting Clutter Free 15 Minutes At A Time Hall Of Fame
Getting Rid Of Kitchen Clutter Hall Of Fame
Go From How To Declutter Plastic Cutlery & Take Out Supplies To Home Page