How To Declutter Pantry & Food Cupboards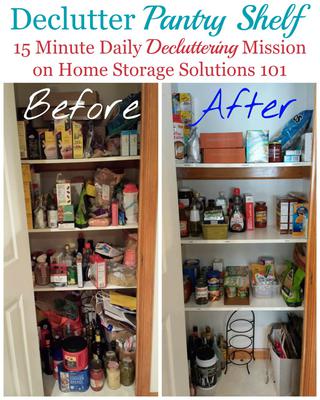 Today's mission is to declutter your pantry shelves, or if you don't have a pantry, to declutter your food cupboards or whatever other shelf stable food storage areas you've got in your home.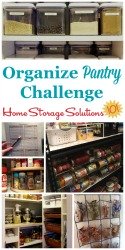 This is not, of course, a 15 minute task, but a task you should work on in 15 minute increments, which is why we've been working on it for the whole week, and will continue into the future.
Before I explain more about the steps, in general, in decluttering your cupboards and pantry, please remember that this Declutter 365 mission is designed to be done while we work on the
Organize Pantry Challenge
, which is part of the 52 Week Organized Home Challenge.
Decluttering is always the first step in any organizational project, because you
don't want to organize clutter
, but instead only useful items.
Depending on the size of your pantry or cupboards, and how much you've got jammed in there, this can seem like an overwhelming task if you try to do it all at once.
For example, if you pulled everything out it might look like this on your kitchen table, like a reader, Adash, showed.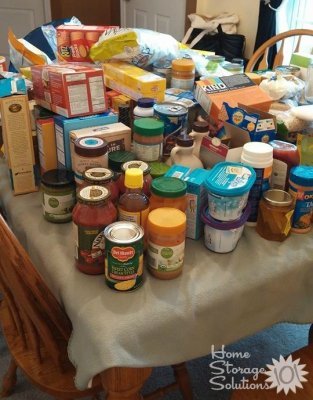 If you have enough time to deal with all that at once no problem, but if seeing that much stuff in one place makes your heart race with a bit of anxiety, or you have a tendency to bite off more than you can chew and leave yourself with a bigger mess in the end, don't do it that way.
Instead, my suggestion is to break down this task into manageable chunks.
To help we've done the following Declutter 365 missions on the site already:
decluttering and organizing the refrigerator and freezer
.
With that being said, you may still have quite a bit of food shelves left to go. So here's step by step instructions for how to tackle it without getting overwhelmed and without making a bigger mess in the mean time.
1. Declutter Only One Shelf At A Time
For the rest of your cupboards or pantry I want you to take it 15 minutes at a time, and focus on only one shelf, or one section of a shelf, at a time.
Don't try to do more at once because if you've got to stop and cook dinner, for example, all your food will be in chaos and it will make you frustrated.
Then, to the extent you also have things on the floor or the walls or door of your pantry, deal with them separately as well, treating them as their own "shelf."
2. Look At Each Item On The Shelf And Decide If It Will Stay
In your first big decluttering pass of each shelf you need to look at each box, bag or other container of food and decide if it will stay or go.
If food has expired or is past its prime it should be trashed (or the packaging recycled). You can check the
pantry food storage chart cheat sheet here
for general
shelf life of various common pantry staples to help you decide, if you can't find an expiration or best by date on the packaging to guide you.
In addition, get rid of anything that is still good to eat but that you know your family will not eat, that way it does not eventually sit there long enough to expire and get wasted. I encourage you to
donate those items to a food pantry
or similar charity.
3. Clean Crumbs & Spills Off Shelves
After you've gotten rid of anything from the shelf that will not be staying take this opportunity to clean up crumbs and spills.
While you definitely don't need to reline pantry shelves or do a significant deep clean, and shouldn't if it will slow you down oo much, it is important to clean up any food or drink messes that have happened in your pantry so you don't get any type of pest infestation.
Make a note in your mind of any types of containers that have leaked or where food has spilled in the past. For example, we had one bottle of oil in our pantry that consistently leaked a bit after each use, no matter what. When you finish the decluttering part of your pantry project, and move on to organizing it, you'll want to put these types of food items into containers of some sort to keep the mess contained, and then periodically clean the containers to keep pests at bay.
4. Once You've Done All Shelves Group Like Items Together & Perhaps Declutter More
Once you've done each shelf, the floor, and anything hanging on the walls or door of your pantry, the next step is to group like items in your pantry together.
Grouping like items together is normally something you think of doing when organizing, and it is useful for that, but in this situation I consider it part of decluttering because once you do this regrouping you may realize you've got lots of duplicates, which is not something you realized before when cans of soup were on three different shelves.
Only once you declutter is is easier to do this regrouping though, because finally you have space to shift things around more easily.
Once you see how many of a particular item you have you may consider donating more than you originally planned, such as if you cannot eat that much of ________ (you fill in the blank) before those items would all expire.
Or you might instead decode to include some of those items in your meal plans you're creating as part of the
Eat From The Pantry & Freezer Challenge
to winnow it down to a more reasonable amount to fit into the space you've got designated for that type of item.
These steps for decluttering your pantry are simple, but breaking it down into more manageable steps will make the process easier and less overwhelming for you. After you've completed the decluttering portion of the project you'll be ready to finish the whole task by organizing what you've got left.
Below I've got some before and after pictures from other readers who've done this mission and made major transformations in their pantries, just from decluttering, to get you inspired to tackle your own pantry today!
Top photo courtesy of a reader, Kelly
Are You Ready To Get Rid Of Your Pantry Clutter Now?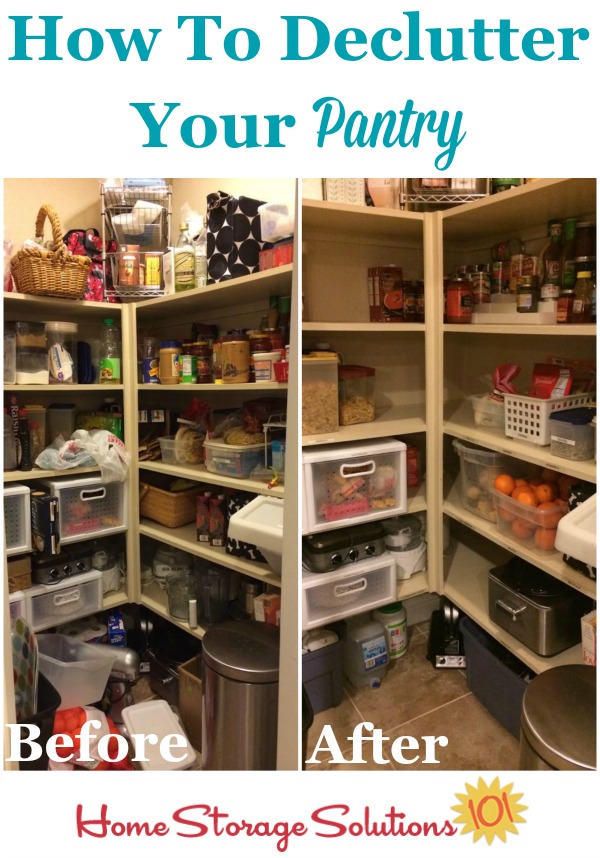 Want To Do More Decluttering Missions? Get Started With Declutter 365 Today!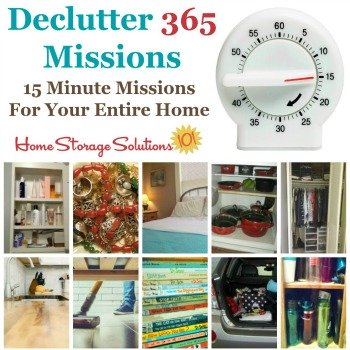 Once you declutter one type of item in your home I bet you'll want to declutter some more. After all, decluttering gives you a great reward for even a small investment of time and energy.
The Declutter 365 system is designed to help you declutter, over the course of a year, your entire house, with just 15 minutes of decluttering each day!
Hundreds of thousands of people use this proven system to get rid of their clutter, and bring peace and calm back to their homes.
Declutter 365 works to guide you to clear the clutter without overwhelm, focusing on just one small area at a time, and without making a huge mess in the process, so you see consistent forward progress without all that "messy middle" that makes it even harder to function in your home than before you started.
In addition to building a daily decluttering habit, the Declutter 365 program, along with the accompanying 52 Week Organized Home Challenge, teaches you the skills, habits, routines, and mindsets necessary to maintain the clutter free and organized state of your home from now on, so it'll never be as messy and cluttered as it is right now, ever again.
If you haven't already, make sure to get your copy of this year's Declutter 365 annual calendar here (it's FREE!), find today's date, and do 15 minutes of decluttering on the day's mission. Then, repeat again tomorrow, and again and again. Over the course of the next year, if you do this 15 minutes per day, you'll declutter your whole house!

Related Pages You May Enjoy
Getting Clutter Free 15 Minutes At A Time Hall Of Fame
Getting Rid Of Food & Pantry Clutter Hall Of Fame
Go From How To Declutter Pantry & Food Cupboards To Home Page