How To Declutter Food Cupboards & Food Storage Areas
Here are tips for how to declutter food cupboards and food storage areas in your home, plus photos from readers who've already done this mission to show the results you can achieve.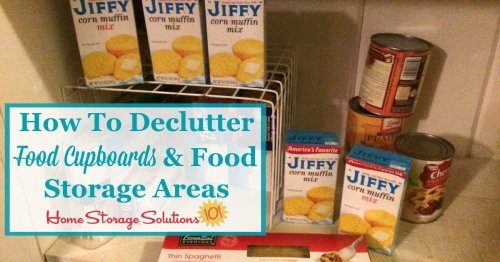 Right now, as we work through the 52 Week Organized Home Challenge and Declutter 365 missions in our home, we're focused on organizing and decluttering the pantry. This week is therefore designed to get rid of excess and expired shelf-stable foodstuffs wherever you keep them in your home.
(Next week we'll focus on refrigerated food and frozen foods.)
To do this decluttering task, start in your pantry or food cupboards, going shelf by shelf, but then expand, as needed, to other areas of your home where you've got additional food stored, wherever that may be, such as if you've got stockpiles of food for emergencies or stockpiles from couponing.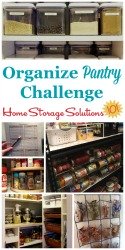 We've already dealt with canned food and spices, since most people have those, but today and moving forward as you work through this mission, deal with any additional food you've got, such as items in bags, boxes, or in bulk.
This can include baking mixes, chips, cereals, crackers, dried beans, rice, flour, baby food, and more. If it's shelf-stable, then it's fair game to be evaluated to decide if it is food clutter, or should be kept.
Three Choices When Decluttering Food
When decluttering food storage areas, you have three choices for each item:
1. Eat the food (now, or in the future, while the items are still fresh and edible)
2. Donate the food
3. Throw away the food
I'll briefly discuss each of these choices below.
Choice One: Eat The Food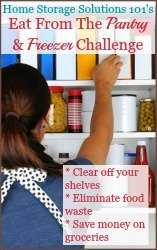 When you purchase your food, the idea is you'll eat it, so obviously this is the best way to "declutter" it. That way you use it for the intended purpose, and haven't wasted your money.
That's exactly what we're doing as part of the Eat From The Pantry & Freezer Challenge, which we're doing simultaneously with this week and next week of the Declutter 365 missions and 52 Week Organized Home Challenge. The linked article explains this type of food decluttering in more detail, and I encourage you, especially if you feel like you've got a lot of food in your home, to use this method for decluttering it to a more reasonable amount, as much as you can.
Here's a photo from a reader, Leslie, below, who found a LOT of cereal boxes at the top of her refrigerator. She said, "Cereal boxes!!! WTH lol. Who knew there were that many. That's what happens when they're on the top shelf and I'm 5'0" lol."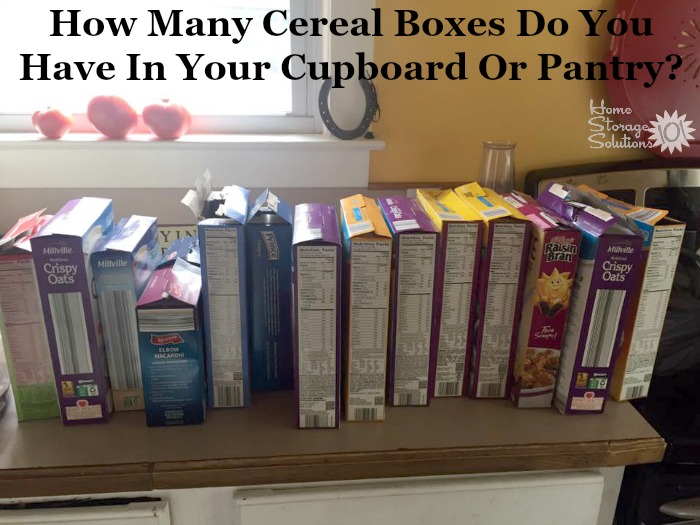 If during your decluttering and organizing tasks find yourself like Leslie, and discover lots of unopened or opened food packages which are still good, but you didn't realize you had, make a plan for how to have your family eat them over the next few weeks!
Choice Two: Donate The Food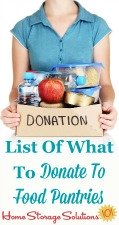 The second choice you have when decluttering food, is to donate excess food to someone in need, or to an organization who helps those in need, such as a food pantry.
You may choose to donate when you have more of a particular type of food item in your food storage areas than you can eat within a reasonable time period, or if you have discovered your family does not like a certain type of food.
If you're not going to eat it, it is best to allow someone else to do so.
Obviously, When donating food, please make sure that you only donate food that is still safe for consumption, such as not expired, and not open containers.
For more tips on donating food, plus ideas for what to donate to food pantries, check out my article on the topic.
The photos below are from a reader, Jane, who's already decluttered the old and expired food from her food cupboards or pantry. She said, "I threw out the old, called a friend to see if she wanted to extra and it is out of my house! One thing I did keep was all these corn bread mixes. I am taking it as a personal challenge to use these in a creative and yummy way."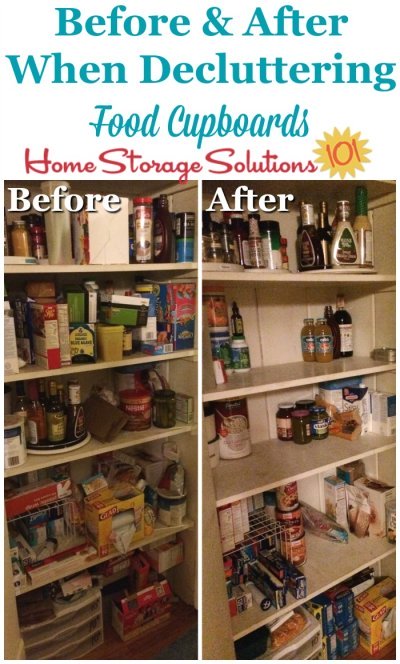 Choice Three: Throw Away The Food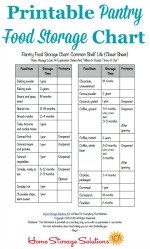 Finally, the last choice you have when decluttering food is to throw it away. This definitely should be your choice of last resort, because food waste is not anything to aspire to.
Unfortunately, spoilage happens, as well as forgotten items that expire with time. Don't beat yourself up over it when you find such items, but instead resolve to clear out your food storage areas now, and better organize them from now on, to make the possiblity of throwing out food less likely in the future.
If you need to figure out if something is still safe to eat, or has expired, make sure to use the free printable pantry food storage chart here to help you with guidelines to follow. It's handy to print this out, and reference it as you declutter, especially for items where you can't find a printed expiration date or best by date on the packaging.
Below is a photo from a reader, Jen, who had to throw away some of the food in her cupboards. She said, "Just threw out a whole garbage can of expired food, confirmation that I surely needed to organize and declutter! I hate wasting food!!"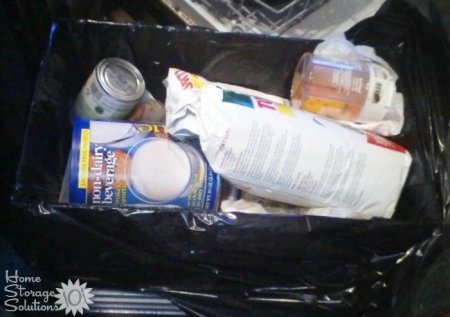 In addition, below is yet another photo, this time from a reader, Susan, who said, "Feeling badly about allowing all of this food to expire, though happy now that it won't happen again with the pantry all in rows and columns."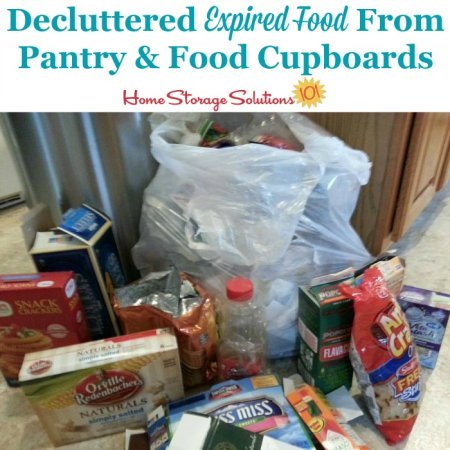 These two ladies had a good attitude about throwing away food -- learn from the experience to do better in the future!
What Are Some Of The Oldest Foods You've Found As You Decluttered?
Now it's time for you to declutter your own food cupboards, pantry shelves and other food storage areas. If you do this regularly, you'll just get rid of a couple of things, but the first time you do it, especially a really thorough job of it, you are likely to find some pretty old stuff you didn't even realize was lurking around back there!
Below is a collage of photos sent in by readers who've already done this mission, when they found some extremely old food items that were definitely expired!

Here's what these readers said from top to bottom, left to right:
Shannon - "Embarrassed to say that I found this box of croutons in the back of the pantry that expired in 2009. My 12-year-old daughter and I had so much fun searching for expired stuff and throwing it out!"
Sheryl - referring to the bag of Pad Thai rice sticks - "Best buy 12/15/2011"
Angie - "This gem was in my basement. It's a glass bottle, unopened and the water has separated. Can't find a date....But I'm guessing it's OLD!"
Amy - "I want to say thanks for this project! I'm a bit ahead and did my canned goods today, and check this out!" (The can says "best before January 15, 2010)
Paula - "Fossilized hot dog relish. Unopened jar, see clear through? It's now a chunk of dried goo. Top is pitted. 1985."
See, it can happen to the best of us!
So now the question for you is, what forgotten food will you find when you do this mission for yourself?
Are You Ready To Declutter Your Home?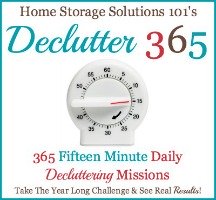 I hope seeing these pictures has inspired you to tackle your own food cupboard and pantry clutter.
When you begin to declutter the feeling you get is contagious, so if you're loving the results you're getting I would encourage you to keep going.
I've got a whole series of 365 15 minute decluttering missions that you can do.
Just pick and choose the ones you want to do, that will make a big impact in your home. But if you want someone else to tell you the order you can also grab the 15 minute daily decluttering mission calendars and follow along as we all get our homes clutter free together!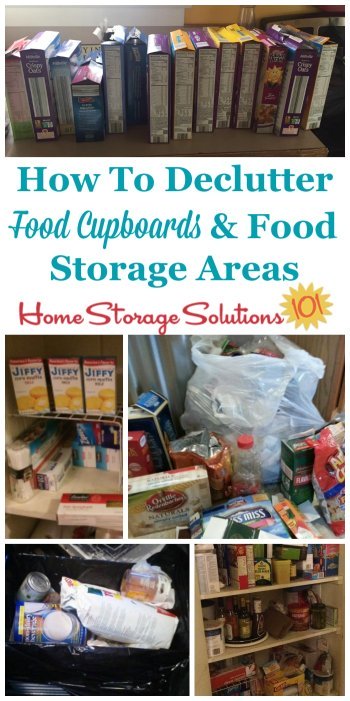 Top photo courtesy of a reader, Jane