How To Declutter Your Stockpile From Couponing
Today's mission is to declutter your stockpile from couponing, making sure the items are used or donated before they expire, so you get the full value of the work you've done in clipping coupons for them.

This mission is designed to be done while we work on the Organize Coupons Challenge here on the site, which is one of the 52 Week Organized Home Challenges.
Of course, you can do this mission at any time that you need to do it in your own home, and really it should be an ongoing process that continues as you continue to acquire more items for stockpiling.
How To Identify If You Need To Declutter This Area
As always, I'm not suggesting that you completely get rid of all of your stockpiles, since many people use the strategy of stockpiling to save the most money for the everyday items they need to purchase, including both food and household goods.
However, a stockpile is only helpful when it is often rotated, and in constant use, with some items being added while others are being used up.
You may need to declutter some of your stockpile if any of the following applies:
You've found many expired or excessively old items
You can't seem to actually use everything you've accumulated within a reasonable time; or
You don't have enough room in the space alloted for everything you've got
How To Get Rid Of Excess Stockpile
It's easiest to start by removing all expired or old items from your shelves or storage bins where you keep your stockpile.
I suggest going shelf by shelf, or bin by bin, to do this process so you can stop and start as time allows, and not get overwhelmed or pull out too much at once.
As part of this mission you will declutter both shelf-stable food items as well as toiletries, paper goods and other household items you may have accumulated.
Here are articles on the site which can help you declutter the most common types of items you may have stockpiled:
After you get rid of those expired or extremely old items, next see what you've got left. If you have more of a particular item than you can use before it will go bad or expire you need to go ahead and donate some of the excess items now, so they don't go to waste.
You can also commit right now to using more of a particular item (typically this is easier for food than for non-food types of products), such as by committing to Eat From Your Pantry for a few days to weeks, to make sure everything gets used within a reasonable time period.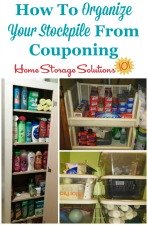 Finally, decide how much space you can dedicate in your home to storing this stockpile. If you still have more things on the shelves or in the containers than you can devote to this use, then you need to let some additional items go until you only have as much as you have storage space for.
If you find you do have this excess I would also suggest you cut back on the amount of items you're stockpiling from now on, because you don't want to make extra work for yourself (and waste money) by bringing clutter into your home that you'll just have to get rid of later.
Once you have completed this decluttering mission you'll find it easier to use the items in your stockpile from now on if you take the time to organize them. Here's my article on stockpile organization and storage ideas that can help you further with this task.
Want To Do More Decluttering Missions? Get Started With Declutter 365 Today!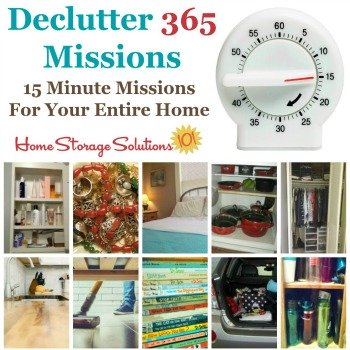 Once you declutter one type of item in your home I bet you'll want to declutter some more. After all, decluttering gives you a great reward for even a small investment of time and energy.
The Declutter 365 system is designed to help you declutter, over the course of a year, your entire house, with just 15 minutes of decluttering each day!
Hundreds of thousands of people use this proven system to get rid of their clutter, and bring peace and calm back to their homes.
Declutter 365 works to guide you to clear the clutter without overwhelm, focusing on just one small area at a time, and without making a huge mess in the process, so you see consistent forward progress without all that "messy middle" that makes it even harder to function in your home than before you started.
In addition to building a daily decluttering habit, the Declutter 365 program, along with the accompanying 52 Week Organized Home Challenge, teaches you the skills, habits, routines, and mindsets necessary to maintain the clutter free and organized state of your home from now on, so it'll never be as messy and cluttered as it is right now, ever again.
If you haven't already, make sure to get your copy of this year's Declutter 365 annual calendar here (it's FREE!), find today's date, and do 15 minutes of decluttering on the day's mission. Then, repeat again tomorrow, and again and again. Over the course of the next year, if you do this 15 minutes per day, you'll declutter your whole house!

Top photo of collage from a reader, Julli, and the bottom photo courtesy of another reader, Sandra
Some links on this page are affiliate links, meaning that if you purchase a product through them I receive a small commission which helps me provide this information to you for free, plus support my family. My integrity and your satisfaction are very important to me so I only recommend products I would purchase myself, and that I believe would benefit you. To learn more please see my disclosure statement.