Getting Rid Of Bathroom Clutter
Hall Of Fame
Below is a list of bathroom clutter you should at least consider getting rid of. In addition, I've included a hall of fame for you to share your own success or get inspired by what others have accomplished.
Your bathroom is (obviously) a well-frequented room in your house, and lots of different personal care types of activities go on in there.
As such having a clutter free environment makes it more pleasant to be in the room, and can make you feel better especially in the morning when you're first waking up and want to have a good start to your day.
I encourage everyone to take the following of 52 Week Organized Home Challenges that deal with these areas of your home:
I've also created several 15 minute decluttering missions that accompany this challenge, to help you get this room decluttered and more functional.
Whether you've done these missions when I've scheduled them during the year, or any other time doesn't really matter to me. I just want to celebrate your success, so here's your chance to show off some before and after pictures when you've done one of the missions. If you're ready to share now click here to begin!
Decluttering Missions For The Bathroom
The decluttering missions for this area of your home include getting rid of excess and unwanted stuff in the following places:
Under sink
Counter and sink area
Bath and shower area
Bathroom drawers and shelves
Around toilet
Bath toys
Toothbrushes and other dental supplies
Medicines (really shouldn't be stored in bathroom anyway because of humidity)
First aid supplies
Towels and wash cloths
Old and expired makeup
Old or unusued skin care products
Hair appliances, such as hair dryer, curling iron and flat iron
Nail polish
Perfume
Toiletries
Travel toiletries
Bathroom Clutter Hall Of Fame
Here are the hall of fame submissions received so far.
If you're ready to share click here to begin!
Get Started With The Decluttering Missions Today!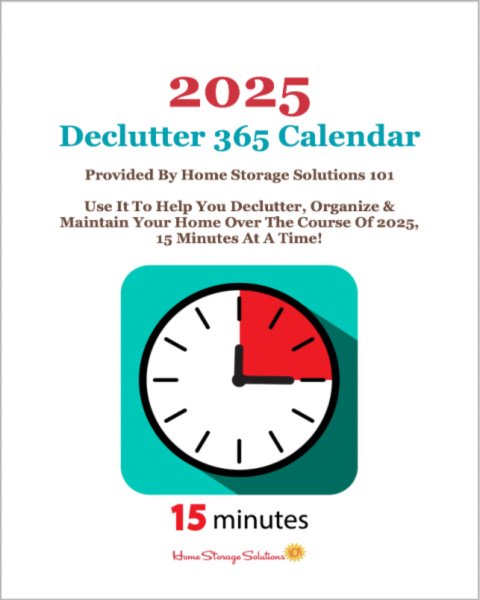 Do you want to participate in the 15 minute daily missions? Grab your FREE yearly printable decluttering calendar here and get started today!
In addition, I'll share each day's mission through social media too, so you can keep up by joing the Declutter 365 Facebook group or follow along on Instagram (where the official hashtag is #Declutter365).
Have You Gotten Rid Of Clutter In Your Bathroom?
Have you participated in one of the Declutter Your Home In 15 Minutes A Day Missions, either while it was running for the day or when it was convenient for you?

Are you proud of your accomplishments and want to show the world what you decluttered today, and are getting out of your home?

Here's your chance to tell me about it. Pictures are highly encouraged, but you can also just write a description of what you decluttered too (note you've got to at least explain what we're seeing in the picture you upload).

You can send up to four pictures in each submission.
Get Rid Of Bathroom Clutter Hall Of Fame
Here are the Hall of Fame submissions that have already been submitted.

Check these out to get inspired about what others have accomplished with the power of 15 minutes a day.