Toothbrush Replacement: How Often Should You Change Your Toothbrush?

Today's decluttering mission is to declutter your family's old toothbrushes and replace them with new ones.
This mission is designed to be done while working on the
Makeup & Toiletries Organization Challenge
on the site, which is one of the 52 Week Organized Home Challenges.
How Often Should You Change Your Toothbrush?
Therefore, although this mission will not take you much time you actually need to remember to do it more frequently than just once a year. In fact, it really should be done 3-4 times a year, at a minimum.
Ideas For How To Remember To Replace Old Toothbrushes Regularly
Here are a couple of ideas from readers for how they remember to change their toothbrushes regularly:
Amy explained that she changes her family's with every change of the season. These come regularly and in just about equal intervals, so this is a great idea!
Another reader, Sara does something similar, but uses the holidays for switching. She explained, "We get new toothbrushes every major holiday that involves candy. Halloween, Christmas, Easter and Independence Day. Plus we get new toothbrushes every cleaning at the dentist."
Guidelines For Decluttering Dental Supplies
While doing this mission don't forget to also go through your other dental supplies and declutter anything that you don't use, any empty tubes or packages of floss that need to be tossed, or stuff that has gotten too old.
Here's my article on
expiration dates of toiletries and makeup
which provides guidelines for when some of these dental supplies will become too old to use, and why this is actually important to pay attention to.
Below I've also got some ideas for what you can do with your old toothbrushes instead of trashing them, and also what to do with your toothbrushes between replacements to keep them clean!
Top photo courtesy of woodleywonderworks
Uses For Old Toothbrushes & Cleaning Your Toothbrushes Between Replacements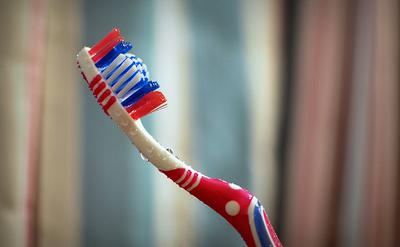 I know a lot of you don't like to just throw stuff into the landfill when decluttering, and I totally get that.

But toothbrushes don't last forever, and need to be replaced.

This doesn't mean though that once they are no longer good for cleaning your teeth that they are completely useless.

There are lots of cleaning uses for old toothbrushes, such as for scrubbing in small, hard to reach places, or for rubbing out stains from the laundry.

Here's a full list of uses for old toothbrushes I've collected on the Stain Removal 101 site (a sister site to this one).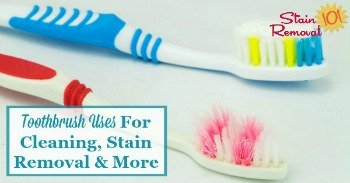 Make sure you somehow mark your old toothbrushes in some manner, once they've been used for cleaning tasks, so they don't get confused with the ones your family is still putting in their mouths!
Further, even though the ADA suggests you can wait around three months between toothbrush replacements, I strongly urge you to at least clean your family's toothbrushes between those change outs.
That's because we put these items in our mouths daily in an attempt to clean our teeth. The cleaning implement we use should itself be clean! Here's
instructions for how to clean your toothbrush
.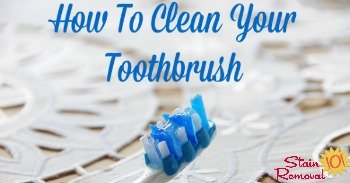 Want To Do More Decluttering Missions? Get Started With Declutter 365 Today!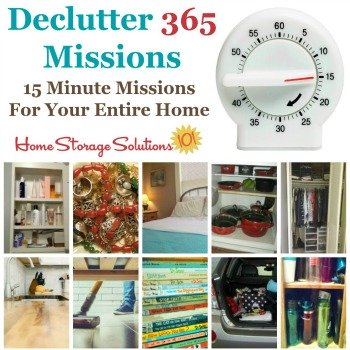 Once you declutter one type of item in your home I bet you'll want to declutter some more. After all, decluttering gives you a great reward for even a small investment of time and energy.
The Declutter 365 system is designed to help you declutter, over the course of a year, your entire house, with just 15 minutes of decluttering each day!
Hundreds of thousands of people use this proven system to get rid of their clutter, and bring peace and calm back to their homes.
Declutter 365 works to guide you to clear the clutter without overwhelm, focusing on just one small area at a time, and without making a huge mess in the process, so you see consistent forward progress without all that "messy middle" that makes it even harder to function in your home than before you started.
In addition to building a daily decluttering habit, the Declutter 365 program, along with the accompanying 52 Week Organized Home Challenge, teaches you the skills, habits, routines, and mindsets necessary to maintain the clutter free and organized state of your home from now on, so it'll never be as messy and cluttered as it is right now, ever again.
If you haven't already, make sure to get your copy of this year's Declutter 365 annual calendar here (it's FREE!), find today's date, and do 15 minutes of decluttering on the day's mission. Then, repeat again tomorrow, and again and again. Over the course of the next year, if you do this 15 minutes per day, you'll declutter your whole house!

Top photo courtesy of meddygarnet
Related Pages You May Enjoy
Getting Clutter Free 15 Minutes At A Time Hall Of Fame
Getting Rid Of Bathroom Clutter Hall Of Fame
Go From Toothbrush Replacement & Declutter Dental Supplies To Home Page