How To Get Rid Of Makeup, Cosmetics & Toiletries Clutter

Today's mission, for today and the next several days, is to get rid of makeup, cosmetics and toiletries from your bathroom, or wherever else you store these items, that are expired, unused and unwanted.
This mission is designed to be done while working on the
Cosmetics & Makeup Organization Challenge
here on the site, which is part of the 52 Week Organized Home Challenge, although you can obviously do it whenever you want or need to.
This article discusses how to declutter a wide variety of personal care products and toiletries, but to make it less overwhelming for you, when you check out the
declutter calendar
for the next few days you'll see it broken down into a small category of products daily.
Breaking it down into small increments is a similar concept to just decluttering 15 minutes at a time. So don't worry, this task doesn't need to be overwhelming at all. Either work 15 minutes at a time or do just one type of things at a time to get the job done.
Make Sure You Declutter All The Following Categories Of Items
Make sure as part of these decluttering missions that you declutter from each of the following categories:
Makeup (including mascara, foundation, powders, and lipsticks);


Makeup applicators (including brushes, sponges, etc.);


Nail polish and other nail care products;


Perfumes and colognes;


Lotions and moisturizers,

and other skin care products;


Dental care products (including toothbrushes, toothpaste, mouth wash, etc.)


Hairstyling products; and


Personal care products (including shampoos, conditioners, soaps and body washes, deodorant, and more)
Criteria For Getting Rid Of Cosmetics & Toiletries
As always, I'm not suggesting you should get rid of everything you've got.
However, you need to look through what you've got and get rid of anything that meets the following criteria:
1. Products that have expired or gotten too old.
I've got an entire article that explains the
expiration dates of common makeup and personal care products
, which includes a free printable cheatsheet you can print out for your reference while doing the mission. It will help you make decisions, so grab your copy before you begin!
2. You don't like it for whatever reason.3. You have not used it within the last approximately 6 months.
It's actually really important, for health reasons, to get rid of old and expired makeup and other personal care products. If you don't believe me, make sure to read my article about expiration dates for more information on that topic!
Once you've decided what makeup and other toiletries to get rid of, you need to decide what to do with those things, so scroll down to get my advice what to do with the items you've decided to declutter.
Top photo courtesy of lindyi
Join in and write your own page! It's easy to do. How? Simply click here to return to bathroom clutter.
What To Do With Your Decluttered Makeup & Personal Care Products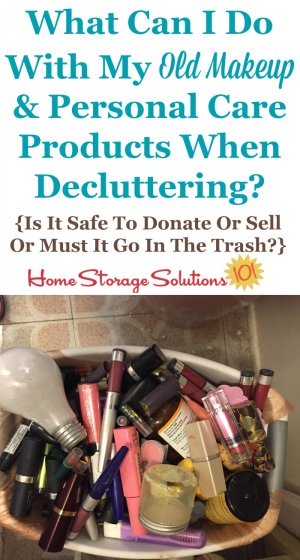 Once you've decided what personal care and beauty products to declutter from your own home, your next big decision is what to do with these items so they'll leave your home.
Can You Donate Or Sell These Items?
As discussed in more detail in my article about
how to declutter
there are often several choices for what to do with items, including donating or selling them.
While it can seem really tempting to donate or sell these products, my quick answer is don't donate or sell these items if you've opened and used them even once.
This is especially true of things like makeup and beauty products, or those items used directly on the skin like deodorant and skin care products.
A lot of these items cost a lot of money, and they're always very much
appreciated as donations at places like food pantries and homeless shelters
(at least when they're new), so I totally get why your first inclination would be to donate them to someone who will appreciate and use them, or sell these items to recoup some of your money back.
However, as explained in more detail in my article about
expiration dates for beauty and personal care products
, once these items are opened and used, even once, they are exposed to bacteria and germs that breed inside the products and can cause infections and skin breakouts once the bacterial levels reach high levels.
Since you should
never donate something for someone else to use that you, yourself, would not take
, I don't think it would be fair to either donate or sell such items that are "contaminated."
Remember, this rule about not donating or selling beauty and personal care products only applies to those items that have been opened and used, so feel free to donate or sell unopened products!!!
Trash Or Recycling The Containers?
So what should you do with the items you want to get rid of from your home? The quick answer is that they belong in the trash, although you can recycle some of the containers that these items come in.
Recycling personal care and beauty containers could be an article all to itself, so instead of explaining it all here, here's a
link to a program you can use
if you choose to recycle your makeup and cosmetics containers.
Next, scroll down to see some before and after pictures from readers who've already done this mission, to get you excited about how much it can improve your bathroom or other areas of your home once you've decluttered the junk and only have the good stuff left!
Photo above courtesy of Linda, who said, "This is a trash can full of all of the way out of date makeup, lipsticks, mascara, snd miscellaneous stuff i will never use again. Feels good!"
Join in and write your own page! It's easy to do. How? Simply click here to return to bathroom clutter.
Here's What Happens When You Declutter Beauty & Personal Care Products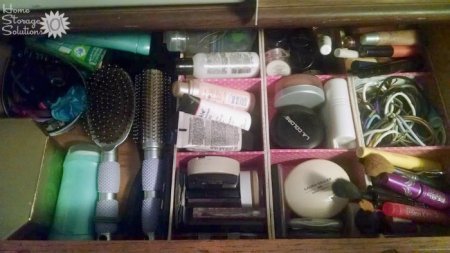 Decluttering can be so rewarding! To get you excited to tackle your own cosmetics and toiletries, here's some photos sent in by readers who've already done this mission.
The one above is from a reader, Robin, who said, "I downsized a tackle box, 2 make up bags and random make up I found and purged enough that it now fits in a small drawer next to my mirror! There were some tears but I did it."
You can save a lot of room by getting rid of the stuff you don't use, and then it makes it much easier to organize what you've got left.
In addition, you can make such a significant difference in the way a room, such as your bathroom, looks once you've decluttered. Here's some photos below, from a reader named Michelle, who decluttered once her daughter, Taylor (no relation to me!) left for college. Michelle said, "My daughter (Taylor) left for university last week. This weekend I decided to reclaim the bathroom that she has been using (pretty much alone) for the last five years. I don't have a 'before' shot of the bathroom itself, but I took photos of all the stuff I removed."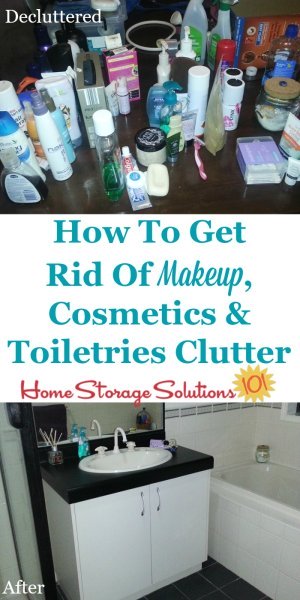 Want To Do More Decluttering Missions? Get Started With Declutter 365 Today!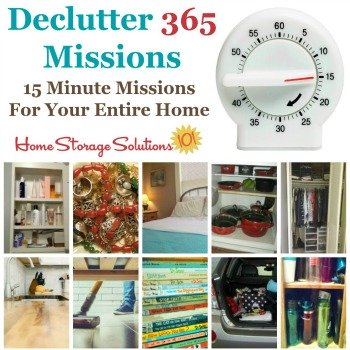 Once you declutter one type of item in your home I bet you'll want to declutter some more. After all, decluttering gives you a great reward for even a small investment of time and energy.
The Declutter 365 system is designed to help you declutter, over the course of a year, your entire house, with just 15 minutes of decluttering each day!
Hundreds of thousands of people use this proven system to get rid of their clutter, and bring peace and calm back to their homes.
Declutter 365 works to guide you to clear the clutter without overwhelm, focusing on just one small area at a time, and without making a huge mess in the process, so you see consistent forward progress without all that "messy middle" that makes it even harder to function in your home than before you started.
In addition to building a daily decluttering habit, the Declutter 365 program, along with the accompanying 52 Week Organized Home Challenge, teaches you the skills, habits, routines, and mindsets necessary to maintain the clutter free and organized state of your home from now on, so it'll never be as messy and cluttered as it is right now, ever again.
If you haven't already, make sure to get your copy of this year's Declutter 365 annual calendar here (it's FREE!), find today's date, and do 15 minutes of decluttering on the day's mission. Then, repeat again tomorrow, and again and again. Over the course of the next year, if you do this 15 minutes per day, you'll declutter your whole house!

Related Pages You May Enjoy
Getting Clutter Free 15 Minutes At A Time Hall Of Fame
Getting Rid Of Bathroom Hall Of Fame
How To Declutter Excess Stockpile From Couponing
Go From How To Get Rid Of Makeup & Toiletries Clutter To Home Page